Current Activity Updates
For Previous Current Events items, visit the Archives
October 30, 2018
More Than 300 Civil Society Organizations From 73 Countries Urge Real Reform at United Nations Discussions on Corporate Investor Rights
Vienna – Today more than 300 civil society groups and trade unions – including global organizations such as Public Services International, Friends of the Earth International, and ActionAid – urged governments participating in United Nations meetings in Vienna this week to completely overhaul the controversial Investor-State Dispute Settlement (ISDS) system contained within many international trade and investment agreements.
Their public letter is the latest example of a growing backlash against ISDS that the European Commission admitted had become "the most toxic acronym in Europe," during the controversial U.S.-EU trade talks. As the number of ISDS cases filed each year has exploded and corporations have won billions of dollars in attacks on a stunning array of environmental, health, and other public interest laws, governments from South Africa to Indonesia have terminated many of their treaties that include ISDS. Even the United States, Mexico, and Canada have agreed to roll back ISDS in the new North American Free Trade Agreement (NAFTA).
The organizations that signed the letter urge fundamental reform of this ISDS system that: "empowers one class of interests – multinational corporations, billionaires and investors – to sue governments outside of domestic court systems for unlimited amounts of compensation, including for the loss of expected future profits. A vast array of domestic laws, court rulings, regulations, and other government actions are subject to such attack, including non-discriminatory policies enacted in order to promote public welfare."
The letter is addressed to member governments attending meetings of the little-known UN Commission on International Trade Law (UNCITRAL), which provides one set of rules under which many ISDS cases are litigated. After years of public outcry against ISDS, UNCITRAL has decided to convene a working group to engage in a discussion about the need to reform ISDS. But the signatories of today's letter fear that those who wish to save the ISDS regime are aiming to hijack the UNCITRAL reform discussion to maintain the status quo or promote half-measures around the margins that do not address ISDS's fundamental flaws.
The signatory organisations demand that, "instead of focusing on procedural tweaks on the margins of the ISDS system, governments in UNCITRAL should put their efforts into discussing how to move away from the current investment treaty system altogether. Thus, a more constructive focus for UNCITRAL would be to concentrate on the structural problems of the investment treaty regime and to facilitate a discussion on termination or wholesale replacement of existing agreements."
They also specifically reject attempts by the European Union to push a "Multilateral Investment Court" as a "solution," explaining that this EU proposal "would not only fail to address most of the fundamental flaws of ISDS and the current investment treaty regime, but seems designed to keep many of ISDS's most damaging features (and flaws) intact."
"Communities democratically opposing projects that pollute their lands and damage the climate, they remain powerless in front of corporate tribunals which either award multinationals with billions in compensation or oblige governments to change policies out of fear. The EU's proposals for a Multilateral Investment Court will not diminish the power of this undemocratic system, it will just expand it worldwide," said Lora Verheecke from Friends of the Earth Europe.
-See the full text of the letter and list of signers here.
---
October 10, 2018
The USMCA's fatal flaw: 'national-security' tariffs
By Ken Neumann
Special to the Globe and Mail
Ken Neumann is the United Steelworkers' national director for Canada
Lost in the debate on the Canadian government's many concessions in the proposed United States-Mexico-Canada Agreement – "Canada gave very graciously," as U.S. President Donald Trump's economics adviser gloated – are disturbing provisions allowing Mr. Trump and future U.S. presidents to continue to impose baseless "national-security" tariffs on key Canadian exports.
When the USMCA was announced last week, it was both shocking and profoundly disappointing to see Canadian officials toasting this new trade deal while the United States maintained devastating tariffs on Canadian steel and aluminum exports.
The Trump administration imposed the tariffs – 25 per cent on Canadian steel and 10 per cent on Canadian aluminum – on June 1, on the spurious basis that these imports pose a threat to U.S. national security under Section 232 of American trade law.
For the 175,000 Canadian workers whose jobs are directly or indirectly tied to the steel and aluminum industries, these tariffs represent a serious threat to their jobs and communities. From the outset, the United Steelworkers, the union representing steel and aluminum workers on both sides of the border, condemned these tariffs and questioned the direction of American trade policy.
While imposing the tariffs, Mr. Trump explicitly noted they could be lifted if Canada and the United States could agree on a new trade deal to replace the North American free-trade agreement, hence the shock in Canada when the Trudeau government agreed to the USMCA even though the unjustified U.S. tariffs are still in effect.
Of course, the Canadian government expressed dismay that the tariffs remain in place. Foreign Affairs Minister Chrystia Freeland has attempted to justify the situation by arguing steel and aluminum tariffs remain a separate discussion from the USMCA negotiations. However, even a cursory examination of the agreement reveals this is clearly not true.
In fact, the USMCA validates and makes several accommodations on U.S. national-security tariffs.
First, while the USMCA leaves room for significant growth of Canadian auto exports, it does not close the door to future Section 232 tariffs. Second, there is a new protocol for the imposition of future U.S. national-security tariffs against Canada, without eliminating the current Section 232 tariffs on our steel and aluminum exports.
What is most disconcerting is that these provisions essentially legitimize the right of the U.S. president (the U.S. Congress has little say on the matter) to impose more "national-security" tariffs against Canada in the future.
For example, the United States has initiated a Section 232 investigation into uranium imports. Canada is a significant exporter of uranium to the United States. Workers in Canada who mine and process uranium should be very concerned, because our government has essentially agreed to a process for the United States to impose Section 232 tariffs on Canadian uranium exports.
The notion that Canadian exports of steel, aluminum or uranium pose a threat to U.S. national security has no basis in fact. Canada and the United States have a long-standing relationship that ensures economic co-operation in the event of threats to national security. So why, then, is Canada agreeing that such tariffs can be imposed?
While trade negotiations with the Trump administration were no doubt challenging, in the end it seems the Trudeau government and certain stakeholders were relieved they had preserved protections for some parts of the Canadian economy.
Most notably, Prime Minister Justin Trudeau and Ms. Freeland have cited the preservation of the Chapter 19 dispute-resolution mechanism as a key achievement. But Chapter 19 provides no protection against U.S. national-security tariffs.
The new USMCA will be a key determinant of the entire economic relationship between Canada and the United States for decades to come. For hundreds of thousands of Canadian workers in industries now vulnerable to U.S. tariffs, a key question must be answered by their government: Why does this new trade agreement allow protectionists south of the border to impose punishing tariffs on Canadian industries without any basis whatsoever?
Canadians also can rightfully ask parliamentarians to think twice about ratifying a trade agreement that contains such a fatal flaw, on top of all the other concessions made by their government.
---
October 4, 2018
Canada sells out in revamped NAFTA deal
OTTAWA — After weeks of intense negotiations behind closed doors, a renegotiated North American Free Trade Agreement (NAFTA) has emerged. Like the original NAFTA, the new U.S.-Mexico-Canada Agreement, or USMCA, falls short when it comes to protecting workers' rights, the environment, farmer livelihoods and the health and wellbeing of people across the continent.
Early analysis shows that the new agreement fails to address many of the long-term problems caused by NAFTA: wage stagnation and rising inequality, deterioration of farmer livelihoods, inadequate protection of public services and environmental degradation. In fact, USMCA may worsen the situation for many communities and industries.
USMCA will undermine access to affordable medicines in Canada. The deal extends the patent protection term for biologic medicines to 10 years (from 8 years), thereby delaying the entry of generic drugs into the market and contributing to rising drug costs. This change will impede access to affordable medicines and make it more difficult to develop a pharmacare program in Canada.
The new deal grants U.S. farmers greater access to Canada's dairy market. In a move similar to liberalization under the CPTPP (Comprehensive and Progressive Trans-Pacific Partnership), the North American deal opens up 3.59% of Canada's supply management system. This will jeopardize the viability of supply management, which ensures decent farmer livelihoods and high quality, affordable products for consumers.
USMCA fails to offer genuine environmental protection. The deal contains limited environmental provisions and lacks an effective enforcement system, which will allow corporations to continue to evade environmental policies by shifting toxic pollution to countries with weaker environmental regulations. This illustrates a step in the wrong direction when it comes to tackling climate change and meeting Canada's commitments under the Paris Agreement.
It is worth noting that the new agreement removes the Investor State Dispute Settlement (ISDS) mechanism between Canada and the US. Though long overdue, this move represents a huge win for the labour, environmental and social justice movements that have long called for the elimination of ISDS. Unfortunately, Mexico will continue to be subject to ISDS provisions.
Despite the Trudeau government's commitment to negotiate strong provisions on labour rights, gender equality, Indigenous rights and environmental protection, as part of its Progressive Trade Agenda, USMCA fails to provide these tools for building a more just and sustainable economy that benefits people across the continent.
The Canadian government seems to have succumbed to the thinking that without NAFTA we would have no trade, although this myth has been disproved by experts. As a result, Canada sold out its "progressive trade" principles and the best interest of its communities and industries.
Much work remains to be done to improve the trading relationships across North America. Any new deal must be environmentally sustainable and benefit people across the continent, not just multinational corporations. We, Common Frontiers, the Council of Canadians and the Trade Justice Network, urge the Canadian Parliament to undertake a robust public consultation before ratifying the agreement.
---
September 20, 2018
Alliance for Global Justice Presents the next Venezuela Webinar:
Examining the effect of sanctions on human rights in Venezuela with SURES
September 25, 2018 8pm ET/5pm PT
Examining the effect of sanctions on human rights in Venezuela with SURES
SURES recently released a 30 page study investigating how sanctions, also known as unilateral coercive measures deprive the population of basic products which are important for every day life. They will share their findings from the study and provide some recommendations from their prospective as a Venezuelan human rights organization.
Special Report: Unilateral Coercive Measures Against Venezuela and it's Impact On Human Rights
Speakers
Maria Lucrecia Hernadez, Director @SURES

Maria Lucrecia Hernadez is a lawyer and a graduate from the University of Buenos Aires with master's degrees in human rights, criminal and procedural law from the University of Barcelona, Spain and the Latin American Council of Social Sciences, CLACSO. She has been a consultant for United Nations organizations, UNICEF and United Nations Development Programme. She has been Vice Chancellor of the National Experimental Security University and is currently director SURES.
Aura Rosa Hernandez, Training Coordinator @SURES

Aura Rosa Hernandez is a political scientist graduating from the Central University of Venezuela. She received a master's degrees in constitutional law from the University of Valencia and a master's degree in political science from the Simon Bolivar University in Venezuela. She has been a consultant on women's rights for the Venezuelan government and is currently the Training Coordinator for SURES.
---
September 10, 2018
Arbitral Award is Inapplicable To Ecuadorian Plaintiffs
From UDAPT
Lago Agrio, September 10, 2018- Once the arbitration award regarding the lawsuit that the oil company Chevron pursued against the Ecuadorian State – known as Chevron III – has been made public, members of the UDAPT stated that it is not the first time this Arbitral Tribunal issues rulings that cannot be complied with, in an attempt to stop the trial against Chevron. The Ecuadorian Courts have already ruled in this regard, stating that the highest duty of the State is to guarantee the effective enforcement of the human rights recognized in the Constitution and in international treaties, a duty that goes beyond international trade obligations. For this reason, the new ruling is inapplicable to the Ecuadorian plaintiffs.
Pablo Fajardo, the lawyer for Ecuadorian indigenous people and settlers who won the private trial against the oil company, explained that an arbitral tribunal cannot force a State to violate its constitutional norms, disrespect the separation of powers and jeopardize the constitutional and legal guarantees protecting the human rights of Ecuadorian citizens.
Furthermore, he stated that it is inadmissible for a Court of Arbitration to order a State to annul a verdict ruled in trial between private individuals and which has been ratified by all judicial instances. This ruling clearly undermines the sovereignty of the State and its judicial independence, and above all it puts forward the supposed interests of "investors" over the human rights of the settlers who were affected by decades of deliberate contamination. This is unacceptable for any jurisdiction in the world, as their judicial systems would be simply reduced to lower courts in relation to those of arbitration.
-read the entire story on texacotoxico.net>
---
August 13, 2018
Media Release
International Days of Action Calling for an End to US and Canadian Sanctions Against Venezuela
On 14 August 2018, solidarity organizations and anti-war activists among other concerned individuals and groups will participate in an international day of action denouncing US and Canadian Sanctions against Venezuela. These economic sanctions, referred to as unilateral coercive economic measures in Venezuela, are illegal under the Organization of American States (OAS) and the United Nations (UN) charters. Since 14 August 2017, the Trump administration has heightened these sanctions to have a broader impact across Venezuelan society preventing the government from: refinancing its debt and present challenges for imports.

The Campaign to End US and Canada Sanctions Against Venezuela states, "On May 21, the day after the re-election of Venezuela's President Nicolás Maduro, the US further expanded economic sanctions against Venezuela. Both the US and Canada have sanctions targeting senior Venezuelan government officials. These sanctions severely hamper the government's ability to engage with international financial entities." Furthermore, they have a devastating impact on Venezuelans everyday lives.

Actions on 14 August will include a social media campaign #SanctionsAreWar and#EndVenezuelaSanctions, local actions outside of Venezuelan consulates and embassies in solidarity with the Venezuelan people, continued circulation of the international Call to Action condemning sanctions and more.

Recent news of the assassination attempt on President Nicolás Maduro as well as other high ranking military and government officials, speak to clear signs of escalating warfare against Venezuela. And while not military intervention, sanctions create conditions that economically strangle a nation and are often the prelude to overt warfare.

Join the international campaign on 14 August 2018 in demanding an end to US and Canada sanctions against Venezuela. Post the photo on social media and send us your picture at EndVenezuelaSanctions@gmail.com

Who: Campaign to End US and Canadian Sanctions Against Venezuela

What: International Days of Action Denouncing US and Canadian Sanctions

When: 14 August 2018

Where: Multiple locations

Contacts:
Raul Burbano (Canada) +1.416.522.8615, burbano@rogers.com
Alison Bodine (Canada) +1.604.518.7361, alisoncolette@gmail.com
Teri Mattson (US) +1.415.259.9626, endvenezuelasanctions@gmail.com

-descarga la versión en español>
---
August 6, 2018
Canada urged to monitor Colombia's fragile peace accord as killings of activists mount
From the Toronto Star

Colombian Canadians, alarmed at the number of human rights leaders murdered in the South American nation, will gather in Toronto to condemn what they see as a threat to the country's long-fought peace.

On Tuesday, a rally will be held at 6 p.m. at the Mark Cohen Park near Bloor St. W., and Spadina Ave., to protest the violence and send a message to Colombia's newly elected right-wing president Ivan Duque to uphold the 2016 Peace Accord.

The agreement, signed by then-President Juan Manuel Santos and rebel leader Timochenko, ended Colombia's 50-year guerrilla war which left more than 220,000 dead and countless missing and displaced. Rebel group, the Revolutionary Armed Forces of Colombia (FARC), was disarmed and demobilized, and a transitional justice system was established to seek out the truth of the conflict.

Since then, the country's civilian murder rate has reached an all-time low — 24 people per 100,000 last year — however, there has been a surge of killings of community activists who had been trying to enforce the peace agreement.

According to Colombia's Human Rights Ombudsman, Carlos Alfonso Negret, 311 social movement leaders have been murdered in the country since January 2016, more than 100 of them killed this year alone by what locals called "Fuerzas Oscuras" in Spanish or "dark forces" in English.

"The accord has failed to open up a space where people can advocate for themselves without themselves being targeted," noted Ilian Burbano of the Colombian Action Solidarity Alliance, a Toronto-based advocacy group.

Burbano fears that Duque, who will be inaugurated on Tuesday, will stall the full implementation of the accord.

"It's not easy for the government to backtrack but it is a concern for everyone if the accord fails."

Academics, activists and Colombians in Canada have started a petition to call on Ottawa to use its economic muscle — with bilateral trade totalling $1.73 billion in 2017 — to protect Colombian rights leaders and monitor the implementation of the peace process.
---
August 5, 2018
International Days for Peace in Colombia and against Death Squad and State Terror: August 5-11 Take part in the August Days for Peace in Colombia!
Colombia Humana has called for August 7 to be a day of national actions in Colombia to demand an end to political violence, and that the peace accords be honored.

The Alliance for Global Justice, School of the America's Watch, People's Human Rights Observatory, Task Force on the Americas, Party of Liberation and Socialism, Freedom Road Socialist Organization, Marcha Patriótica of California, Committee to Free Simón Trinidad, and Camino Común have called for August 5-11 to be International Days for Peace in Colombia and against Death Squad and State Terror.

Background<.p>

Colombia is in a state of humanitarian crisis. Despite approval of the peace accords on November 30, 2016, since that date, Colombian paramilitary and US backed armed forces have killed around 400 social movement leaders, ex-insurgents, and their family members. Especially targeted are Afro-Colombian, indigenous, and rural communities, members of the Marcha Patriótica popular movement for a just peace, and members of Left and Center-Left parties. At least 161 of the victims are from the Marcha Patriótica and 25 from Fensuagro, the agricultural workers union. These are two of our closest sister groups in Colombia.

On August 7, Ivan Duque will take possession of the presidency. He won an election that was riddled with irregularities in a context of threats and violence against campaigns supporting Colombia's peace accords. Duque is a disciple of former president Älvaro Uribe, Colombia's main paramilitary patron and one its top 100 narco-traffickers (according to the US Defense Intelligence Agency). Since Duque's election, political assassinations of Leftists have occurred at the rate of more than one activist murdered per day.
---
August 2, 2018
Endorse Today! Help end illegal sanctions against Venezuela
Call to Action:
Ordinary Venezuelans are hurt by sanctions imposed by the US and Canada

The elderly grandmother who cannot get insulin for her diabetes, the child who is undernourished during an important stage of development, families who cannot afford to feed and clothe their children as a result of hyperinflation. US and Canadian sanctions are precipitating a rapid economic decline in Venezuela and ordinary Venezuelans are the primary victims.

Unilateral sanctions are illegal

On May 21, the day after the re-election of Venezuela's President Nicolás Maduro, the US further expanded economic sanctions against Venezuela. Both the US and Canada have sanctions targeting senior Venezuelan government officials. These sanctions severely hamper the government's ability to engage with international financial entities. Furthermore, unilateral sanctions violate the human rights of the Venezuelan people and are illegal under the charters of the OAS and the UN. The imposed sanctions prevent the government from borrowing money from major financial institutions and from repatriating dividends earned by state subsidiaries abroad, restricting Venezuela's ability to import vital foods and medicines. The US and Canada hypocritically claim to be concerned about the humanitarian situation in Venezuela, while their sanctions regimes are deliberately designed to asphyxiate the Venezuelan economy.

Sanctions are a form of economic war and can be a prelude to actual war

In addition to the economic war being waged against Venezuela through sanctions, recent reports as well as public statements by US officials have made clear that a military option against Venezuela is under serious consideration. As people in the US and Canada, we have the responsibility to end our governments' practice of illegal foreign intervention, including the current economic sanctions against the people of Venezuela. These sanctions are a collective punishment designed to create enough human misery to bring about the overthrow of a democratically-elected government, including via a military coup. Economic sanctions violate Venezuela's national sovereignty and the basic rights of Venezuelan citizens.

The campaign invites you and/or your organization to endorse this call against the illegal, unjust and cruel sanctions being inflicted on the people of Venezuela.
Let us know if you are interested in participating and/or organizing an activity in one or more of the areas of work listed below that will help build a North American voice against sanctions imposed on Venezuela:
Congressional/parliamentary work
Days of action
Media outreach
Petitioning (online)
Speaking tours
Webinars
For more information on how to get further involved, please email EndVenezuelaSanctions@gmail.com>.
---
July 29, 2018
Next Venezuelan Webinar July 31:
End US-Canadian Sanctions Against Venezuela Now!
Register here: Venezuela Webinar Invitation
Tuesday, July 31, 2018 8pm EDT / 5pm PDT
Learn about a new US-Canadian campaign to end sanctions against Venezuela from Teri Mattson, convener of the End Venezuela Sanctions Planning Group. Teri is a Bay Area organizer who has led numerous delegations to Venezuela.
Learn about the effects of sanctions on Venezuela and particularly on the ordinary people of Venezuela from long-time Venezuela expert Gregory Wilpert. Greg is a German-American sociologist and journalist, who currently works as host and producer for The Real News Network. Previously he was director of the teleSur English website. Also, he is the co-founder of Venezuelanalysis.com and the author of Changing Venezuela by Taking Power: The History and Policies of the Chávez Government (Verso Books, 2007).
This is part of a monthly webinar series organized by the Alliance for Global Justice. You must be registered to participate.
---
July 27, 2018
Carta Final Berta Caceres
Honorable Magistrado Rolando Argueta Pérez Presidente
Corte Suprema de Justicia
Tegucigalpa, Honduras
Honorable Magistrado Rolando Argueta Pérez:
Las organizaciones internacionales firmantes le escribimos para expresar nuestra grave preocupación con respecto de los procedimientos legales en el caso de Berta Cáceres, defensora de los derechos humanos y lideresa muy reconocida y respetada a nivel nacional e internacional, asesinada el 2 de marzo de 2016. La violencia y criminalización antes de su muerte, documentada y denunciada por parte de Berta, ilustran claramente los patrones de represión contra comunidades indígenas y personas defensoras de los derechos humanos que tienen lugar con frecuencia en Honduras y la región.
Como es de su conocimiento, mañana, viernes 27 de julio, el tribunal de Tegucigalpa presidirá la Audiencia de Proposición de Pruebas de ocho de los nueve hombres acusados del asesinato de Berta Cáceres. Esta audiencia clave dará forma al juicio oral y público y tendrá un impacto significativo en su resultado. Sin embargo, existen preocupaciones fundadas de que la fiscalía llevando el caso esté socavando la posibilidad de justicia al retener pruebas que la ley hondureña exige se pongan a disposición de los abogados. El no cumplir con esta garantía procesal podría proporcionar motivos para apelar cualquier decisión judicial en el futuro. Además, la evidencia que hace falta podría incriminar a los autores intelectuales del crimen y proveer los fundamentos para acusarlos.
La evidencia reunida en los últimos dos años es convincente. Aunque todavía falta que sus tribunales la evalúen y determinen su valor probatorio, parece demostrar un patrón de acciones violentas por parte de empresarios influyentes que emplearon sicarios, fuerzas de seguridad privada y fuerzas de seguridad del Estado para promover violencia, intimidación, campañas de desprestigio y el enjuiciamiento falso contra comunidades y líderes indígenas -así como contra quienes abogan por ellos-, con el objetivo de despojar a las comunidades de sus territorios el agua y su derecho de defenderlos.
En la audiencia de mañana, el fiscal, los abogados defensores y los abogados que representan a la familia de Berta y al COPINH deben presentar las pruebas que pretenden utilizar en el juicio. Sin embargo, hasta la fecha, la fiscalía se ha negado reiteradamente a cumplir con las órdenes judiciales de entregar la mayoría de las pruebas que ha reunido en la investigación, lo que ha resultado en la suspensión de al menos 5 audiencias previas al juicio. Esto parecería constituir desacato al tribunal y obstrucción de la capacidad de las víctimas y de los acusados para formular sus estrategias en el juicio.
Es extremadamente alarmante que la audiencia pueda tener lugar en estas condiciones. Los abogados han solicitado acceder a las pruebas reunidas en las investigaciones ordenadas por el tribunal, incluyendo computadoras, tabletas digitales, cámaras fotográficas y otros dispositivos de almacenamiento electrónico incautados durante el proceso de investigación, así como documentos de importancia recogidos durante los allanamientos realizados.
El tribunal de primera instancia debe decidir el viernes 27 de julio si procederá la audiencia a pesar de que la fiscalía no cumpla con las órdenes judiciales, o, de lo contrario, si debe de suspender la audiencia hasta que se proporcione la evidencia requerida a las partes. Como defensores de la justicia y la garantía de los derechos humanos, insistimos en que los tribunales hondureños garanticen el debido proceso en este caso paradigmático.
Sinceramente,
Plataforma Internacional contra la Impunidad - Internacional
Protection International - Mesoamérica
Centro de Investigación para la Prevención de la Violencia en Centroamérica, CIPREVICA - Centroamérica
Atlantic Region Solidarity Network - Canadá
Canadá Common Frontiers - Canadá
Mining Injustice Solidarity Network - Canadá
MiningWatch Canada - Canadá
Rights Action - Canadá/EEUU
Guatemala Human Rights Commission – EEUU
JASS (Just Associates) - EEUU
Share Foundation - EEUU
The Human Rights Defenders Project - EEUU
Asociación de familiares de detenidos desaparecidos de Guatemala, Famdegua - Guatemala
Bufete de los Pueblos Indígenas - Guatemala
Centro Para la Acción Legal en Derechos Humanos, CALDH - Guatemala
Hijos e hijas por la identidad y la Justicia contra el Olvido y el Silencio - Guatemala
Instituto Amaq' - Guatemala
Prensa Comunitaria Km. 169 - Guatemala
Unidad de Protección a Defensoras y Defensores de Derechos Humanos de Guatemala, UDEFEGUA - Guatemala
---
July 25, 2018
Debate on Political Crisis & Violent Deaths in Nicaragua: Camilo Mejía vs. Julio Martinez Ellsberg
From Democracy Now
---
July 24, 2018
Call For International Day For Struggle
August, 13th 2018
Luiz Inácio Lula da Silva, the most popular leader in Brazil, stood out as a worker leader in the 1970s and during his term as brazilian president, his social policies against famine and poverty became internationally known.
After the parliamentary coup, which in 2016 unjustifiably dismissed President Dilma Rousseff, the conservative offensive also takes place by criminalizing national popular leaderships. In continuation of this process, Lula received an absurd arrest warrant in April, after being unjustly convicted in January of this year, in a trial without material evidence and full of legal anomalies.
Lula has been in prison for more than 100 days in an individual cell at the Federal Police headquarters in the city of Curitiba, where he receives affectionately the news about demonstrations occurring in all corners of the world in his solidarity and demanding his immediate freedom.
On August 15, 2018, Brazilian organizations and militants struggling for Lula's freedom and his right to be a candidate will mobilize to follow the registration of his presidential candidacy. In previous days, international expressions of solidarity will be fundamental.
We call on the entire international community that defends democracy and human rights – governments, trade unions, social and popular organizations, activists, artists, intellectuals, religious leaders, journalists, politicians, etc. -, to take the streets on 13 AUGUST 2018 to:
– Denounce that Lula is a Political prisoner of the coup in Brazil and claim for Lula's immediate freedom and his right to be candidate to presidency;
– Organize mobilizations in front of Brazilian Embassies and Consulates abroad;
– Deliver Letters and declarations for Lula's Freedom signed by organizations, popular leaders, intellectuals, parliamentarians, etc;
– Provide visibility on social medias through the use of the hashtags: #LulaLivre #FreeLula #LulaLibre;
We ask all the Committees and entities that organize the acts to inform us when and where the acts will take place. And to send us in the same days all the letters, declarations, photos, videos and records of the acts of solidarity to the email freelulabrasil@gmail.com
Our web page has the address: comitelulalivre.org. And you can find us at the biggest social medias through: @freelulabrasil
We will keep fighting until Lula is released!
Free Lula International Committee
---
FIRST SUBSCRIPTIONS:
1. Central Workers Union Confederation – CUT – Brasil
2. Central Brazilian Worker's Confederation – CTB – Brasil
3. Landless Worker's Movement – MST – Brasil
4. ALBA'S Popular Movements Articulation – ALBA Movimientos
5. "Our America" Trade Unions Meeting – ESNA
6. Trade Unions of the Americas – TUCA
---
July 19, 2018
Colombia: 'They are killing us'
A candlelight vigil for activists who have been killed since the signing of the peace accords, in Bogota, Colombia, on July 6.
From GreenLeft.org
Candlelight vigils were held in Colombia and cities around world on July 6 under the slogan 'They are killing us' to demand an end to the political violence that has cost the lives of more than 125 social leaders in the South American country since January alone.
The protests coincidence with a particularly deadly week in Colombia in which seven social leaders were assassinated.
Political violence against social activists has risen in recent years despite the signing of a peace accord between the government and the leftist guerrilla group, the Revolutionary Armed Forces of Colombia (FARC). According to Colombia's Ombudsman, more than 311 political murders have been registered since the accords were signed in November 2016.
This trend has escalated further since the June election of far-right presidential candidate Ivan Duque, with on average, one social leader being murdered each day since the election.
Vigils organised were held in Colombia's capital Bogota and Medellin, as well as more than 25 cities around the world including Sydney (pictured below), Paris, Barcelona, Berlin, Brussels, London, New York, Rome and Buenos Aires.
-read the entire post on greenleft.org
---
July 6, 2018
Mexico's Left Turn? Mexico's Election and Beyond In The Trump Era
Please join us:
MEXICO'S LEFT TURN?
MEXICO'S ELECTION AND BEYOND IN THE TRUMP ERA

WHEN: SUNDAY JULY 15TH, 4PM
WHERE: A DIFFERENT BOOKLIST, 777 BATHURST ST, TORONTO
Despite fierce opposition from big business and the media, Andrés Manuel López Obrador was elected by an overwhelming majority as President of México on July 1 and has won majorities in both houses of Congress. How did this rejection of the major parties come about? Is he a "leftist," or "populist" as widely purported in the North American press? What kind of change can be expected? How might this affect the future of NAFTA and the immigration crisis? What obstacles will the new government face? Join the SP and friends for a RedTalks on these questions featuring: Tania Herndandez, Colin Mooers, Richard Roman and Anna Zalik.
* TANIA HERNANDEZ has been involved throughout her life in women and youth human rights organisations in Mexico and human rights campaigns in Canada against violence in Mexico. She has a doctoral degree from York University and is affiliated with CERLAC (Centre for Research on Latin America and the Caribbean) at York University.
* COLIN MOOERS is co-founder and co-host of MexElects
He is a professor of Politics at Ryerson University and has published a number of books as well as many articles, including Imperial Subjects: Citizenship in an Age of Crisis and Empire (Bloomsbury, 2014); The NewImperialists: Ideologies of Empire (Oneworld, 2006); Restructuring and Resistance (Fernwood, 2000) and The Making of Bourgeois Europe (Verso, 1991).
* RICHARD ROMAN is a professor emeritus at the University of Toronto, an Associate Fellow of CERLAC, and co-author of Continental Crucible: Big Business, Workers and Unions in the Transformation of North America (PM and Fernwood, 2015), now in an expanded Spanish edition, La Gran Cazuela en América del Norte: Gran Capital, Trabajadores y sindicatos en la época del TLCAN (CISAN-UNAM).
* ANNA ZALIK is a professor in the Faculty of Environmental Studies at York University and a leading scholar on extractive industries and resistance in Canada, Mexico, and Nigeria. Her many articles and chapters include: "Rethinking the Extractive/Productive Binary under Neoliberalism"; "Wealth and Oil, No Change There"; "Displacement and Denationalization": "The Mexican Gulf 75 Years after the Expropriation"; "Marketing and Militarizing Elections? Social Protest, Extractive Security, and the De/Legitimation of Civilian Transition in Nigeria and Mexico."
Childcare for this event is available upon request. Please contact info@socialistproject.ca.
-visit the Facebook event page
---
June 27, 2018
UN Special Rapporteur on human rights defenders urges US act
CETIM, UDAPT and FORUM NOBIS denounce Chevron's attacks against victims' defenders in the United States and Ecuador. Following the report submitted by the three organizations, the UN Special Rapporteur on the situation of human rights defenders urges the US government to act.
CETIM, UDAPT, FORUM NOBIS prepared a report on Chevron in 2015. They submitted it to the United Nations Special Rapporteur on the situation of human rights defenders. This report asked the Special Rapporteur to question the United States and Chevron. To end the criminalization of those who defend the rights of communities affected by TNC activities in Ecuador. The indigenous peoples of the Ecuadorian Amazon.
Following this request, Special Rapporteur Michael Forst called the United States government to account, noting "bias and other procedural irregularities, including abuses in judicial proceedings brought by Chevron Corporation before federal courts (in US ed.)".
The US government responded that the case "involved a private litigation matter to which the US government is not and need not be a party." Curious reasoning on the part of a government that is supposed to fight human rights violations against the actions of third parties, even transnational corporations.
The UN Special Rapporteur on the situation of human rights defenders today deplores the US government's failure to respond to specific questions addressed to him about the company's actions. He thus vindicated the claims contained in the report and confirmed the legitimacy of this struggle.
Read here the full report of the CETIM, UDAPT and FORUM NOBIS submitted to the UN Special Rapporteur on the situation of human rights defenders.
Read here the U.S. government's response.
Read here the response of the UN Special Rapporteur on the situation of human rights defenders (see p.36).
Reminder of the facts:
Chevron is responsible for one of the worst oil disasters on the planet. For 26 years, Chevron (then Texaco) extracted oil in Ecuadorian Amazon and polluted more than 450,000 hectares of one of the world's most biodiversity-rich regions, destroying the place of life and livelihoods of its inhabitants. Chevron intentionally dumped the equivalent of 30 times the oil spilled during the Exxon Valdez disaster into the Ecuadorian rainforest. More than 60 billion litres of water loaded with toxic waste spilled into rivers and streams, and 880 pits were dug to store hydrocarbon waste.
After 22 years of litigation, and despite a condemnation of Ecuadorian justice, impunity continues for Chevron and the victims of his activities in Ecuador still await justice and compensation. Chevron, for his part, denies any responsibility, and devotes enormous resources and efforts to thwarting the judgment, harassing the victims and silencing their defenders.
---
June 22, 2018
Unilateral coercive measures against Venezuela and its impact on human rights
Special Report, Caracas, 2018
Sures is a Venezuelan civil association devoted to the study, promotion, education and defense of human rights, from critical, emancipatory and alternative views. It is a nongovernmental, nonprofit, independent, nonpartisan and non-religious organization. The mandate of Sures covers all environmental, civil, cultural, economic, social and political human rights recognized in the Constitution of the Bolivarian Republic of Venezuela and in the international treaties ratified by our country. It prioritizes those groups of people in situations of greater exclusion, poverty and discrimination.
By María Lucrecia Hernández
Ana Salazar Maldonado
As of 2014, the Bolivarian Republic of Venezuela has been subjected to a series of sanctions unilaterally imposed by several countries of North America and Europe, which has generated a rather serious impact on the enjoyment and exercise of the human rights of its population. In this Special Report, a study on these coercive measures and their effects is presented. For this purpose, a chronological detail of the imposed sanctions, their legal basis, scope and their relation with Public International Law and Human Rights Law is presented.
It is essential to underline that all the actions of the States that have imposed these sanctions revolve around the approval of a Public Law in the Congress of the United States of America in December 2014, during the administration of Mr. Barack Hussein Obama: the 113-278 Act entitled "Public Law for the Defense of Human Rights and Civil Society." The importance of this legal instrument is that it dictates the course of action for the policy of the government of the United States of America towards Venezuela, which has also marked the road map so other States, under their influence and domination, have adopted in recent years a series of unilateral coercive measures against it.
The 113-278 Act includes a set of sanctions aimed at the economic, financial and economic blockade of Venezuela, but it additionally expressly provides for that the Member States shall "work" with of the Organization of American States and the European Union, to ensure interference in the internal affairs of the Bolivarian Republic of Venezuela. That is, it is a law that explicitly and expressly recognizes that it contravenes the fundamental principles of Public International Law, the Charter of the United Nations Organization and the Charter of the Organization of American States.
1. UNILATERAL COERCIVE MEASURES AGAINST VENEZUELA
Up to the date of the preparation of this special report, twenty-two (22) instruments have been issued that impose unilateral coercive measures against the Bolivarian Republic of Venezuela, from December 2014 until May 2018. The countries and communities that have imposed these measures are as follows: USA, Canada, the European Union, Switzerland and Panama. Is It is important to emphasize that these sanctions are always preceded or in parallel with official public statements of different spokespersons of these States on the situation and the internal affairs of Venezuela, some of which are pointed out in this study.
-Download the complete report as a PDF
---
June 20, 2018
No one is above the law.
A call to action from the Ecuadorian Indigenous people to support their fight against corporate impunity.
-Click on the photo above to go to the Go Fund Me campaign
Ecuadorian indigenous people were ordered to pay 350.000 Canadian dollars if they want to file an appeal before the Canadian Supreme Court. The Amazonians want to enforce an Ecuadorian judgment ordering Chevron to repair one of the greatest environmental pollution case in the world – caused by deliberate and negligent operation of oil fields.
The people affected by the pollution (UDAPT) call for changes in the laws, and thus the behaviors, that sustain the structure of corporate impunity worldwide. These financial challenges allow companies like Chevron to continue to pose a threat to the environment, people, and the survival of our planet.
The Ecuadorian National Court ordered Chevron to pay more than 9,500 million dollars to repair their lands and rivers, which were seriously poisoned because of Chevron's deliberate deployment of obsolete methods. However, this company withdrew all its assets from Ecuador. The indigenous communities were forced to seek justice in other countries: Argentina, Brazil and, recently, Canada.
The Canadian Supreme Court previously recognized this lawsuit as a public interest litigation. But the judges of the Ontario lower court declared that "[t]here is a difference between economic reality and legal reality", so the laws in force should not be modified. If the laws are changed, the Ecuadorian lawsuit could affect Canadian companies and force them to respect human rights above their business interests.
This trial has provoked a long debate among the members of the Canadian judiciary and legal practitioners. The appeal before the Supreme Court of Canada would be the scenario in which the judges define whether they will adopt an innovative approach with respect to corporate responsibility, justice and equity, or will continue with the application of the current laws in favor of giant multinationals' impunity. During the past years, UDAPT has joined international efforts along with hundreds of nonprofits that stand for human rights, specifically aiming for the creation of a binding international instrument on transnational corporations and human rights. The emblematic battle of the Ecuadorians against Chevron has unveiled the structure of impunity that allows transnational corporations to get away with gross human rights' violations and environmental damage.
Ecuadorian communities consider the Supreme Court of Canada to be reliable. The access to that Court is economically conditioned, since the Court of Ontario has ordered that the Ecuadorian victims pay 350,000 Canadian dollars by the first week in July if they wish to appeal the decision preventing financial justice. For the indigenous people and farmers who live in the Amazon and have no funds, collecting this amount represents a real challenge. If they fail, impunity shall prevail.
On the other hand, their victory could represent an important advance for indigenous populations who are victims of human rights and environmental violations throughout the world. For this reason, a global campaign has begun to collect 350,000 Canadian dollars. This is the opportunity to break the siege that prevents the people of the world from claiming their human rights to multinational corporations.
That could change the history of global corporate impunity.
The trial against Chevron is promoted by more than 30,000 peasants and people from 6 different indigenous nationalities organized in the UDAPT (Union of the People Affected by Texaco).
This press release is issued by:
M.E. Garcés, c/o UDAPT, Portete E12-79 y Abascal, Quito, Ecuador, casotexaco@gmail.com
M.F.M. Witschge, c/o The Crowd Versus, Jan van Nassaustraat 102, 2596 BW Den Haag, The Netherlands, jone@thecrowdversus.org
Descargar versión en español Télécharger la version française
---
June 15, 2018
Download Common Frontiers Report From Venezuela's Presidential Elections
Click on the picture below to download the complete report
-Download the Complete Report from Common Frontiers - PDF 5MB
---
June 5, 2018
Report Back From Venezuela's Presidential Elections
-Download the Complete Report from Common Frontiers - PDF 5MB
---
May 30, 2018
Ecuador Lawsuit continues to be debated by Shareholders of Chevron – Texaco
New CEO of Chevron Michael Wirth continues with the policy of the former top manager John Watson, aiming at avoiding any responsibility in relation to the legal case that the UDAPT has been carrying out against the oil company for 25 years. However, pressure from the company investors is growing: today, 34% of shareholders supported the resolution related to the mismanagement of the Ecuador case.
From Texacotoxico.net
Quito, May 30, 2018 – At the Annual General Meeting of Shareholders of Chevron Corp., held today in San Ramón, California, a significant number of stockholders voted in favor of a resolution proposed to bring about changes in the policy that the company has been adopting to cope with the environmental lawsuit started by indigenous people and peasants from Ecuador organized in the Union of People Affected by Chevron-Texaco, UDAPT.
The lawsuit has been discussed once again this year, producing the reaction of more than 30% of shareholders who demanded concrete actions to solve the litigation. Chevron was found guilty for three times by Ecuadorian courts and has seen its image severely damaged as highlighted by a letter sent by the UDAPT to the company stockholders.
The resolution refers to the possibility of convening a special meeting, taking into account that shareholders have not been sufficiently or truthfully informed regarding the financial risk deriving by the environmental judgment in Ecuador. Such resolution aims to strengthen the power of the shareholders to decide on important issues that may arise in between the Annual Assemblies, and gained about 34% of votes.
Furthermore, the resolution highlights the adoption of a mistaken policy by the management of Chevron Corp., which instead of fulfilling its responsibility for the environmental damage caused in the Ecuadorian Amazon – which led to a ruling condemning the company to pay more than 9,500 million dollars – has continued a reckless legal struggle that caused huge expenditures for the company, as well as serious damage to its image and reputation.
As stated in the documents supporting this resolution, John Watson, the company's previous CEO, has not adequately informed the shareholders about the implications of the environmental lawsuit, which has been extended from Ecuador to Canada, Brazil and Argentina, and it is widely recognized as the most important legal case worldwide in defense of human and environmental rights. The lawsuit, carried out by the indigenous and peasant communities of Ecuador, has hit the company hard and led to questions about its way of acting around the world.
This vote reflects a growing concern of the shareholders of Chevron, which have been putting pressure on the company so that this case would be definitively resolved. Willian Lucitante, Executive Coordinator of the UDAPT, stated that what happened today in San Ramón is a success achieved by the affected people of Ecuador, in that "in spite of the millions spent by Chevron to destroy the struggle of this people, we are getting stronger in the global fight". Lucitante also thanked the shareholders who proposed the resolution and those who voted in favor of it.
-read the entire article on texacotoxico.net
---
May 24, 2018
Canadian Court Denies UDAPT Request for Chevron Canada to Respond for Environmental Crime in Ecuador. Affected Ecuadorians Appeal before the Supreme Court
From Texacotoxico.net
Quito, May 23, 2018 – Through a ruling issued today, the Court of Ontario dismissed the evidence presented by the affected Ecuadorians to link the capitals of Chevron Canada and Chevron Corporation. The decision of this Court will be appealed before the Supreme Court.
This decision of the Toronto Court is given more than a month after the last hearing, which was attended by a delegation from the UDAPT (Union of the people Affected by Oil Operations of Texaco) conformed by the member of the UDAPT committee and indigenous Kichwa leader Guillermo Grefa, and the President of the CONAIE (Confederation of the indigenous nationalities of Ecuador), Jaime Vargas, accompanied by the Ecuadorian lawyer Julio Prieto.
During the hearing, the affected represented by the Canadian lawyer Alan Lenczner, presented evidence that Chevron Canada belongs to Chevron Corp and depends economically on it. They delivered the equity statements that the parent company presents annually in the United States, in which assumes ownership over all of its subsidiaries, including Chevron Canada. Were also presented documents that prove that the acquisitions made by Chevron Canada are under the approval of the parent company and others that determine Chevron Canada intermediates the company's investments in other countries, such as Nigeria and Indonesia. In addition, they revealed the existence of seven levels of subsidiaries, under which the multinational seeks to hide their capital and evade any judicial responsibility.
These evidences were not validated by the Canadian judges even though the Chevron Corporation's own lawyer recognized the right of those affected to seize the subsidiary, regardless of the number of subsidiaries that intermediate between the two. The representative of the company accepted that the number of subsidiaries does not extinguish the right of the Ecuadorian plaintiffs. He also admitted that this situation does not correspond to the economic reality, but to the legal reality. That is precisely the problem, said Pablo Fajardo: "If the economic reality does not correspond to the legal reality means that laws or jurisprudence are obsolete and need to be adapted to the new realities of the operation of transnational corporations. The interests of companies should not be protected above human rights.
-read the entire article on texacotoxico.net
---
May 23, 2018
Interview With Mohamad Alsadi After Polls Closed in Venezuela Presidential Elections
Click anywhere on the picture below to view the entire interview with TeleSurTV.
---
May 17, 2018
Media Release
Election Observers from Canada to accompany Venezuelan Presidential elections
(Caracas, Toronto) Electoral observers from Canada will be in Venezuela from May 17th to 22nd, 2018, to asses the electoral environment and accompany the Presidential elections on May 20th.
The delegation includes members of Unifor, the Ontario Secondary School Teachers' Federation, the Canadian Union of Postal Workers, The United Church of Canada, Common Frontiers, and Rabble.ca. Their collective experience with election observation expands six countries around the world, including: Haiti (1990), South Africa (1994), Bolivia (2009), Honduras (2013), and Venezuela (2004 and 2010).
"This election is different," said the United Church's Jim Hodgson, "because it is going forward against opposition from the United States and its allies in the region. But each country has the right to choose its leaders, free from foreign interference. Having observers present opens space for the reality on the ground to be heard."
In addition to the delegation, there will be over 250 international observers from 60 countries around the world who will descend on the country to accompany the elections. The upcoming presidential and state legislative and municipal council's elections will be the 24th time Venezuelans head to the polls in 19 years.
Earlier this year the Venezuelan government and the opposition signed an agreement on electoral guarantees to strengthen, electoral participation and, transparency. This was a pivotal moment and safeguards an already internationally recognized electoral process as one of the best in the world, according to the Carter Center.
Raul Burbano, of Common Frontiers and the organizer of the delegation said, "The electoral system in Venezuela has a history of being fair, transparent and democratic. It is the only system in the word that has a transparent citizen audit the day of elections, which allows for community partipcation".
These presidential elections are critical for future peace and economic stability in Venezuela.
For more information, please contact:
Raul Burbano – Caracas 416-522-8615, burbano@rogers.com or see our website rabble.ca/tags/venezuela-election-2018-live
---
May 15, 2018
Follow Venezuelan Election Coverage on Rabble.ca
-Click on photo to view coverage
---
May 14, 2018
Venezuela Votes May 20
---
May 13, 2018
Union Shows Solidarity with Venezuelan People
---
May 10, 2018
Interview with Raul Burbano of Common Frontiers on the Venezuela Presidential Elections.
Raul Burbano, from Common Frontiers, is part of a Canadian mission of Labour and Ecumenical organizations which will be in Venezuela to participate in elections observation, and to build links with counterparts. The delegation will be in Venezuela from May 17th to the 22nd and will be composed of members of Unifor, the Ontario Secondary School Teachers' Federation, the Canadian Union of Postal Workers, The United Church, Common Frontiers and Rabble.ca.
This is the second of several interviews the observers will be posting before and during their mission.
Click anywhere on the picture below to view the entire interview with TeleSurTV.
---
May 8, 2018
Interview with Donald Foreman of the Canadian labour delegation observing Presidential elections in Venezuela
Donald Foreman, from the Canadian Union of Postal Workers (CUPW) is part of a Canadian mission of Labour and Ecumenical organizations which will be in Venezuela to participate in elections observation, and to build links with counterparts. The delegation will be in Venezuela from May 17th to the 22nd and will be composed of members of Unifor, the Ontario Secondary School Teachers' Federation, the Canadian Union of Postal Workers, The United Church, Common Frontiers and Rabble.ca.
This is the first of several interviews the observers will be posting before and during their mission.
Click anywhere on the picture below to view the entire interview with TeleSurTV.
---
May 7, 2018
Media Release
North American organizations call for an immediate suspension of the accelerated NAFTA talks until negotiating climate improves
OTTAWA, TORONTO, MEXICO CITY, WASHINGTON - The political and economic climate under which Canada, Mexico and the United States began the NAFTA renegotiations in 2017 has deteriorated drastically in 2018. Organizations from all three countries call on their governments to immediately suspend the NAFTA talks until a proper climate for trade negotiations can be reestablished.
"The NAFTA renegotiations have accelerated recently to a 24/7 pace under the intense pressures from the United States, including its threat to impose hefty tariffs on steel and aluminum from Canada and Mexico starting June 1st. Negotiating under such extreme conditions is always problematic and can lead to decisions being taken under duress that are not in the long term best interests of the populations in all three countries" said Rick Arnold, a long-time Canadian fair trade campaigner.
The organizations launched a joint Tri-National Statement containing observations on a quarter century of NAFTA 'contributions' to economic and social inequality, environmental degradation and worsening conditions for farm communities throughout North America. The most damaging provisions currently in NAFTA need to be debated, such as putting an end to the investor-state dispute settlement found in Chapter 11.
"We call on all three governments to suspend these negotiations and to reject the arguments that a NAFTA 2.0 must be completed before either the July Mexican elections or the November U.S. mid-term elections. These deadlines are nothing more than pretexts to force the trade negotiators, particularly those from Mexico and Canada, into highly problematic compromises," said Mexican University professor Alberto Arroyo Picard of the coalition Mexico Better Without FTAs.
"These negotiations are being carried on with the public being left in the dark. We insist that any already agreed upon texts be published right away, and that these rushed and secretive talks be suspended and replaced by an authentic consultative process involving legislators and civil society. The end game should be ensuring sustainable development that addresses the inequalities that currently face most people in North America," said Manuel Perez Rocha, Associate Fellow, Institute for Policy Studies.
-30-
Contact:
Rick Arnold CoC-NC | (905) 352-2430
Alejandro Villamar Calderon MMSTLCs | 52 1 (55) 1512-6388
Manuel Perez Rocha IPS | (240) 838-6623
---
May 4, 2018
North American social organizations reject the current acceleration of NAFTA 2.0 talks to seek an agreement 'in principle'
Negotiating under intense pressure is never recommended. We call for the immediate suspension of these talks to be re-started once all newly elected legislators are in place
The political and economic climate under which Canada, Mexico, and the United States started the process of NAFTA renegotiation in 2017 has deteriorated further in 2018. The U.S. is threatening tariffs for June1st and the White House bullies via tweets, while armed National Guards are being sent to the US border with Mexico, etc. These strong arm-tactics employed by the Trump administration have now culminated in an attempt to force an Agreement 'in principle', where, we are told, some sort of understandings have been reached on a few of the most difficult and contentious elements of NAFTA, but the texts remain secret.
We, the undersigned social organizations from all three North American countries, call on our respective governments to publish the texts from the handful of agreed to Chapters immediately, and to suspend the NAFTA renegotiations until a climate of mutual respect is reestablished and an open and public debate can be held in all three countries.
We completely reject the xenophobic and racist ideas that have accompanied the current NAFTA renegotiations. We reject the astoundingly bad idea of a wall between Mexico and the United States as well as the ridiculous notion that the Mexican government could be coerced into paying for it. We reject the constant threats, insults and blackmailing utilized by the White House against both Mexico and Canada.
Such an 'Agreement in Principle' is a poorly understood and little used manoeuvre in commercial agreements. What would be the legal ramifications to such an 'Agreement in Principle'? For example: would it include general agreements on important areas without any prior notion of what could be the implications stemming from any concrete understandings already reached? Would the negotiations just continue on, but be more secretive than ever?
All three governments should step back from the often stated need for NAFTA renegotiations to be completed before the Mexican elections in July, and/or the U.S. midterms in November. Instead, our three governments should take the time to put together a solid game plan for building a just and fair trade arrangement that would ensure that in each country all sectors of society will be the beneficiaries.
Endorsing Organizations:
Canadian Union of Postal Workers
Common Frontiers (coalition)
Council of Canadians
Council of Canadians - Northumberland Chapter Trade Group
Global Exchange
Institute for Agriculture and Trade Policy
Institute for Policy Studies
Mexico Better Without FTAs (coalition)
National Farmers Union (Canada)
OpenMedia
---
May 3, 2018
Chrystia Freeland urged to be a climate champion at NAFTA talks
By Mike De Souza
National Observer
Canadian Foreign Affairs Minister Chrystia Freeland speaks to reporters in Ottawa on Dec. 19, 2017. File photo by Alex Tétreault
As trade talks continue between Canada, the United States and Mexico, a collection of nearly 50 labour, environmental and anti-poverty groups is urging Foreign Affairs Minister Chrystia Freeland to champion climate change policies into the negotiations.
In a newly-released letter, the groups — including the Canadian Labour Congress, the National Farmers Union, Unifor and Oxfam Canada — warned that the country's current trade policies have a negative impact on sustainable development, the environment and communities.
"It jeopardizes the rights of Indigenous peoples, workers' rights, women's rights, and the right of communities to protect the air, land and water they depend on," said the May 2 letter to Freeland.
"This trade model privileges corporate rights and profits at the expense of people. We — members of Canada's labour, trade, justice and climate movements — call for an alternative model."
The letter said that the ongoing negotiations regarding the North American Free Trade Agreement (NAFTA), provide an opportunity to reverse damage that they say has been caused by the agreement since 1994, including "an expansion of corporate rights over worker and community rights," environmental damage, and weakening regulations to protect public health, consumers and food safety.
The groups also proposed that the minister adopt a dozen principles and values to promote a fairer agreement, including calls for the elimination of fossil fuel subsidies by all three parties, as well as a rule that prevents Canada from reducing its fossil fuel production, the protection of public services, and a gender analysis of the impacts of trade.
"An alternative model of trade must be rooted in principles of equity, the primacy of human rights — including the rights of Indigenous peoples, women and girls, workers, migrants, farmers, and communities — and social and ecological justice," the letter said. "Furthermore, if Canada wishes to be an international champion of action on climate change, its trade policy must be compatible with its climate objectives."
---
April 30, 2018
---
April 29, 2018
Ante la persecución a líderes y lideresas sociales: seguiremos caminando la Paz de Colombia y del continente
Denunciamos la sistemática persecución del Gobierno colombiano contra el movimiento popular, defensores de derechos humanos, líderes y lideresas sociales y étnicos, expresión del terrorismo de Estado imperante en el país.
A partir del viernes 20 de abril, fueron capturadas más de 30 personas pertenecientes a organizaciones sociales, así como ex-alcaldes y concejales en los departamentos de Nariño, Cauca y Valle del Cauca con el objetivo de criminalizar la protesta y la movilización social.
Esta nueva ola de detenciones se suma a las detenciones masivas del Sur de Bolívar ocurridas en 2017 y a las investigaciones penales en contra de representantes elegidos del partido de oposición Polo Democrático Alternativo, entre otras, que siguen el mismo modus operandi: golpes mediáticos sin sustento jurídico que, tras varios días o meses de investigación sin resultados, deben ser archivadas y en muchos casos se traducen en liberaciones. Esta práctica busca estigmatizar al movimiento social y generar miedo en las organizaciones y comunidades las cuales viene soportando una ola de agresiones que llegan a cifras alarmantes con más de 282 líderes y lideresas asesinados en los últimos dos años.
Mientras persigue a las organizaciones que construyen a diario economía y vida digna en sus territorios, el Gobierno colombiano sigue incumpliendo lo acordado tanto con las insurgencias como con los procesos sociales. Ante el conflicto armado, social y político la respuesta gubernamental sigue siendo la militarización, como lo viene haciendo en Choco, Tumaco y Catatumbo, buscando imponer una paz de vencedores y dando señales claras de su poca voluntad de cumplir la palabra empeñada y garantizar la salida negociada al conflicto. Una prueba más de las reales intenciones del Gobierno colombiano es su pasividad ante el crecimiento del paramilitarismo y la falta de garantías para las y los excombatientes de las FARC y sus familias.
Lamentamos la intempestiva decisión del Presidente de la República del Ecuador, Lenín Moreno, de suspender el rol como garante y sede de la Mesa de Negociación entre el Gobierno colombiano y el Ejército de Liberación Nacional. Esta decisión no solo representa un punto final al apoyo de esa nación suramericana en la Solución política del conflicto colombiano, sino también, ante la posible reinstalación de la base militar Estadounidense en Manta, marca una clara inclinación en la política internacional del Gobierno de Moreno. Agradecemos al pueblo ecuatoriano el apoyo a la mesa de negociación entre ELN y gobierno y enviamos un abrazo solidario ante el dolor provocado por los asesinatos de los periodistas; estos hechos nos reafirman que la guerra y la violencia que ella desata no son problema de un solo país y que ante esto necesitamos seguir construyendo caminos de unidad entre nuestros pueblos para lograr la Paz.
Las diferentes organizaciones y movimientos que suscribimos este comunicado, manifestamos nuestro total compromiso con la vida, la justicia y la dignidad, que en suma son la Paz que seguiremos construyendo. Insistimos en la necesidad de generar mecanismos de presión internacional que permitan exigir y garantizar las medidas efectivas de protección a líderes y lideresas de procesos sociales, étnicos, políticos y populares en Colombia. Llamamos a que de forma inmediata podamos hacer efectiva la ternura entre nuestros pueblos, por medio de acciones que le demuestren a los poderes de la muerte que nunca podrán contra la esperanza y la lucha por la justicia.
-Ver las firmas de más de 130 organizaciones y siguen llegando
---
April 25, 2018
Labour delegation to observe Presidential elections in Venezuela
Common Frontiers will lead a Canadian mission of Labour and Ecumenical organizations to Venezuela to participate in elections observation, and to build links with counterparts. The delegation will be in Venezuela from May 17th to the 22nd and will be composed of members of Unifor, the Ontario Secondary School Teachers' Federation, the Canadian Union of Postal Workers, The United Church, Common Frontiers and Rabble.ca.
Common Frontiers has been working on issues of Democracy and human rights in Latin American for over twenty-two years. In 2013, Common Frontiers lead a delegation that undertook elections observation during the 2013 Honduran Presidential elections. As part of our work around human and labour rights and Democracy in the region, Common Frontiers will accompany Venezuela's Presidential elections on May 20, 2018.
We have been following the crisis in Venezuela closely, and believe the situation is at a critical juncture. Peaceful and democratic Presidential elections are key for future peace and stability in Venezuela but also for the region.
Since 2016, the Venezuelan opposition has been demanding the Maduro government to hold presidential elections earlier than mandated. This year, the National Electoral Council, (CNE) called for presidential elections to be held in April but government and electoral opposition agreed to push presidential elections back to May 20th. During the peace negotiations in the Dominican Republic, the opposition and government parties agreed on electoral guarantees; including the presence of international observers to safeguard transparency and fairness.
For more information contact:
Raul Burbano
Common Frontiers
burbano@rogers.com
416-522-8615
-download a copy of the media release -en español
---
April 19, 2018
Letter from UNIFOR to the President of Brazil
Media Release
Michel Temer, Presidente da República Federativa do Brasil (President of Brazil): gabinetepessoal@presidencia.gov.br
Eunício Oliveira, Presidente do Senado e do Congresso Nacional (President of the Senate and the National Congress): eunicio.oliveira@senador.leg.br
Cármen Lúcia Antunes Rocha, Presidenta do Conselho Nacional de Justiça (President of the Justice Council): presidencia@cnj.jus.br
Cármen Lúcia Antunes Rocha, Presidenta do Supremo Tribunal Federal (President of the Supreme Court): secretariageral@stf.jus.br
Raquel Elias Ferreira Dodge, Presidente do Conselho Nacional do Ministério Público e Procuradora-Geral da República (President of the National Council of the Public Ministry and Attorney General of the Republic):presidencia@cnmp.mp.br>
Leandro Paulsen, Desembargador Federal Presidente da 8a Turma do TRF-4 (Federal Judge President of the 8th Class of TRF-4): gpaulsen@trf4.jus.br
João Paulo Gebran, Desembargador (judge): ggebran@trf4.jus.br
Victor Laus, Desembargador (judge): glaus@trf4.jus.br asp8@trf4.jus.br
Greetings,
On behalf of Unifor, Canada's largest private sector union, representing over 315,000 members in all sectors of the economy, I am writing to protest of the imprisonment of former president Luiz Inácio Lula da Silva, in violation of the Brazilian Constitution. This arbitrary arrest only serves to undermine democracy by denying the people of Brazil the right to choose who they want as president.
Lula has been subjected to a political persecution. The regional appeal court which found him guilty, Judge Sergio Moro and the "Car Wash" Federal Prosecutors have violated Lula's rights to privacy, right to a fair trial, freedom from arbitrary arrest, the right to freedom of movement and right to be presumed innocent until found guilty.
The actions of the Brazilian judiciary in conjunction with the national media and political right, demonstrates to the world that Brazil does not operate under the rule of law, but the rule of expediency. To use the law to thwart the aspirations of the Brazilian people is, at best, a cynical exercise. To those outside Brazil, it looks like a continuation of the unwarranted impeachment of Dilma Rousseff in an effort to stop the hopes of an improved life for millions of Brazilians.
We call on the government of Brazil to comply immediately with its treaty obligations, and customary international law, and protect the fundamental rights to due process of law and to a fair trial, by pursuing immediately the following measures:
The immediate release of Lula, at a minimum, until the appeals process has been completed in accordance with the Brazilian constitution.
An impartial review of Lula's case by judiciary not connected to the Temer government.
That Lula be allowed to run for the presidency in this year's election.
Sincerely,
Jerry Dias National President
jd:ma:dbcope343
cc: Valter Sanches, General Secretary - vsanches@industriall-union.org
---
April 15, 2018
Indigenous Leaders From Ecuador United To Confront Oil Giant Chevron In Ontario Court
Media Release
OTTAWA, TORONTO – On April 17th and 18th the Court of Appeals of Ontario, will be the setting in which Ecuadorian plaintiffs will demonstrate that Chevron Canada is wholly owned by Chevron Corporation, which would allow the indigenous and peasant people of Ecuador to enforce the judgement of more than 9.5 million dollars, issued by the Courts of Justice in Ecuador.
The communities' lawsuit for justice and reparation has been advancing through the courts for nearly 24 years. This trial has become an emblematic demonstration of impunity that allows transnational corporations to violate Indigenous and human rights, without consequences.
A delegation of the Union of the affected people of Chevron -Texco (UDAPT) will attend the hearing. It will be composed by Guillermo Grefa, Indigenous Kichwa leader and the son-in-law of Maria Aguinda (the first signatory of the lawsuit), Jaime Vargas, President of the Confederation of Indigenous Nationalities in Ecuador (CONAIE) and Ecuadorian attorney Julio Prieto.
"The progress made in Canadian courts represents a new hope for the Indigenous people of Ecuador undertaking this battle. Canadian courts have the opportunity to break the structure of corporate impunity for affected peoples worldwide," said Guillermo Grefa.
Prior to coming to Canada in a historic meeting and show of support in Ecuador, the Confederation of Indigenous Nationalities of the Ecuadorian Amazon (CONFENIAE) and the Confederation of the Indigenous Nationalities of Sucumbíos (CONASE) ratified their support for UDAPT in this struggle to achieve justice.
"With the support of the CONAIE and CONFENIAE we, Siona, Siekopai, `I Cofan, Kichwa, Shuar y Waorani, represented in the UDAPT, call on all peoples in Canada to unite with us in this emblematic struggle for justice, to defend the planet, and humanity", said Humberto Piaguaje, leader of the Siekopai nation.
The UDAPT, is a grassroots organization made up of over 30.000 Indigenous people and small farmers, who were impacted by Texaco (acquired by Chevron) and its irresponsible activities in the Ecuadorian Amazon. The oil giant polluted more than 450.000 hectares of virgin rain forest, dumped crude, toxic waters and polluting gases that damaged ecosystems, impacted health, indigenous cultures, poisoned land, water and forest as well as their means of sustenance. In Canada, the UDAPT is represented by its lawyer Alan Lenczner.
"Canadian courts have an important role to play to ensure Ecuadorian communities have access to justice and remedy," said Doug Olthuis, Executive Director, Steelworkers Humanity Fund.
While in Toronto the Ecuadorian delegation will participate in the following public event
Tues April 17th, 7-9 p.m., 252 Bloor St. west, OISE University of Toronto OISE, 2nd floor, Rm. 212
FOR MORE INFORMATION CONTACT:
Doug Olthuis (United Steelworker) 416-859-9953; dolthuis@usw.ca
Raul Burbano (Common Frontiers) 416-522-8615; burbano@rogers.com
Beatrice Olivastri (Friends of the Earth) 613-724-8690; beatrice@foecanada.org
For more information see http://texacotoxico.net/en
-download a copy of the media release
---
April 13, 2018
Free Lula - Call for International Mobilization April 17th
Rally for Lula's freedom in front of all Brazilian embassies!
Days before the two-year anniversary of the coup d'état, Brazil and the world watched the arrest of Luís Inácio Lula da Silva in astonishment. He is the most important popular leader in the country during the last thirty years and one of the Presidents with the highest levels of international recognition for fighting poverty and reducing inequality.
The conviction and imprisonment of an innocent man, through a process with numerous errors and legal absurdities, without evidences and based only on statements from convicted informers in exchange for the benefit of their sentence reductions, represents the continuity of the 2016 coup. It also reveals the abandonment and subversion of the Brazilian democratic institutions by the right wing powers.
Since April 17, 2016, the coup makers are following a clear roadmap. They started by impeaching President Dilma Rousseff and now they advance overwhelmingly into a neoliberal offensive with new privatizations, handing over natural resources to foreign capital, dismantling the national industry and massive withdrawal of investment and social rights, among other evils.
At the same time, institutions at the service of the ruling classes, like sectors of the judiciary and the media, together seek to control the political life of the country and to politically and materially erode the people's movements and the leftist forces. They built a legal theater through an intense defamation campaign to arrest an innocent man accusing him of passive corruption and to convict him without evidence. That's why Lula is a political prisoner.
As a follow up of their strategic project the coup makers seek to legitimize themselves by winning in the 2018 elections. However, they know that it will only be feasible if they impede the left wings' victory. The unfair and hasty conviction of Lula has the clear intention of withdrawing him from the electoral dispute, given that numerous polls show him in first place. Therefore, the coup forces will use any possible means to prevent a people's victory at the elections.
Finally, we invite all social and political organizations, grassroot movements and citizens who fight against all forms of injustice and arbitrariness to gather in a broad international campaign for Lula's Freedom.
With the hashtags #FreeLula, #LulaInnocent or #LulaPoliticalPrisioner, we are encouraging the organization of Committees for Lula's Freedom around the world and for rallies to be held between April 17 and 25 in front of the Brazilian Embassies and Consulates, to express our rejection of Lula in prison and to stand in solidarity with the former President and the Brazilian people.
In the face of the grave offensive of the Brazilian right wing all the mobilizations between April, 17 and 25 will be of extreme importance, also because we might get new juridical decisions during this period regarding Lula's right to defend himself in liberty and our support will be important. We inform that the popular peasant movement represented by the Via Campesina International is already planning actions on April, 17th, the "International Day of Peasant Struggle" in memory of the "Eldorado do Carajás Massacre" and the International Confederation of Trade Unions (ITUC) is calling its national affiliates for international demonstrations #FreeLula too on the 23th.
We ask you to join them and to inform us about the cities, places and times of the rallies through the email freelulabrasil@gmail.com and also send us pictures, videos and other records of these activities.
---
April 11, 2018
Chevron, Clean Up Your Mess in Ecuador!
Tuesday April 17 @ 7- 9 pm
Ontario Institute for Studies in Education, University of Toronto
252 Bloor Street West, Toronto, Floor 2, Rm. 212
Come listen to some of the front-line people in this historic environmental justice case. Indigenous plaintiffs in Ecuador have been battling the international giant corporation Chevron for some of the largest damages and human rights violations in recorded history.
Chevron has refused to pay the $9.5 billion US fine issued by the Ecuadorian Supreme Court in 2013 for damages to the Ecuadorian Amazon and its peoples since 1964. They have sold off all assets in Ecuador forcing the Indigenous peoples to seek remediation in other countries. In 2015, the Canadian Supreme Court ruled that "an Ontario court has jurisdiction to determine whether the foreign judgment should be recognized and enforced in Ontario against Chevron Corp".
Read more about the case here: http://texacotoxico.net/en/history-of-the-case/
Guillermo Grefa - Leader of the Kichwa nation and member of UDAPT, he is the delegate of the 30 000 UDAPT members affected by Chevron. He is a bilingual cultural education professor in Ecuador, but he is also the son-in-law of Maria Aguinda (the first signatory of the lawsuit against the oil company). For 24 years, he has fought with members of UDAPT and other Indigenous nationalities with thousands of affected people. His testimony is substantial for the townships of Ecuador to have access to Justice.
Julio Prieto is an Ecuadorian lawyer who was defended the Indigenous townships of the Ecuadorian Amazon for more than 12 years. He is a specialist in Environmental Rights and has written a book on this in Ecuador.
Jaime Vargas is the President of the Confederation of Indigenous Nationalities in Ecuador (CONAIE) and has worked and defended Indigenous townships in the Ecuadorian Amazon for more than a decade against the voracity on transnational corporations.
Darlene Kaboni is from the Wikwemikong Unceded Indian Reserve and is fluent in the Ojibway language and culture. She is a member of the Ontario Public Services Employees Union (OPSEU) and has numerous ties with other Unions, including NUPGE, CUPW, PSAC, CUPE, CLC and is a strong Indigenous activist who has travelled to various countries in Central and South America, and Africa representing First Nations to educate and bring awareness to common issues and struggles to other Indigenous peoples.
This panel will be moderated by Andrea Vaásquez Jiménez, Co-Director of the Latinx, Afro-Latin-America, Abya Yala Education Network (LAEN).
---
April 3, 2018
Media Release
Common Frontiers Joins Human Rights Organizations Calling For a Stop to UK Exports of Surveillance Equipment to Honduras
Dr Liam Fox MP
Secretary of State for International Trade Department for International Trade
King Charles Street
Whitehall, London
Dear Dr Fox,
We, the undersigned, are Honduran and UK based human rights organisations. We are writing to express our dismay about the UK Government's sanctioning of sales of telecommunications interception equipment to Honduras, given the country's human rights situation. Furthermore, we were alarmed to learn that the export of this equipment was allowed despite the question of human rights compliance being raised multiple times in Parliament. We urge you to ensure that no further export licences are granted to the Honduran Government for any equipment that could be used for internal repression.
On 8 February, The Guardian revealed that the UK granted export licences for telecommunications interception equipment to be sold to the Honduran Government just before the elections. On 20 February, in response to a written question regarding the licences, the Rt. Hon. Graham Stuart on behalf of the UK Government stated that: "all export licence applications are considered on a case-by-case basis against the Consolidated EU and National Arms Export Licensing Criteria based on the most up-to-date information and analysis available at the time, including reports from NGOs and our overseas network."
Firstly, we would like to draw your attention to the fact that recent NGO reports point to an alarming human rights situation in the country as well as targeted repression of human rights defenders (HRDs), including through illegal surveillance:
-read the entire letter Version en español
---
April 2, 2018
Vigil In Support of The Victims of Repression in Honduras
Date: Thursday, April 5, 2018
Time: 6:00 PM
Place: Embassy of Honduras, 130 Albert Street, Ottawa
At 6:45 PM March to Human Rights Monument
Organized by ALBA Social Movements Canada, Ottawa Chapter
---
April 1, 2018
NAFTA is a Bill of Rights for Capital
Interview with Richard Roman.
Dr. Richard Roman, co-author of Continental Crucible: Big Business, Workers and Unions in the Transformation of North America (in Spanish) discusses how the North American Free Trade Agreement (NAFTA) deepened and 'constitutionalized' neoliberal reforms already underway, how migrant labour actually winds up subsidizing the United States, and concludes with a discussion of how the bi-national nature of the Mexican working class creates the possibility of international solidarity, or "continental integration from below."
He was interviewed by Colin Mooers and Kurt Hackbarth of MexElects.
---
March 26, 2018
Media Release
Unifor and Mexican labour leaders join in NAFTA lobby
OTTAWA – Unifor and Mexican labour leaders join together this week to warn Members of Parliament (MPs) about the dangers of negotiating a NAFTA deal that fails to protect workers in both countries.
"The old NAFTA model was built on exploitation, as Canadian manufacturing jobs migrated to Mexico where multinationals are permitted to pay workers poverty wages," said Unifor National President Jerry Dias. "If a new NAFTA does not address low wages and labour rights in Mexico then both Canadian and Mexican workers will continue to pay the price."
Unifor, leading a delegation of Mexican labour leaders, is in Ottawa March 26-29 to meet with MPs, representatives of the Standing Committee on International Trade and members of Canada's NAFTA labour negotiating team. Unifor National President Jerry Dias will also host the NAFTA: A Worker's View Roundtable on March 28.
"Of the NAFTA countries Mexico has been the most negatively impacted," said Mónica Jiménez Acosta, representing Mexicano de Electricistas (electricians) union. "Our currency and purchasing power has decreased, our quality of life has decreased and rights have been taken from us that took years to achieve."
The delegation brings a list of Mexican worker demands for the renegotiation of NAFTA ahead of the next round of talks, expected to take place in Washington D.C. next month. The list of is also available in Spanish.
"We are calling on your help as Mexico's voice is only listened to when international voices are raised up," said Telephonists Union Foreign Relations Representative Maria del Carmen llamas Montes.
The Unifor led delegation will call for wage adjustments and enforcement of labour regulations to give workers the freedom to organize and defend the collective bargaining process.
"It is possible to have international agreements that protect and enshrine workers' rights," said José Olvera, Chairperson of the International Relations, Sindicato de Trabajadores de la Universidad Nacional Autónoma de México (University union).
For more information on Unifor's NAFTA campaign, please visit unifor.org/NAFTA.
Unifor is Canada's largest union in the private sector, representing 315,000 workers in every major area of the economy. The union advocates for all working people and their rights, fights for equality and social justice in Canada and abroad, and strives to create progressive change for a better future.
Lire ce communiqué en français
---
March 14, 2018
From The RealNews Network
UN Rapporteur: US Sanctions Cause Death in Venezuela
Over 150 intellectuals and activists signed an open letter urging the US and Canada to stop their economic sanctions on Venezuela, which are making the country's economic problems worse. Special UN Rapporteur Alfred de Zayas is a signer and visited Venezuela late last year
---
March 9, 2018
US and Canadian civil society calls for end to Venezuela sanctions
For Immediate Release
Press Contacts
US: Chuck Kaufman 202-540-8336 x1 chuck@AFGJ.org
Canada: Raul Burbano 416 522 8615 burbano@rogers.com
Over 150 labor, religious, academic and civil society leaders in the US and Canada called on Washington and Ottawa to remove "illegal" sanctions against Venezuela and to "support efforts at mediation between the government of Venezuela and the nonviolent segments of the political opposition.
Social critics Professor Noam Chomsky and actor Danny Glover headed the distinguished list of 154 individual and organizational signers on the open letter to foreign policy decision-makers in the United States and Canadian governments.
The open letter denounces "The US-Canadian sanctions represent a cynical use of coercive economic power to attack a nation that is already dealing with hyperinflation and shortages of basic commodities. While said to be in the name of advancing democracy and freedom, the sanctions violate the Venezuelan peoples' basic human right to sovereignty, as outlined in the UN and OAS Charters."
Chuck Kaufman, national co-coordinator of the Alliance for Global Justice, which solicited signatures for the letter, said, "The US and Canada have been trying to overthrow the elected government of Venezuela for almost 20 years. That is not legal and it is not good for Venezuelans or North Americans. These cruel sanctions don't hurt the government, they hurt Venezuelans, and those they hurt most are the poorest. It is time to stop."
Twenty-four Canadians joined 132 US and two Mexican individuals and organizations joined together to call "call on the political leaders of the United States and Canada to reject overheated rhetoric and to contribute to the search for real solutions to Venezuela's political and economic problems. We urge the US and Canadian governments to rescind their sanctions and support the mediation efforts."
Raul Burbano, of the Canadian organization, Common Frontiers, said, "Canada continues to undermine democracy and dialogue in Venezuela. Rather than support peace building efforts, the Trudeau government is contributing to the crisis by taking a lead role in the Lima Group, and aligning with countries that violate democratic norms in their own countries such as Honduras and Brazil. This is a worrisome trend."
-View Open Letter and Signatures Ver letra y firmas en español
---
March 7, 2018
Unions call for a new chapter in US-Honduras relations
By David Bacon
equaltimes.org
A new report by US trade unions has strongly criticised the US government's policies in Honduras.
AFL-CIO Executive Vice President Tefere Gebre led a delegation of US labour leaders to meet with their Honduran counterparts.
"What we witnessed was the intersection of our corporate-dominated trade policies with our broken immigration system," he said.
The delegation's report, Trade, Violence and Migration: The Broken Promises to Honduran Workers, offers a frank assessment of the history and impact of US foreign policy in Honduras.
As well as being one of the most unequal countries in Latin America, Honduras also sends the largest number of unaccompanied minors to the US from Central America.
Larry Cohen, president of the Communications Workers of America and a participant in the delegation, told Equal Times: "We need to look at our own immigration policy, concentrating enormous resources on deportation and nothing on resettlement.
"We need to look at the trade deals, in this case, the Central American Free Trade Agreement (CAFTA), that accelerated free market devastation."
After the 2009 coup that overthrew the country's elected president, Manuel Zelaya, the US raised only pro-forma objections and then quickly restarted military aid to the junta that seized power.
"Under the left-leaning Zelaya administration, the minimum wage was raised by 80 per cent, direct assistance was provided to the poorest Hondurans, and poverty and inequality declined," the report says.
After the coup, however, "numerous trade unionists and community activists who participated in resistance were killed, beaten, threatened and jailed," it says.
Based on extensive interviews with unionists, the AFL-CIO report details current abuses of labour and human rights.
-read full article
---
March 1, 2018
Join the Womens' Day March March 3
The Honduro-Canadian Solidarity community invites you to join their contingent during International Women's Day rally in Toronto on March 3rd. We will meet at 12:30 outside of OISE (252 Bloor Street West). Look for the#JusticeforBerta banner. There will be hundreds of beautiful postcards available to hand out. See FB event for more info.
---
February 28, 2018
Justice for Berta - send a postcard to Chrystia Freeland
Please download a post card, that you can sign and send to Chrystia Freeland (Canada's Minister of Foreign Affairs) to ask that Canada demand #JusticeforBerta.
It also asks the Canada government to stop endorsing the corrupt Government of Juan Orlando Hernandez in Honduras.
Tell her that Canada needs to stand up for human rights before business interests in the region.
-download Justice for Berta (eng)
---
February 16, 2018
Canada vs. Venezuela: Have the Koch Brothers Captured Canada's Left?
By Joyce Nelson
counterpunch.org
With a U.S.-backed military coup or invasion in Venezuela looking ever more likely, Canada's progressive leftists are pushing for the federal New Democratic Party (NDP) to abandon its "reactionary" foreign policy position on that country. As well, at the annual NDP convention (February 15 – 18), the NDP Socialist Caucus will present a motion requesting the removal of NDP Foreign Affairs Critic Helene Laverdiere from that role.
In December, the Canadian Dimension published a lengthy Open Letter from Dr. John Ryan, a retired University of Winnipeg professor, documenting the "reactionary foreign policy positions" on a variety of issues that the NDP has adopted in recent years, especially through Laverdiere's role.
Regarding Venezuela, Dr. Ryan wrote, "One would think that Canada's NDP, as a social democratic party, would be supportive of the progressive policies that have been enacted in Venezuela. Surely the bulk of the people who vote NDP would be far more supportive of Venezuela than they would be of U.S. policies to undermine that country. So how is it that the NDP's maverick foreign affairs critic is capable of aligning herself with American imperialist reactionary policies? There wasn't a word from her when President Trump threatened to invade Venezuela and she has yet to criticize the recently announced Canadian sanctions" by the federal Liberal government.
On February 12, Canadian writer Yves Engler extensively documented Helene Laverdiere's stance toward Venezuela in recent years, and he noted: "In what may be the first ever resolution to an NDP convention calling for the removal of a party critic, the NDP Socialist Caucus has submitted a motion to next weekend's convention titled 'Hands Off Venezuela, Remove Helene Laverdiere as NDP Foreign Affairs Critic.' It notes: 'Be It Resolved that the NDP actively oppose foreign interference in Venezuela, defend Venezuela's right to self-determination, reject alignment with U.S. policy in Europe, the Middle East, Africa and beyond, and request the immediate removal of MP Helene Laverdiere as NDP Foreign Affairs Critic."
Engler wrote that Laverdiere recently failed to criticize "Canada's role in the so-called Lima Group of anti-Venezuelan foreign ministers. Laverdiere remained silent when foreign minister Chrystia Freeland organized a meeting of the Lima Group in Toronto four months ago."
-read the entire article on counterpunch.org
---
February 13, 2018
Modelo extractivo canadiense afecta a comunidades indígenas y campesinas en México
Por Pablo Gómez Barrios
RCInet.ca
Una delegación de activistas mexicanos se encuentra actualmente de gira en Canadá, para denunciar ante el gobierno y la opinión pública canadiense el asesinato del ambientalista Mariano Abarca Roblero en Chicomosuelo, Chiapas.
Los activistas que forman parte de esta gira denuncian también el papel que jugó la embajada de Canadá en México con respecto a la industria minera canadiense en ese país.
Organizaciones civiles de México y Canadá que apoyan la denuncia de la delegación mexicana, obtuvieron documentos bajo la ley de la transparencia en Canadá, que demuestran que a pesar del conocimiento que tenía la embajada del conflicto entre Abarca y la minera canadiense Blackfire, en Chiapas y de las amenazas de muerte que estaba enfrentando, prefirió acudir al gobierno estatal de Chiapas para solicitarle que controlara las protestas contra la minera en la comunidad.
Este caso pone nuevamente sobre el tapete la triste situación que viven las comunidades en donde las compañías mineras se han implantado. En Canadá, la delegación mexicana ha participado en eventos públicos en Ottawa, Montreal y Toronto para explicar la situación que están viviendo.
---
February 12, 2018
Five ways to transform our economies
By Sam Cossar-Gilbert
opendemocracy.net
We need a new economics for the 21st century.
Here are five potential pillars.
We live in a world that's facing many destructive and entwined crises including growing inequality, climate change, poverty, pollution and human rights violations. Our current economic system is perpetuating and exacerbating these crises.
Over the last thirty years, neoliberal fundamentalism has put corporate and financial interests ahead of social and environmental standards through policies like privatisation, trade liberalisation and deregulation. If economics is about the allocation and distribution of scarce resources as many first year university text books claim, then 30 years of these policies have failed. We have created more wealth than ever before but have been unable to share it equitably, and in doing so we are destroying our common home.
We need a new economics for the 21st century. To protect our fragile planet, we need to listen to communities and social movements across the world who are already creating just and sustainable economic solutions to social and environmental challenges. Here are five of them.
1. Public services for all through tax justice.
From health clinics in South Africa to and public transport in Vienna, public services provide necessities to hundreds of millions of people around the world. They also drive economic activity and so can play a leading role in the shift towards a more sustainable economy.
To do so, they must ensure the meaningful participation of communities through systems like participatory budgeting, greater transparency, stricter environmental standards in relation to functioning and procurement, and mandatory universal access.
Fair and redistributive tax policies are required to pay for these services. Rather than more tax cuts we need more taxation of multinational corporations, financial transactions, capital gains and wealthy individuals.
Tax havens are costing governments hundreds of billions of dollars. Saving our planet from global warming is possible, but it requires tax justice to finance the necessary energy alternatives. For example, Friends of the Earth International calculates that revenue lost between 2015 and 2030 to tax havens could power half the world with 100 per cent socially controlled renewable energy.
Sam Cossar-Gilbert is a campaigner for economic justice and resisting neoliberalism at Friends of the Earth International, and co-author of the 2018 report Transforming our economy: Scaling up the solutions.
---
February 6, 2018
Mexican Delegation Questions Role Of Embassy In Complaint To Integrity Commissioner
OTTAWA, MONTREAL, TORONTO – 6 February 2018 -- Mexican community leader Mariano Abarca was killed in 2009 for fighting to defend human rights and the environment in the small town of Chicomuselo, Chiapas where Calgary-based mining company Blackfire operated with close communication and support from the Canadian Embassy in Mexico.
On Monday, Mr. Abarca's son, José Luis, along with supporting organizations from Mexico and Canada, filed a complaint with the Public Sector Integrity Commissioner (PSIC) formally requesting an investigation into the embassy's acts and omissions, which they believe heightened the danger faced by Mr. Abarca and others.
"My father appealed directly to the Canadian Embassy for support when he and others were being threatened by Blackfire employees," says José Luis Abarca. "Shortly after, he was detained on false accusations made by the company. The embassy knew all this, but it supported the company, pressuring Chiapas state authorities to protect Blackfire's interests."
Information released through an Access to Information request shows that, despite the Canadian Embassy's considerable knowledge about the conflict over Blackfire's operations, including threats faced by Mr. Abarca, it lobbied the Chiapas state government to quell protests against the mine. In so doing, the complaint argues that the embassy violated policies aimed at protecting human rights and its own stated role to "facilitate an open and informed dialogue between all the parties".
"The Canadian Embassy could have used its influence to protect the life and wellbeing of Mr. Abarca and other residents of Chicomuselo, but it did the opposite," says lawyer Miguel Angel De Los Santos from the Human Rights Centre at the Autonomous University of Chiapas. "The Public Sector Integrity Commissioner should investigate the embassy, which we believe contributed to putting Mr. Abarca's life in danger, and issue corresponding recommendations so this will not happen again."
Days after Mr. Abarca's murder, Blackfire's barite mine was closed on environmental grounds, lending credence to the struggle that Mr. Abarca and others had been fighting. Still, the embassy continued its support for the company, advising it to sue Mexico under the terms of the North American Trade Agreement (NAFTA).
"Persecution, threats and violence against land and environment defenders has only intensified in Mexico since the time of Mr. Abarca's murder," says Libertad Díaz from Otros Mundos Chiapas. "Given the importance of Canadian investment in the Mexican mining sector, we are deeply concerned about the role of Canadian authorities in cases where communities are struggling to protect their land and water from the negative impacts of Canadian mining operations."
Miguel Mijangos of the Mexican Network of Mining Affected People (REMA in Spanish) adds that Canadian mining has been booming in some of the most violence-ridden parts of Mexico, with public support from the Canadian Embassy.
"It is urgent that Mariano Abarca's case be thoroughly investigated, and measures be taken to prevent the lives and wellbeing of communities in Mexico from being sacrificed for Canadian profits," said Mr. Mijangos.
The complaint to the Public Sector Integrity Commissioner was prepared by the Justice and Corporate Accountability Project, a volunteer initiative based at Osgoode Hall Law School and Thompson Rivers University.
While in Canada, the Mexican delegation will participate in public events in Ottawa, Montreal and Toronto:
Tues Feb 6, 7-9 p.m., Carleton University, Senate Room, 608 Robertson Hall, 1125 Colonel By Drive, Ottawa;
Wed Feb 7, 5-9:30 p.m., Chaufferie de Université du Québec à Montréal (UQAM), 175, avenue du Président-Kennedy, Montréal;
Thurs Feb 8, 7-9:30 p.m., OCAD University, Room 330, 113 McCaul Street, Toronto.
The Mexican delegation is supported by MiningWatch Canada, the United Steelworkers Humanity Fund, Common Frontiers, the Public Service Alliance of Canada Social Justice Fund, the Canadian Union of Public Employees (CUPE), the Council of Canadians, the Committee for Human Rights in Latin America (CDHAL), Inter Pares, KAIROS, the International Civil Liberties Monitoring Group (ICLMG), and others.
FOR MORE INFORMATION CONTACT:
Jen Moore (Mining Watch Canada)
613.569.3439 jen@miningwatch.ca Shin Imai (Justice and Corporate Accountability Project)
647.524.2312 simai@justice-project.org
See justice4mariano.net for up-to-date information about events.
---
February 2, 2018
Letter from NDP re Detainment Of Edwin Robelo Espinal By Honduran Authorities
To: The Honourable Chrystia Freeland
Minister of Foreign Affairs
From Cheryl Hardcastle, NDP Critic for International Human Rights
Dear Minister Freeland
It is deeply upsetting that I must write to you again on a matter about which I have already written two other communiqués to you in recent weeks: the human rights situation in Honduras.
The first statement outlined my concerns with the growing body of evidence detailing irregularities during the recent Honduras General Election, including voter intimidation and voter fraud that favoured the incumbent National Party candidate, President Juan Orlando Hernández.
The second expressed the extreme disappointment New Democrats and civil society groups around the world felt at the Government of Canada's silence during these events. While we were happy to see the official statement released around this time by your office, where you expressed your concern with the escalating violence in Honduras, post-election, we could not help but notice your glaring omission as to why this violence was occurring—it being a direct result of President Juan Orlando Hernández having blatantly stolen the election. Even the Organization of American States has called for new presidential elections in Honduras after finding copious irregularities in its electoral process.
I therefore find myself once again writing to you on a matter of great urgency. Long-time Honduran human rights activist Edwin Espinal has been jailed on charges related to protests against election fraud in Honduras. For years he has been subject to state harassment, violence, and threats since the 2009 coup d'état.
Edwin faces a laundry list of charges: arson; property damage; and use of homemade explosive material related to damages to the Marriott Hotel, a multi-billion dollar US chain, during a January 12 protest in Tegucigalpa.
Yet thousands of Hondurans from all walks of life attended the January 12 demonstration to protest not only election fraud, but also the killings of more than 30 anti-fraud protesters and bystanders by state security forces; and the arrests of dozens of political prisoners during the ongoing post-electoral crisis.
Edwin is currently in pretrial detention. Although the case has been appealed by respected Honduran human rights organization COFADEH (Committee of Relatives of the Disappeared in Honduras), Edwin could remain in detention for two or more years waiting trial.
---
January 30, 2018
-see Facebook listing for more details
-More information on the Justice4Mariano tour
---
January 29, 2018
Letter from 85 faculty members at Canadian universities to Canadian government
The Right Honourable Justin Trudeau, Prime Minister of Canada
The Honourable Chrystia Freeland, Minister of Foreign Affairs
We, 85 faculty members at Canadian universities, encourage the Canadian government to boycott the inauguration of Juan Orlando Hernández as president of Honduras on January 27, 2018.
Canada should rescind its overly hasty acceptance of the fraudulent election results of November 26, 2017 and withhold recognition until such time that new general elections are conducted under international supervision, as recommended by the Organization of American States (OAS).
The profound political crisis in Honduras is reflected in: the multiple acts of fraud that led OAS observers to conclude that the November electoral process was of "poor quality", marked by "irregularities, mistakes and systemic problems"; the suspension of constitutional guarantees as part of the violent police and military repression of peaceful national protests by tens of thousands of Hondurans who did not accept the questionable official count; the persecution and imprisonment of people who participated in those protests; and the killing of an estimated forty persons since the end of November, in addition to the hundreds of injuries, some permanent, inflicted during protest events.
These facts have been broadly circulated by both mainstream media and human rights organizations around the world.
However, this crisis did not begin with the fraudulent November 26 elections. The recent abusive acts of the Honduran government result from a corrupt, repressive recent history in which, most unfortunately, Canada has played a part that must be brought to light in order to frame better government policies for the future.
Last fall's fraudulent elections were the inheritance of a government that came out of a coup d'etat in 2009. The OAS and most Hondurans rejected both the 2009 coup and the recent 'government approved' vote count of 2017. Yet, instead of promoting democratic rights, the Canadian government supported the coup and has tacitly endorsed the Honduran state's 2017 vote count.
Maintaining themselves in power through a series of fraudulent elections in 2009, 2013 and now in 2017, Honduras' post 2009 coup governments have pursued policies that favor foreign corporate and investor interests while using repression against community protests that result from promoting mining expansion that contaminates water sources; dam construction that infringes on indigenous lands; agro export industries and tourism enclaves that lead to land grabbing by the big and powerful; and sweatshop garment industries where unions are not welcome. Canadian companies are invested in these sectors and Ottawa even signed a Free Trade Agreement in 2013 although evidence pointed to high-level corruption and links to narcotics trafficking in both the private and public sectors.
As in the case of the dubious 2017 election results, the corrupt and repressive policies of the post coup governments have been reported by a variety of news outlets and research institutions, among them the distinguished Washington-based Center for Economic and Policy Research where economics Nobel Prize winner Joseph Stiglitz is a member of the Advisory Board.
New Canadian policies are needed to respond to the fraud, corruption, and repression. Without a legitimate popularly elected government that respects its own citizens' rights, social and political conflict, human rights abuses, and the impunity of the perpetrators of abuse will only increase in the coming years, as will the refugee outflows that result from ongoing crisis.
The fraudulent and repressive re-election of Juan Orlando Hernández must not be legitimized by Canada's presence at his inauguration. Nor should Canada continue to provide any form of assistance to his discredited regime.
Respectfully yours,
Liisa North
Emeritus, CERLAC/York University
With 84 faculty members from departments of economics, international development studies, history, sociology, anthropology, environmental studies, geography, literature/languages, and other disciplines at Canadian universities.
---
January 26, 2018
Brazil's Democracy Pushed Toward the Abyss
by MARK WEISBROT
Counterpunch.org
The rule of law and the independence of the judiciary are fragile achievements in many countries — and susceptible to sharp reversals.
Brazil, the last country in the Wessstern world to abolish slavery, is a fairly young democracy, having emerged from dictatorship just three decades ago. In the past two years, what could have been a historic advancement ― the Workers' Party government granted autonomy to the judiciary to investigate and prosecute official corruption ― has turned into its opposite. As a result, Brazil's democracy is now weaker than it has been since military rule ended.
This week, that democracy may be further eroded as a three-judge appellate court decides whether the most popular political figure in the country, former President Luiz Inácio Lula da Silva of the Workers' Party, will be barred from competing in the 2018 presidential election, or even jailed.
There is not much pretense that the court will be impartial. The presiding judge of the appellate panel has already praised the trial judge's decision to convict Mr. da Silva for corruption as "technically irreproachable," and the judge's chief of staff posted on her Facebook page a petition calling for Mr. da Silva's imprisonment.
-read the rest on counterpunch.org
---
January 19, 2018
Activities during the 6th round of NAFTA negotiations in Montreal
NAFTA, in crisis for better or for worse?
March for A Better NAFTA
Unifor is organizing a demonstration and march, demanding a trade deal that delivers stronger labour rights, the protection of good jobs and higher living standards for all.
When: Tuesday January 23rd @ 11am (lunch will be provided on site)
Where: Gathering at Dorchester Square (on Metcalfe, North of René-Lévesque)
Organized by: Unifor
NAFTA Confronting Contemporary Challenges: Assessment and Perspectives
When: Friday, January 26 @ 9:30 am
Where: L'Université du Québec à Montréal (UQAM), Room A-1715
Chairperson: Christian Deblock
Mathieu Arès: Canada and Mexico face the new American deal
Maria Lourdes Zea Rosales, Secretary of the Workers' Syndicate of the National Autonomous University of Mexico (STUNAM)
Celeste Drake, Specialized, Trade Policy Specialist, AFL-CIO
Organized by: the Center for Studies on Integration and Globalization (CEMED)
NAFTA, Trade and Related Issues
When: Friday, January 26 @ 10:45 am
Where: L'Université du Québec à Montréal (UQAM), Room A-1715
Chairperson: Mathieu Arès
Destiny Tcheoualy and Michèle Rioux: NAFTA and the trade and culture debate
Sylvain Zini: NAFTA and respect for workers' rights
Sharon Treat (Institute for Agriculture and Trade Policy, United States): NAFTA and Regulatory Cooperation
Social event:
When: 6:00 pm to 9:00 pm
Where: Café Parvis, 433 Mayor Street.
Organized by: Canadian Union of Public Employees (CUPE) and the Trade Justice Network
OTTAWA – MONTREAL BUS
To allow workers, activists from civil society organizations and citizens from the Ottawa area to participate, the Canadian Union of Postal Workers is giving you the opportunity to get on a bus to Montreal that will take us to the rally and bring us back afterwards.
DEPARTURE: Saturday, January 27 @ 9:00 A.M.
LOCATION: BEHIND 377 BANK ST.
RETURN: 4:00 P.M. from Montreal
A light meal will be served following the demonstration at UQAM (Université du Quebec in Montreal) and information sessions will take place in the afternoon.
RESERVE YOUR SEAT BY EMAIL OR PHONE:
Joanne Louisseize
Email: jlouisseize@cupw-sttp.org
Phone number: 613-236-9449
Citizen Rally: People and the planet before profit
When: Saturday 27th January 2017 @ 12:00 – 1 :00 pm
Where: In front of the Bonaventure Hotel, 900 Rue de la Gauchetière O
Organized by: the Quebec Network on Continental Integration with support from the Canadian Coalition on NAFTA (Common Frontiers, Trade Justice Network and Council of Canadians)
Lunch
When: Saturday 1:00 pm Lunch
Where: L'Université du Québec à Montréal (UQAM) à la cafétéria du Pavillon Hubert-Aquin.
People and Planet Before Profit Forum
Is it possible to have a trade agreement that respects the environment and the planet?
What are the conditions to make this happen?
When: Saturday @ 1:45- 3:00
Where: Metro Corridor of Management Sciences – UQAM - Room R-M130.
Chairperson: Shirley Dorismond, Vice President FIQ;
Interventions:
Ben Beachy (USA),
Juan Carlos Salamanca GreenPeace-Mexico,
Interventions from Quebec and Canada (TBD).
Organized by: the Quebec Network on Continental Integration with support from the Canadian Coalition on NAFTA (Common Frontiers, Trade Justice Network and Council of Canadians)
3 pm Break
Solidarity Resolution with Mexican Workers
When: 3:10 pm - 3:30 pm
Where: Metro Corridor of Management Sciences – UQAM - Room R-M130.
Presentation by Benedicto Martínez, National Coordinator of Frente Autóntico del Trabajo (FAT); and resolution by Amélie Nguyen (CISO).
Does the NAFTA have a future?
When: 3:30 - 4:45 pm
Where: Metro Corridor of Management Sciences – UQAM - Room R-M130
Animation: Stephen Léger, Vice President APTS; Lori Wallach (Public Citizen - USA); Arthur Stamoulis (Citizen Trade Campaign - USA); Vitoria Alfredo Acedo of the National Union of Autonomous Regional Peasant Organizations (UNORCA); Larry Brown (NUPGE - TJN); Quebec (to be confirmed).
Organized by: the Quebec Network on Continental Integration with support from the Canadian Coalition on NAFTA (Common Frontiers, Trade Justice Network and Council of Canadians)
4:45 pm Closing remarks
-voir la version française des activités
---
January 19, 2018
Solidarity Message from the Good Jobs for All Coalition (Toronto):
We want Trade Deals that Build
Good Jobs, Solidarity and Development
The Current Corporate-Led Free Trade Deals Betray those Goals!
On behalf of the Good Jobs for All Coalition representing more than 30 community and labour organizations in the Toronto area, we extend our solidarity to those demonstrating in Montreal for trade agreements based on a people's agenda of justice and solidarity. Your mobilization will inspire others.
On December 4 our Coalition sponsored a Public Forum and Teach-In on NAFTA. It was agreed that current Free Trade deals are too focused on the interests of investors and corporations and our economy has suffered as a result.
What's missing is a progressive vision of trade that's centred on people's interests. This will mean New Priorities and Enforceable Conditions such as:
Enforceable obligations on investors and corporations, to guarantee social responsibility at home and abroad;
Local procurement policies that respect our sovereignty and help us create better jobs for all. In Toronto we fought hard to secure Community Benefit Agreements that prioritize equity measures for training and hiring of racialized communities, youth and women.
Stronger protections for both public and private sector service jobs. This is where most people work now, including some of the most vulnerable.
Enforceable development objectives - for higher living standards, indigenous rights and similar social goals.
Effective environmental protections, support for the development of green jobs and emergency measures in response to global climate change.
We believe there's a better way to encourage trade, solidarity and development… by giving priority to the public interest.
---
January 19, 2018
Public Rally - NAFTA Negotiations in Montreal
PEOPLE AND THE PLANET
BEFORE PROFITS!
WHEN? Saturday, January 27, 2018 at noon
WHERE? In front of Bonaventure Hotel
OTTAWA – MONTREAL BUS
To allow workers, activists from civil society organizations and citizens from the Ottawa area to participate, CUPW is giving you the opportunity to get on a bus to Montreal that will take us to the rally and bring us back afterwards.
DEPARTURE: 9:00 A.M.
LOCATION: BEHIND 377 BANK ST.
RETURN: 4:00 P.M. from Montreal
A light meal will be served following the demonstration at UQAM (Université du Quebec in Montreal) and information sessions will take place in the afternoon.
RESERVE YOUR SEAT BY EMAIL OR PHONE:
Joanne Louisseize
Email: jlouisseize@cupw-sttp.org
Phone number: 613-236-9449
THE STRUGGLE CONTINUES!
-voir cette annonce en français
---
January 19, 2018
LA INICIATIVA DE LEY LABORAL DE LA CTM Y CROC VIOLA LOS DERECHOS HUMANOS Y LABORALES. CONDENA A MUERTE AL SINDICALISMO INDEPENDIENTE Y DEMOCRÁTICO.
Condena generalizada ha provocado la iniciativa de reforma a la Ley Federal del Trabajo presentada en diciembre pasado por los senadores del PRI, Isaías González Cuevas (CROC) y Tereso Medina (CTM) con evidente encargo del Ejecutivo Federal actual y su candidato presidencial, José Antonio Meade.
-Haga clic en la imagen a la derecha para ver más sobre esta historia.
---
January 19, 2018
---
January 15, 2018
Whither Canadian Diplomacy - Enabling Mining Companies or Land and Environment Defenders?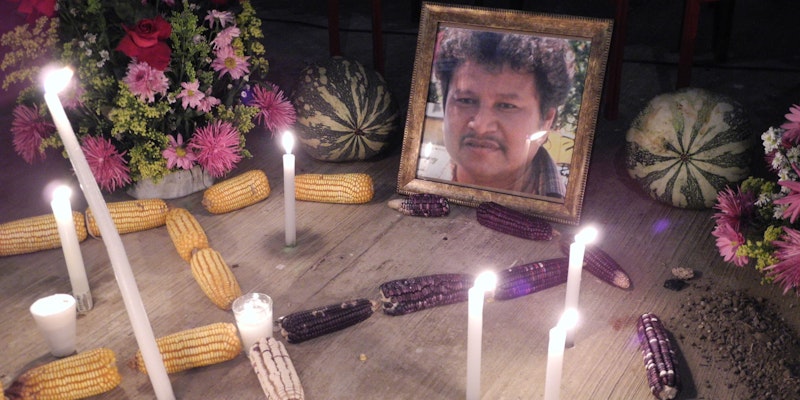 Monday, 5 February 2018
1:30 PM to 5:00 PM (EST)
Human Rights Research and Education Centre
University of Ottawa
In light of the government's recently developed Voices at Risk: Guidelines for supporting human rights defenders, this roundtable discussion proposes to examine the conflicts that arise between Canada's 'economic diplomacy' to facilitate the operations of Canadian mining companies abroad and its human rights obligations to land and water defenders speaking out about the harms they are experiencing - or trying to avoid - from the operations of many of these very same companies. With visiting guests from Mexico and Thompson Rivers University, B.C., this discussion aims to deepen debate, research and action towards consistent compliance with Canada's human rights obligations, which includes the duty to protect human rights from abuse by state and non-state parties.
---
January 10, 2018
Trump's Trade Chief Lashes Out After Canada Broadens WTO Fight
From Bloomberg.com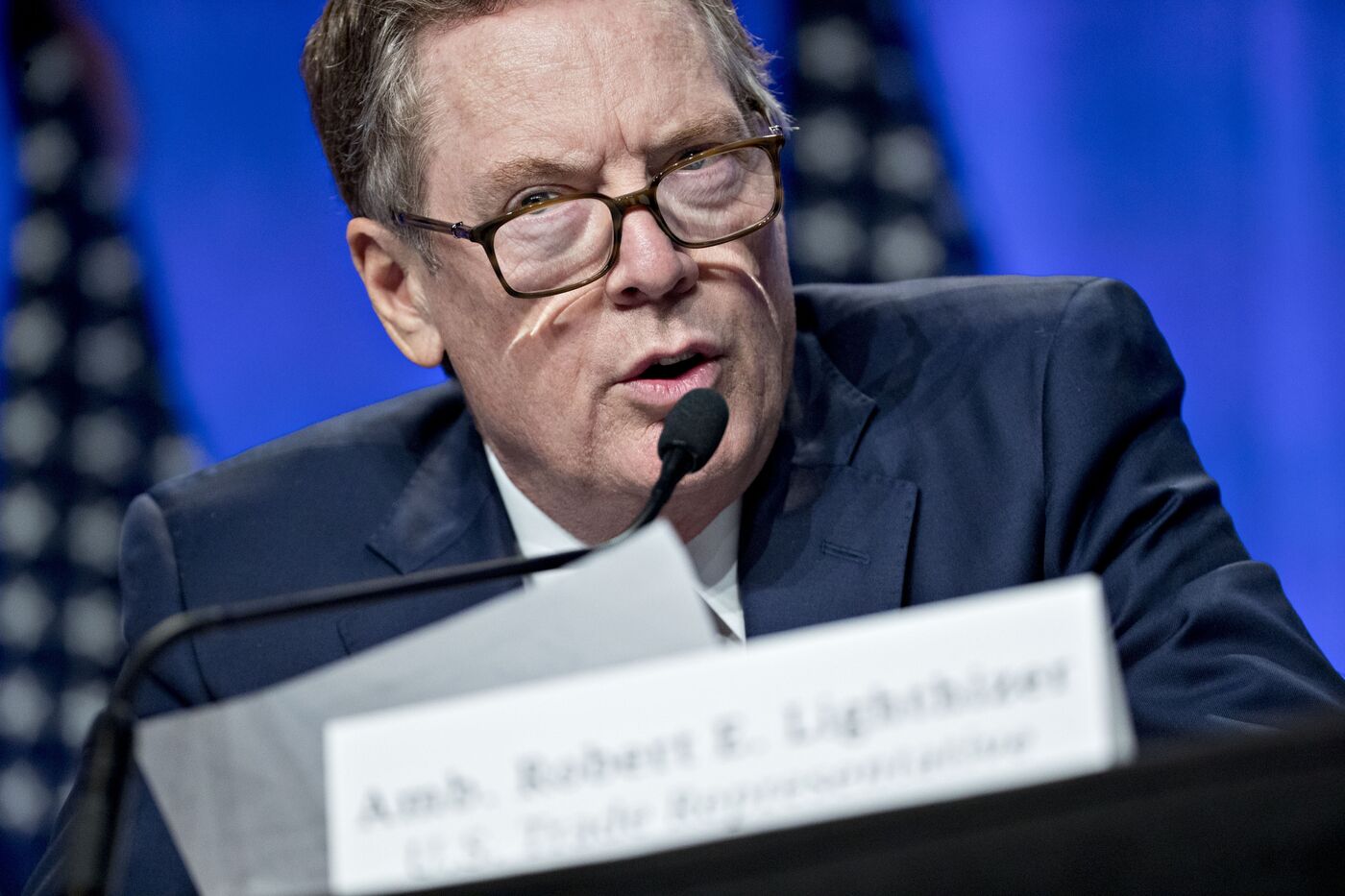 U.S. Trade Representative Robert Lighthizer - Photographer: Andrew Harrer/Bloomberg
Canada is escalating its trade fight with Donald Trump, mounting what the U.S. calls a "broad and ill-advised attack" just as Nafta talks are set to resume.
Prime Minister Justin Trudeau's government launched a wide-ranging World Trade Organization dispute with the U.S. over how it applies countervailing and anti-dumping duties. The paperwork was filed Dec. 20, days after a mini-round of North American Free Trade Agreement talks ended in Washington, and made public Wednesday.
It drew a harshly worded response from Trump's trade czar. "Canada's claims are unfounded and could only lower U.S. confidence that Canada is committed to mutually beneficial trade," U.S. Trade Representative Robert Lighthizer said in a statement.
The trade fight already affects plane-makers like Boeing Co. and Bombardier Inc.; lumber producers like West Fraser Timber Co. and Canfor Corp.; and auto companies whose supply chains rely on Nafta, a pact whose fate is uncertain. Canada has launched WTO complaints over softwood and supercalendered paper, and criticized another round of duties applied in a spat over newsprint this week as "unjustified."
Canada's WTO claim cites U.S. measures against several of its biggest trading partners, including Canada itself, China, Germany, Japan and all but one of its fellow Group of 20 nations. "It's almost as if Canada is taking up the cause of the international trading system," said Mark Warner, a Toronto-based trade lawyer with MAAW Law who practices in the U.S. and Canada. "It seems very aggressive."
Nafta talks resume in Montreal on Jan. 23. Foreign Affairs Minister Chrystia Freeland, who is Trudeau's lead minister on the file, met in Washington Tuesday with Commerce Secretary Wilbur Ross and several Republican senators who've voiced support for the deal.
Freeland, in a statement Wednesday, indicated the WTO challenge stemmed from the softwood lumber dispute. "This WTO action is part of our broader litigation to defend the hundreds of thousands of good, middle class forestry jobs across our country," she said. "We continue to engage our American counterparts to encourage them to come to a durable negotiated agreement on softwood lumber."
Lighthizer called Canada's WTO claims "groundless" and said they "threaten the ability of all countries to defend their workers against unfair trade."
Warning signs about Nafta are mounting. Royal Bank of Canada Chief Executive Officer David McKay, who heads the country's second-largest lender by assets, said this week the chances of a formal withdrawal notice are increasing, while North America's largest auto parts maker Magna International Inc. warned against current proposals for the sector that amount to a "lose-lose-lose."
---
January 2, 2018
Call for Action during NAFTA's Sixth Round of Negotiations
People and the planet before profit!
With the next round of The North American Free Trade Agreement (NAFTA) negotiations set for Montréal from January 23rd to 27th 2018,  it is important for organized labor, environmentalists, family farmer groups, and other civil society organizations to show their united opposition to corporate trade deals as we did in our efforts to defeat the Free Trade Agreement of the Americas in the 1990s. Common Frontiers, the Trade Justice Network, the Council of Canadians and Réseau québécois sur l'intégration continentale have joined forces to demonstrate their opposition to market liberalization at the detriment of human rights and the environment.
These four networks coordinate a pan-Canadian coalition consisting of labour unions, environmental groups, farmers, Indigenous groups, women's groups, digital rights activists, social justice organizations as well as other activist and civil society groups. The coalition was formed during the Mexico City civil society meeting in May 2017 to voice concerns of social movements and the public about NAFTA renegotiations throughout English-speaking Canada and Québec.
We invite other organizations and civil society from across English Canada and Quebec to initiate actions and mobilize on January 23rd to 27th to coincide with the sixth round of NAFTA negotiations in Montreal, Quebec.  
We invite organizations to share details of their actions and any photos or videos with us. We commit to sharing them as we coordinate these days of action. Send info. about your event to burbano@rogers.com
During the week of January 22nd to the 27th, we encourage everyone to take action and participate in diverse ways in their own city.
We invite organizations to share details of their actions and any photos or videos with us.  We commit to sharing them as we coordinate these days of action.
Montréal rally on NAFTA and the Paris Climate Agreement - January 27, 2018
The pan-Canadian coordinating group invites Québec and Canadian organizations to participate in a rally to be held in Montreal on Saturday January 27, organized by Réseau québécois sur l'intégration continentale.  The theme of the rally will be NAFTA against the Paris climate agreement, and will be followed by a social gathering.
Where are NAFTA negotiations going?
Invitation to participate in a Montreal strategy meeting
To all organizations belonging to the North American coordinating group on NAFTA
The pan-Canadian civil society coordinating group on NAFTA — composed of Common Frontiers, the Trade Justice Network, the Council of Canadians and Réseau québécois sur l'intégration continentale — invites you to participate in a North American strategy meeting in Montreal, Quebec on January 27th, during the sixth round of NAFTA negotiations.
Will there be enough time to reach an agreement in the first half of January? How will the negotiations evolve? Will they be delayed again?  How much longer will they be delayed given the upcoming elections and the difficulties of reaching an agreement?
Since the beginning of the negotiations, organizations from the pan-Canadian coalition on NAFTA have worked with allies in the U.S. and Mexico. A joint declaration adopted in May of 2017 is the basis of understanding of the group.
This is why the Canadian coalition would like to hold a strategic meeting for all of the Canadian, Quebec, American and Mexican network representatives.  The goal of this meeting is to evaluate the negotiations thus far, discuss the current state of negotiations and what we have to do in that context.
-Download a copy of this mobilization in English En español En français
---
Common Frontiers Archives
(2017 Archive)(2016 Archive) (2015 Archive) (2014 Archive) (2013 Archive) (2012 Archive) (2011 Archive) (2010 Archive) (2009 Archive) (2008 Archive) (2007 Archive) (2006 Archive) (2005 Archive)