Current Activity Updates (archives)
2017 2016 2015 2014 2013 2012 2011 2010 2009 2008 2007 2006 2005
December 22, 2017
The Effects of Free Trade on Colombia
---
December 20, 2017
Statement from the UN Office on Human Rights
End Mission Statement by the Independent Expert
on the promotion of a democratic and equitable international order, Alfred-Maurice de Zayas to Venezuela and Ecuador
from 26 November to 9 December 2017
As the first Independent Expert on the promotion of a democratic and equitable international order, I have had the opportunity of defining the mandate and the methodology. I have produced six reports for the Human Rights Council and six reports for the General Assembly, all covering issues of international order including tax havens, investor-state-dispute settlement, bilateral investment treaties, free trade agreements, World Bank projects, the International Monetary Fund and its loan conditionalities, disarmament for development, the self-determination of peoples and the reform of the Security Council. The object and purpose of my mandate is laid down in resolution 18/6 of the Human Rights Council, and the parameters of my visit are described in a media statement issued on 27 November 20171.
The function of rapporteurs and independent experts is to ask questions, listen to all stakeholders, evaluate documents, and issue constructive recommendations to States.  We come in order to help populations better realize their human rights.  In order to do so, we try to convince governments that it is in their own interest to cooperate with the United Nations, and we offer them our advisory services and technical assistance.  Our function cannot be reduced to condemning governments. 
As one of the few Special Procedures given access to Venezuela and Ecuador, expectations for my visit were high. While I could not fulfil the expectations of some sectors of civil society and remain within the parameters of my mandate, I did assure my interlocutors that I would transmit their concerns to the pertinent rapporteurs.  In particular, issues have been raised which could be examined in more depth by the rapporteurs on freedom of expression, on the right of peaceful assembly and association, on the independence of judges and lawyers, on food, health and on arbitrary detention. I also endeavoured to incorporate some of the concerns mentioned into the narrative of my preliminary recommendations to the States.  Where relevant, I will reflect their input in the final report to the submitted to the Council in 2018.
-Read the entire report on the OHCHR website
---
December 14, 2017
Urgent Action: Human Rights Crisis in Honduras
Call on Minister of Foreign Affairs Chrystia Freeland to take a strong stand concerning electoral fraud, repression and violence in Honduras.
This online action is supported by Atlantic Region Solidarity Network, Breaking the Silence, Common Frontiers, the Committee for Human Rights in Latin America, CoDevelopment Canada and Miningwatch Canada.
CoDev partner in Honduras CODEMUH at the protests
Since national elections on November 26, numerous examples of irregularities and electoral fraud have been documented by national and international observers. These irregularities and fraudulent activities favour the incumbent National Party candidate, Juan Orlando Hernández, who had been trailing Salvador Nasralla of the Opposition Alliance by a significant amount, late in the vote count on the 26th. The Supreme Electoral Tribunal (TSE), which lacked representation from the opposition parties and whose president is closely aligned with the incumbent candidate, has lost all legitimacy with the Honduran population.
Fearful that democracy in Honduras will continue to be undermined, as it was with the 2009 military coup, tens of thousands of Hondurans have taken to the streets across the country to demand that the will of the electorate be respected with many calling for Juan Orlando Hernández' immediate resignation, seeing his centralization of power in the country and efforts at reelection as further entrenchment of the coup.
-Follow this link to read more details and send your own online action to the minister
---
December 12, 2017
Canada calls on Honduras to reinstate constitutional rights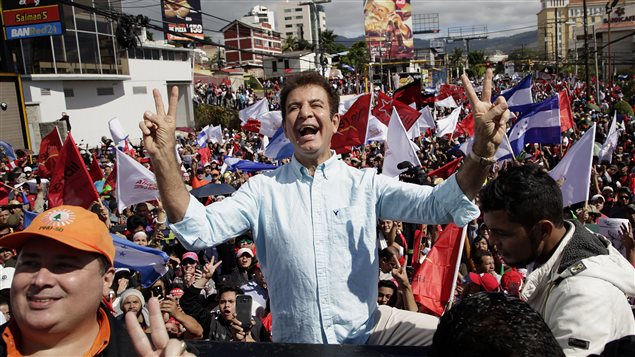 Salvador Nasralla, candidate of the opposition alliance, holds a rally in Tegucigalpa, Honduras, Sunday, Dec. 10, 2017. Photo Credit: Fernando Antonio
By Levon Sevunts
Radio Canada International
Canada is closely following the crisis that has gripped Honduras following the disputed presidential election and is calling upon the Honduran authorities to reinstate constitutional rights and guarantees without delay, said Foreign Affairs Minister Chrystia Freeland.
"Democratic principles, human rights and the rule of law must be upheld," Freeland said in a statement as thousands of opposition supporters flooded the streets in the Honduran capital of Tegucigalpa and other cities.
However, Canadian civil society groups are calling on the Trudeau government to take a harder line with the Honduran authorities.
"We call on the Canadian government to stop all political and economic support for the Honduran government until election results can be scrutinized by international observers and declared free and fair, and until the human rights situation in the country improves," said a statement by Common Frontiers, a working group of Canadian labour and civil rights organizations.
The Americas Policy Group (APG), a regional working group of the Canadian Council for International Co-operation, called on Freeland to support an independent international commission to undertake a vote count and to conduct an investigation of the electoral process.
Honduras has been plunged into political uncertainty since the November 26 election, with repeated delays and concerns over inconsistencies plaguing the vote.
---
December 11, 2017
Progressive trade requires more than just titles and talking points
By Mark Hancock
Opinion, Toronto Star
Canadians deserve fair trade agreements that will stand the test of time, and our leaders must do more than simply slap the word "progressive" into titles and talking points. We need real accountable and transparent practices when our government negotiates deals, and we deserve respect for, and real responsiveness to, public input.
Look in any direction on Canada's international trade landscape today, and you'll find a situation in barely controlled chaos — whether that's renegotiations on NAFTA, where the United States effectively holds all the cards, a new attempt at the Trans-Pacific Partnership, or a potential trade deal with China — talks that our prime minister has rather dramatically walked away from in recent weeks.
There is plenty in play, and a lot at stake, for Canada. We live in a global economy, where strong trading relationships are essential, but too often our political leaders lock us into trade agreements that set our country back instead of bringing it forward.
Across the country, ordinary folks and even mainstream economists are starting to recognize that we don't have to agree to bad trade deals, and that walking away from a deal that doesn't benefit Canadian workers, and the Canadian economy, isn't going to cause the sky to fall.
NAFTA is the perfect example. Since the adoption of NAFTA, almost 25 years ago, Canada has become the most-sued government in the developed world. We've been sued almost 40 times under NAFTA's Chapter 11, dishing out close to $250 million in public money to private corporations.
That's a serious assault on the public purse, but more importantly on the right of governments in Canada to exercise and uphold their own democratic decision-making. (The U.S., by contrast, has never been successfully sued under Chapter 11.)
NAFTA has also cost us countless manufacturing jobs and put public resources like water, and our environment, in serious jeopardy.
During the negotiation of NAFTA, and in the years since, countless organizations and individuals raised the alarm about these very issues. While CUPE and groups like the Council of Canadians and Alternative for the Americas were calling for robust consultation, improved protections for workers, measures to address inequality, and the inclusion of environmental protections in trade agreements, our concerns were largely ignored in favour of more powerful corporate voices.
Those that promote unfettered free trade tend to fearmonger about all-but-certain economic Armageddon when voices raise concerns about things like labour rights and environmental protection. And up until now, they have managed to drown out those voices.
But last week's report from BMO titled "The Day After NAFTA" tells a pretty different story. Pulling out of NAFTA would have some economic downsides in the short term, but realigning trade priorities and shifting monetary policy "would work to mitigate the economic damage", according to BMO Chief Economist Doug Porter. In other words, the sky wouldn't fall after all.
That's pretty much what organizations like CUPE have been saying since the 1990s. And, in fact, it proves Canada is in a position to walk away from NAFTA if we can't get a deal that respects workers, communities, and the environment.
-Read the rest at The Toronto Star
---
December 10, 2017
Democracy North: Focus on Latin America: Chile, Colombia, Venezuela
Common Frontiers coordinator Raul Burbano was interivewed recently by independent radio station Democracy North, as part of their special report on Latin America. To listen to the podcast, click on the link below, which will take you to the interview listing.
-Listen to Democracy North's focu on Latin America podcast
---
December 7, 2017
Is another coup under way in Honduras?
Canada has been complicit with repressive regimes
since 2009 overthrow of President Zelaya
Recent days have seen violent repression of mass protests against perceived electoral fraud in Honduras. Resistance to the heavy-handed government response has come from unexpected places, with one elite division of the police forces refusing orders to suppress demonstrations. The Canadian government's hands are not clean in Honduras, having played a significant role in this Central American country since a coup in 2009 overthrew President Manuel Zelaya.
By Steve Stewart
Richochet.media
On June 26, 2009, I received a curious email from the Canadian consulate in Honduras. It urged Canadians in Honduras to stay off the streets the following Sunday, June 28. Although I was safely ensconced in an office in Vancouver at the time, I had met with officials at the consulate earlier that year, so I assumed that they thought I was stationed in the country.
What was strange about the message was that the only event of note planned in Honduras for June 28 was a non-binding consultation to ask citizens if they favoured including on the ballot in the November national elections a referendum question on electing a constituent assembly to rewrite the Honduran constitution. Hardly, I thought, a reason for foreigners to hide in their homes.
The consultation was never held. Early on June 28, soldiers stormed the presidential palace, arrested progressive president Manuel Zelaya and forced him, still in his pajamas, on a plane and into exile. The coup ushered in what has now been eight years of repression of social activists, environmental defenders and marginalized groups, skyrocketing murder rates, and the increased penetration of organized crime into higher and higher levels of the state, while opening the country to foreign investment and the expansion of mining, agro-industry and infrastructure.
Back in 2009, Canadian diplomats joined the U.S. in blocking efforts in the Organization of American States and the United Nations to restore the constitutional order immediately after the coup.
The violent suppression in Honduras of the popular uprising that has followed this year's elections is a result of the unfinished business of the 2009 coup.
Disputed election
The presidential election saw incumbent President Juan Orlando Hernández of the National Party — principal vehicle of the country's traditional oligarchy — face off against Salvador Nasralla, candidate of a coalition calling itself the "Alliance Against the Dictatorship." The alliance is comprised of the left-wing Libre party, formed by supporters of ousted president Zelaya, and the centre-right Anticorruption Party.
Hours after the polls closed, with 58 per cent of the votes counted, results gave Nasralla a strong lead of 45 per cent to Orlando's 40 per cent. The count was suddenly halted (The electoral tribunal blamed a "computer glitch"), and when it began again on Nov. 27 Nasralla's advantage had almost disappeared. Counting proceeded at a snail's pace for the next couple of days and gradually, Hernández replaced Nasralla's lead.
The Honduran national congress backed the 2009 coup that overthrew Zelaya, arguing that his planned consultation would violate the constitution, which prohibits re-election of presidents. The consultation, congressional leaders argued, could lead to a referendum that might approve the election of a constituent assembly, which might have modified the constitution to allow for re-election.
Juan Orlando Hernández presided over the National Congress in the first post-coup government. Now it is Orlando Hernández himself who stands for re-election, bypassing the constitutional articles prohibited this by replacing Supreme Court judges with more malleable ones, who ruled last year that the ban on re-election violates Hernández's civic rights.
-read the rest of this article on ricochet.media
---
December 7, 2017
Putting Mexican energy privatization beyond the reach of voters
Pemex gas station in Mexico City, January 13, 2015. | Photo: Reuters
By Raul Burbano, Gordon Laxer and Anna Zalik
A new round of talks to renegotiate NAFTA is being held in Montreal City January 23rd to 27th 2018. Canada and Mexico should discuss the  energy proportionality rule in NAFTA's chapter 6 that requires a member country to make available for export the  same percentage of energy as it has in the past three years. It removes a member country's sovereignty to  determine its level of carbon fuel exports, the price at which it sells its oil to its own people and hinders climate  change action.
Jean Chretien ran his winning election campaign in 1993 on the Liberal Red Book that promised to renegotiate  NAFTA to get "the same energy protection as Mexico". Mexico rejected NAFTA's energy proportionality rule then  on sovereignty grounds, got an exemption from it, but wants to accept it in NAFTA 2.0. Chretien buckled when  he was rebuffed by President Bill Clinton in 1993. Ottawa and Mexico City were right then, and should jointly  eliminate proportionality now.
 
At the behest of Washington, Alberta and Big Oil, Brian Mulroney's Conservative government inserted energy  proportionality into the 1989 Canada-U.S. Free Trade Agreement. The aim was to prevent the next Liberal  government from implementing another national energy program (NEP) like that of Pierre Trudeau's government.  The NEP cut oil exports to the U.S. in the west so the oil could be supplied to eastern Canadians who relied on  oil imports, putting them at the risk of international oil supply crises.
 
Putting proportionality into an international trade agreement is like constitutionalizing it. It's hard for the next  government to undo it no matter how much it and the voters wish to do so.   The proportionality rule was folded into NAFTA. It obliges Canada to make available to the U.S. 52 percent of our natural gas output, 74 percent of our oil production and 11 percent of our electricity.
 
No other industrial country has given another country first access to its energy resources. But Mexico may now do so.
 
Under proportionality, Canadian oil and gas exports can rise or fall through "market" changes — essentially decisions by Big Oil — but Ottawa cannot, as a matter of policy, reduce carbon energy exports to cut greenhouse gases (GHGs), or redirect domestic oil to displace oil imports to eastern Canadians.
 
Now oil interests want Mexican President Enrique Peña Nieto Nieto to use Mulroney's ploy to lock in the 
privatization of Mexico's oil and electricity industries. This runs counter to the pledges of opposition candidates Andrés Manuel López Obrador of MORENA & María de Jesús Patricio of the Zapatista movement's National Indigenous Council. Currently, López Obrador is leading in the polls for Mexico's 2018 presidential election. By signing onto proportionality Mexico could be stuck with privatization, no matter what the voters say. This is a major issue in Mexico, a country that historically nationalized the foreign-owned oil industry in 1938.
 
In the past five years, Export Development Canada provided billions of dollars to finance the recently privatized Mexican energy sector. To pave the way for the denationalization of the energy sector, workers were displaced in a range of national energy industries, sparking much protest. In 2009, 40,000 workers in Mexico's energy utility were laid off in one day.
 
Export Development Canada also helped finance the seven natural gas pipelines TransCanada built or is building in Mexico. TransCanada delivers sharply increased imports of U.S. natural gas to Mexico's electricity grid. This has gone hand in glove with reduced Mexican energy sovereignty, fewer jobs in producing energy, and the potential displacement of infrastructure for renewable energy.
 
These changes have brought misery and sparked mass protests against the removal of subsidies on Mexican fuel. Rising gas prices, known as the 'gasolinazo', prompted price rises on basic commodities earlier this year.
Energy proportionality is bad for Mexico and Canada. It undermines the ability of both countries to take control over their production of greenhouse gases and their own energy sources. During current NAFTA talks, both countries should demand an end to the proportionality rule and create conditions for energy sovereignty.
 
NAFTA is supposed to aid trade among the three North American countries, not derail democracy. If Mexicans wish to elect López Obrador to reverse the denationalization of Mexico's energy sector, that should be their right.
Raul Burbano is the Program Director for Common Frontiers Canada.
Gordon Laxer is author of "After the Sands. Energy and Ecological Security for Canadians" and the founding Director of Parkland Institute at the University of Alberta.
Anna Zalik is a Professor the Faculty of Environmental Studies at York University
---
December 6, 2017
The real question on NAFTA and agriculture
By Karen Hansen-Kuhn
From The Hill
Agribusinesses and commodity groups have been raising alarms lately about the potential impacts of withdrawal from NAFTA, at a time when farmers are already reeling from low prices and falling incomes. Unsurprisingly, the Trump administration has not yet conducted any analysis of what NAFTA withdrawal would mean for agriculture or other sectors. Instead, we are left to wonder if the threat of withdrawal is a bluff or a real possibility. The focus should be on the rules we need for fair and sustainable trade and food systems.
The companies are worried that Mexico would raise tariffs to levels that would make U.S. exports more expensive than similar goods from competitors in Brazil, Argentina or elsewhere. It is also possible that ending NAFTA would disrupt the highly integrated supply chains for meat and feed and generally lead to greater uncertainty over investment decisions.
These are real concerns, but the focus on increasing exports to solve the ongoing farm crisis is dangerously incomplete. NAFTA began just before the game-changing 1996 Farm Bill. U.S. farmers were promised that past policies that set floor prices and managed supply were no longer necessary: Instead, they were encouraged to expand production and export their way to prosperity. Crop prices plunged almost immediately following the '96 Farm Bill, and since then prices have been volatile, but mostly low. The Institute for Agriculture and Trade Policy has calculated the extent of dumping of major commodity crops, i.e., exports at below the cost of production. As of 2015, U.S. corn was exported at 12 percent below the cost of production. Since NAFTA, more than 2 million Mexican farmers, unable to compete with these cheap imports, have been driven off their land. At the same time, more than 200,000 small and medium scale U.S. farmers have left agriculture since NAFTA, while corporate concentration in seeds, processing and other aspects of production increased dramatically.
The disruption of NAFTA withdrawal could affect family farmers on both sides of the border. Under WTO rules, Mexico has the right to raise tariffs substantially on many farm goods. The U.S. has mostly committed to lower tariff ceilings, but there are some exceptions, such as imports of red meat, for which the U.S. currently applies a 18 percent tariff on imports from non-NAFTA countries. However, both countries could decide to apply tariff rates (which would apply to all trading partners) that are much lower than the ceilings they have committed to under the global trade rules.
---
December 6, 2017
Fuera JOH!!! Desde Montreal
Fuera JOH!!! Desde Montreal from Miguel Sorto on Vimeo.
---
December 5, 2017
Communiqué de Québec Solidaire face à la situation au Honduras
Le dimanche 26 novembre 2017, le Honduras a organisé des élections pour le président, l'Assemblée nationale et les maires. En prévision des élections, le Honduras a connu une escalade de la militarisation et de l'intimidation visant à faire peur aux partisans de la coalition de l'opposition.
Au milieu des allégations de fraude, le TSE (Tribunal électoral suprême ), qui est responsable de la supervision des élections, n'a toujours pas déclaré de vainqueur du scrutin présidentiel de dimanche.
Avec 60% des bulletins de votes comptabilisés, le TSE a annoncé dimanche les premiers résultats en faveur du candidat à la présidence de l'Alliance d'opposition à la dictature, Salvador Nasralla, en tête de 5% par rapport au candidat sortant Juan Orlando Hernandez. Deux membres du Tribunal électoral suprême (TSE), Marco Lobo et Eric Mejia, ont déclaré que le candidat à l'élection de l'Alliance de l'opposition, Salvador Nasralla, était irréversible.
Inexplicablement, les autorités électorales ont alors cessé de donner des résultats pendant plus de 24 heures. La longue pause dans les résultats a conduit de nombreux membres du parti de Nasralla à soupçonner une fraude et ses partisans sont descendus dans la rue en signe de protestation.
Mardi, le TSE a finalement commencé à publier des totaux de votes qui ont montré que la chute rapide de Nasralla, et les résultats de mercredi matin ont montré qu'il a diminué d'environ 1%.
Plusieurs observateurs internationaux des élections dans le pays ont déclaré que les irrégularités lors du dépouillement des votes pourraient être une fraude potentielle au profit de Juan Orlando Hernandez. De même, d'éminents groupes de la société civile au Honduras ont accusé la TSE de ralentir la publication des comptes, car il semblait que le président sortant se dirigeait vers une défaite.
Il est proposé que Québec solidaire:
Demande au gouvernement canadien de rompre le silence sur la répression, la corruption et l'impunité qui a été systématique au Honduras depuis le coup d'État de 2009.

Appelle le gouvernement canadien à cesser tout soutien politique et économique au gouvernement hondurien jusqu'à ce que les résultats des élections puissent être examinés par des observateurs internationaux et déclarés libres et équitables, et jusqu'à ce que la situation des droits humains s'améliore dans le pays.
-lien vers le site web View in English
---
December 4, 2017
Local Events to Denounce the Electoral Coup in Honduras
Cacerolazo Denouncing Electoral Coup D'état in Honduras
Ottawa, ON
Wednesday Dec 6 @ 6-8 pm 
130 Albert St
Toronto, ON
Wednesday Dec 6 @ 6 pm
Yonge-Dundas Square
---
December 1, 2017
Media Advisory
Public Forum - What's Up with NAFTA?
The Impacts on Jobs and Equity
Date: Monday, December 4, 2017
Time: 7 pm
Place: Steelworkers Hall, 25 Cecil Street, Toronto
Keynote Speakers:
- Hassan Yussuff, President of the Canadian Labour Congress
- Armine Yalnizyan, Economist
On December 11, 2017, the next round of the North American Free Trade Agreement (NAFTA) re-negotiation talks commence in Washington. There has been considerable public debate about President Trump's agenda and what it might mean for some Canadian industries including auto manufacturing and provisions such as the dispute settlement mechanism. However, little attention has been paid to issues such as: the potential impact on jobs in the other manufacturing sectors and the huge service sectors of our economy, both public and private services, and what this means for women, racialized workers and others employed in these sectors.
The Good Jobs for All Coalition is presenting this timely public forum on the NAFTA talks and the potential impacts on jobs and equity. Following the keynote speakers, respondents will link the trade talks to mobilizing for alternatives and an agenda of good jobs for all:
Deena Ladd, Coordinator, Workers Action Centre
Natasha Allen, Toronto Community Benefits Network
Raul Burbano, Coordinator, Common Frontiers
Founded in 2008, the Good Jobs for All Coalition is a broad based coalition of more than 30 community, labour and environmental organizations in the GTA.
CONTACT INFORMATION
Susan McMurray: 416.882.2247
Laurell Ritchie: 416.917.0047
Winnie Ng: 647.291.3511
---
November 30, 2017
Concerns about election tampering 
during Honduran Presidential election
Photo Credit -- Matt Ginsberg-Jaeckle
Common Frontiers expresses profound concern over the environment of intimidation in Honduras leading up to the elections and the electoral process itself, which has been plagued by delays and a lack of transparency during the vote tally.  We are also concerned by allegations of election tampering and falsification of elections results. 
On Sunday November 26, 2017, Honduras held elections for president, the National Assembly, and mayors.  Leading up to the elections, Honduras experienced escalating militarization and intimidation intended to strike fear in opposition coalition supporters.  
Former President Manuel Zelaya's leftist Liberty and Refoundation Party (LIBRE) and Salvador Nasralla's centrist Anticorruption Party (PAC) had joined to form the Alliance Against Dictatorship coalition to run in the elections.
Hernandez' National Party has control over many of the country's institutions, including the Supreme Electoral Tribunal (TSE) and the Supreme Court, that eliminated terms limits so he could run for re-election.
Amid allegations of fraud, the TSE, which is responsible for overseeing elections, still has not declared a winner in Sunday's presidential vote.
With 60% of ballots counted, the TSE announced initial results on Sunday showing Alliance Against the Dictatorship's presidential candidate Salvador Nasralla leading by 5% over incumbent National Party candidate Juan Orlando Hernandez. Two members of the Supreme Electoral Tribunal (TSE), Marco Lobo and Eric Mejia, stated the Opposition Alliance candidate Salvador Nasralla's lead in the vote was irreversible. 
Inexplicably, election authorities then stopped giving results for more than 24 hours. The long pause in results have led many in Nasralla's party to suspect fraud and his supporters have taken to the streets in protest.
On Tuesday, the TSE finally began releasing vote totals which showed, Nasralla's lead dropping rapidly, and by Wednesday morning results showed that it has shrunk to about 1%.
The European Union election monitoring delegation has criticized the TSE for lack of transparency and for failure to document where the votes tallies were coming from. 
Several international elections observers in the country have said irregularities during the vote counting could be potential fraud intended to benefit Juan Orlando Hernandez. As well, prominent civil society groups in Honduras accused the TSE of slowing its release of tallies because it appeared the incumbent president was headed toward a loss.
Hernandez has increasingly militarized the Honduran police and adopted a military style approach to the problem of migration, drugs and crime, an approach favoured by the White House administration - the steady increase of U.S. assistance to the Honduran armed forces is an indicator of tacit U.S. support.
We call on the Canadian government to break its silence about repression, corruption and impunity that have been systematic in Honduras since the 2009 coup. 
 We call on the Canadian government to stop all political and economic support for the Honduran government until election results can be scrutinized by international observers and declared free and fair, and until the human rights situation in the country improves. 
We call on the international community to stay vigilant in order to ensure the democratic will of the Honduran people is respected without repression, fear or violence.
-download the Statement From Common Frontiers -télécharger en espagnol
---
November 29, 2017
Respect the Plebiscite of November 26
As a human rights organization, the Committee of the Families of the Detained and Disappeared in Honduras, COFADEH, respectful of the truth and a promoter of justice, informs the world of the following:
On November 26, the people of Honduras transformed the general elections for public office into a Plebiscite that said NO to re-election, continusim, the coup de' tat and corruption This collective voice must be respected.
In the next few hours, the only actor responsible for any disturbance of the public order is the cartel of organized crime forcing a negotiation of impunity with the irrefutable winners of Sunday's plebiscite, because they need a pardon in the future.
Those indirectly responsible will be the governments and multilateral organizations that recognize any imposter government that proclaims triumph based on adulterated data, and the Armed Forces, churches and media that endorse this tragedy that the spurious Electoral Tribunal is attempting to legalize. 
We call on the international community to demand the demilitarization of the streets of Honduras, a ridiculous spectacle of brute force that only confirms the partiality of those who supported the 2009 coup de' tat with the  losers of 2017, and to permit freedom of expression for the people of Honduras without repression, fear or violence. 
As members of the Citizens Convergence against Re-election and Fraud, we call its national leadership to urgently convene, this very Wednesday, in order to define the actions to be taken in the critical hours of this national context. 
This is not about an electoral duel between urban and rural Honduras, impoverished by the criminals and corrupt, it is about an assault on the will of the people of Honduras expressed in the PINU, LIBRE and Liberal Party, and has said no to the construction of a dictatorship of terror on the part of criminals and the murderers of the 80's converted into members of Congress.
Of the acts and the actors, on the eve of our 35th anniversary: 
!!!ni olvido ni perdón!!!
COFADEH
---
November 27, 2017
Justice Now! Eight Years of Impunity Since the Murder of Mariano Abarca in Chiapas, Mexico
Eight years ago today, Mariano Abarca was assassinated in front of his family restaurant in Chicomuselo, Chiapas. A father of four and founding member of the Mexican Network of Mining Affected People (REMA), Mariano Abarca was killed in connection with his leadership in the fight against the social and environmental impacts of Blackfire Exploration's barite mine that operated for two years in Chiapas. Prior to his murder, Mariano received threats and attempts to intimidate him, including being imprisoned without charge for eight days on trumped up allegations filed by company representatives. All of the suspects in his murder have some connection to the Calgary-based mining company, but the Abarca family has yet to obtain justice in Mexico or in Canada.
In June of this year, the Abarca family along with the Human Rights Centre at the Autonomous University of Chiapas, Otros Mundos Chiapas and REMA, presented a complaint against Mexico to the Inter American Commission on Human Rights. They allege that the Mexican state is responsible for failing to take the necessary measures to protect Abarca's life and for not carrying out a serious, objective, and impartial investigation into his murder. The petition further argues that the Mexican state let itself be influenced by repeated Canadian Embassy interventions on behalf of the company. The petition cites information obtained under an access to information request and reported on by the United Steelworkers, Common Frontiers and MiningWatch Canada that showed how Embassy support for the company was essential for putting the mine into operation and managing the conflict that quickly emerged as local residents became upset with the environmental and social impacts from the project. According to the documentation obtained, the Embassy closely monitored the growing conflict, and yet disregarded complaints raised by Mariano Abarca and others, not only about environmental impacts from the mine, but also about armed workers acting as shock troops for the company. When Mariano was detained for eight days without charge, the Embassy received 1,400 letters from Canada and across Latin America expressing dire concern for his safety. But its communications with Mexican state officials, as revealed in the access to information release, were instead oriented toward protecting the company's interests. Even after Mariano's murder and after the mine was shut down on environmental grounds, the documentation shows that the Embassy still provided support to the company, advising it about how to sue the Mexican state under the terms of the North American Free Trade Agreement (NAFTA).
The situation in Mexico and the region has only worsened since Mariano's murder: land and environment protectors face ever more dangerous circumstances in which to defend their lives and wellbeing, and are frequently subject to legal persecution and demonization in the press. Research undertaken by the Justice and Corporate Accountability Project has found that between 2000 and 2015, there were at least 44 deaths, over 400 people injured, and over 700 cases of criminalization in connection with 28 Canadian mining companies operating in 13 countries in Latin America. In this study, Mexico was found to be one of the most dangerous; and just this month, Victor and Marcelino Sahuanitla Peña were murdered in the context of a labour dispute at Torex Gold's mine in Guerrero.
The undersigned organizations wish to extend our ongoing solidarity with the efforts of the Abarca family, Otros Mundos Chiapas, the Human Rights Centre at the Autonomous University of Chiapas and REMA to seek justice for the criminalization and murder of Mariano Abarca and all those who have been murdered, threatened, violently displaced, legally persecuted, demonized or dispossessed of their land, water or livelihoods as a result of the context of impunity in which Canadian mining companies are operating in Mexico and much of the region, as well as all of those who are working to defend their water, land, lives and wellbeing to prevent such harms from taking place.
In this vein, we urge the Canadian government to stop intervening on behalf of companies operating abroad and to respect Canada's commitment to implement the UN Declaration on the Rights of Indigenous Peoples by replacing its corporate social responsibility strategy for the extractive sector with measures to ensure fundamental respect for peoples' right to self-determination and free, prior and informed consent before any mining activities occur. This must be accompanied by effective access to Canadian courts for personal and collective damages, criminal prosecution of serious abuses, and an independent human rights ombudsman office with robust powers to undertake effective investigations to help redress and deter harm. The existing model of trade and investment protection agreements that allows companies to sue governments in international tribunals must also be replaced by a new model of cooperation and exchange among nations that puts people, workers, and the environment first.
#JusticiaParaMariano #Justice4Mariano
Atlantic Regional Solidarity Network
British Columbia Government and Service Employees' Union (BCGEU)
Committee for Human Rights in Latin America (CDHAL)
Common Frontiers
Council of Canadians
Canadian Union of Postal Workers (CUPW)
L'Entraide Missionnaire
Maritimes-Guatemala Breaking the Silence Network
Mining Injustice Solidarity Network
Mining Justice Alliance
MiningWatch Canada
PBI Canada
Public Service Alliance of Canada (PSAC)
United for Mining Justice
United Steelworkers
Download this letter: in English en español en français
Video:
short clip from José Luis Abarca on youtube in Spanish
Otros Mundos' webpage with the solidarity statement that they have put out today with the family, REMA, and UNACH
Add your name
Add your voice to an online action that individuals can sign in English and Spanish
---
November 23, 2017
Letter requesting Canadian government collaboration with Costa Rican investigation
To:
Hon. Jody Wilson-Raybould, Minister of Justice and Attorney General of Canada
Hon. Chrystia Freeland, Canadian Minister of Foreign Affairs
Dear Ministers:
We, the undersigned, are requesting that the Canadian government respond to any and all requests for information that may be submitted to Canada by Costa Rica's new Attorney General, Emilia Navas, with regard to an alleged transfer of funds in 2008 from Canada to Costa Rica. This is related to a previously closed case involving the ex-President of Costa Rica, Oscar Arias Sanchez, which has been re-opened by Attorney General Navas. Arias is being investigated for possible malfeasance with regard to a possible transfer of $200,000 to the Arias Foundation for Peace and Human Progress just prior to the issuance of an Executive Decree by then-President Arias to permit Canadian mining company, Infinito Gold, to proceed with an open-pit gold mine, despite an existing prohibition against open-pit gold mining in Costa Rica.
The former Attorney General for Costa Rica, Jorge Chavarria, has recently had to step down from this post under a cloud of suspicion, and the new interim Attorney General, Emilia Navas, has moved to re-open several of the cases closed down during Chavarria's time. Prime among these is file 12-000124-0621-PE (or File) to investigate the motivation behind Arias' sudden 2008 Decree declaring the immediate development of the Crucitas mining project to be "in the public interest and of national convenience".
When the Arias/Infinito File was closed in 2015, former Attorney General Chavarria stated that the case against Arias lacked sufficient evidence because Canada had not provided Costa Rica with the requested documentation regarding a possible transfer of funds in 2008, after Infinito Gold's major shareholder visited the Arias Foundation in San Jose. Through two Freedom of Information requests in Canada (#3214-00572 and #3213-00966) in 2013 and 2014, we were able to ascertain that the RCMP had been in touch with Interpol about this case. Despite its significance to the Costa Rican request, any information they may have assembled and passed on to Canada's Department of Justice was never shared by Canada with Costa Rican officials. This apparent unwillingness of Canadian authorities to supply the requested documentation allowed Chavarria with an excuse to suggest closing down the investigation and Arias did not go to trial. It is worth mentioning, however, that Arias' Minister of the Environment, Roberto Dobles, who co-signed Arias' 2008 Decree of National Convenience, was found guilty of malfeasance and received a three year prison sentence (under appeal).
The recent request from Costa Rica's Public Prosecutor to re-open this File states: "Following the recent juridical analysis done of the case, it has been determined that it is necessary to deepen the search for new evidence that, at the time, was not incorporated into the investigation's file." In order for the new Attorney General of Costa Rica to get to the bottom of this case it is vital that she gain access to the information that Canada's Department of Justice gathered previously, but never shared with the Costa Rican authorities.
Canada's current government has stated an interest in reversing the 'bad neighbour' image projected by the previous Canadian administration. In light of this, we urge the Canadian government to cooperate with the appropriate Costa Rican authorities to provide the necessary documentation in a complete and timely manner that will allow them to adequately judge the merits of this case.
Thank you for your attention in this important matter.
Sincerely,
Jen Moore, Latin America Program Coordinator, MiningWatch Canada
613-563-3439 jen@minigwatch.ca
Brent Patterson, Political Director of the Council of Canadians
613-233-2773 bpatterson@canadians.org
Raul Burbano, Program Director, Common Frontiers
416-522-8615 burbano@rogers.com
---
November 13, 2017
#SinPueblosEtnicosNoHayPaz
Click on the image for larger view of poster
Join in on an International Week of Vigils for Indigenous, Afrodescendent, Rural Communities and Social Movement Leaders in "Post Accord" Colombia, November 12-18, 2017
Organize a vigil alongside those planned in Toronto, Quebec City, Montreal, Sault Ste. Marie, Chicago, Atlanta, Nashville, Barcelona, London and other cities.  Details for each city are being added as they develop.
Afrocolombian, indigenous, social leaders and activists in "post accord" Colombia are under continued threat of death, displacement and exclusion even as the peace accords with FARC are being implemented. 
In only the month of October, there were three massacres of Indigenous and Afro-descendant people in Tumaco, Meta and Cauca. There have also been targeted killings of Black, indigenous and rural leaders, occurring at an alarming rate. According to Colombia's Ombudsperson, over 186 social leaders have been assassinated since 2016. Sources estimate that over 80 leaders have been killed since the peace accords were signed in November last year.
Wear black and light a candle in honour of those who have lost their lives defending peace, their communities, political and territorial rights.
Upcoming Events
Sault Ste. Marie, ON
Sacred Fire Vigil for Peace for All in Times of Violence in Post-Accord Colombia.
Tuesday, Nov. 14 @ 10 AM
Sacred Fire: Arbour; 12 PM Feast and Dialogue with Creative Display: The Speakeasy.
Organizers: Algoma Community Collective
Nashville Tenesee:
November 15, 6-7:30pm
Flatrock Coffee
Colombia Solidarity Vigil and talk!
Organizer: Witness for Peace
Toronto ON
Vigil 
Wednesday, Nov. 15 @ 6-7 pm.
393 Bloor St. West  
@ Matt Cohen Park (South-East corner of Bloor and Spadina)
Organizers: Colombian Action Solidarity Alliance – CASA; Latin American and Caribbean Solidarity Network – LACSN; Colombia Working Group and Common Frontiers.
Toronto ON
Book reading "Bienaventurados lxs que hacen la Paz: Peregrinaje en el Bosque del Norte de Colombia"
Friday, Nov. 17 @ 7 pm.
Friends House, 60 Lowther Avenue (St. George Sbwy Station)
Organizers: All for Guatemala, Guatemala Community Network.
Endorsers: CASA, LACSN and CASA Maiz.
Quebec City QC:
Messe Dominicale "Que la paix soit avec eux"
Dimanche, le 19 novembre, À 14H00.
Église Notre Dame de Foy, 820 rue Chanoine-Martin, Québec.
Organizers: Conseil Diocésain de Développement et Paix de Québec et la Pastoral Catholique Latinoamericaine; L'Association des Victimes du Conflit Arme Colombien au Canada – ASOVICA.
End violence now!

The Colombian government must implement the Ethnic Chapter of the Peace Accords!
End foreign investment that continues to exacerbate violence and undermine human rights!  
Ensure an indigenous, afrocolombian and gendered perspective on peace!
Peace needs to be guaranteed for those most affected by war!
#SinPueblosEtnicosNoHayPaz (without ethnic peoples there is no peace)
Send your planned date and location of a vigil or event in support of peace in Colombia to: colombiapeacesolidarity@gmail.com
---
November 12, 2017
OPINION: Association Concerning the Situation in Venezuela - a party of two
Venezuela's President Nicolas Maduro 
AP PHOTO
BY ANDREW DEKANY
The Trudeau cabinet, on the recommendation of Foreign Affairs Minister Chrystia Freeland, recently made a regulation that said all Canadians have to boycott 40 named individuals in Venezuela.
The government purported to act under the Special Economic Measures Act which gives it authority to make such regulations. That act gives two grounds for the government to do so.
The first one is easily understood: When there is a serious international crisis as a result of a grave breach of international peace and security. Canada has passed such regulations regarding various countries: Burma, 2007; Zimbabwe, 2008; Iran, 2010; Syria and North Korea, 2011; and South Sudan, Russia, and the Ukraine, 2014.
Whether or not all Canadians would have agreed with each of these regulations, it is fair to assume that all would have understood why they were made.
The second ground is more difficult to understand. It is the one that was used against the Venezuelan individuals because there is no obvious evidence that the domestic violence in Venezuela would lead to a serious international crisis.
Under this second ground, it is still possible to make such a regulation when Canada wants to act in solidarity with an international organization of states or association of states of which it is a member.
If the association of nation states feels that the principles of law by which a nation state ought to abide have been torn apart, it can call on its members to take economic measures against that foreign state.
What is most peculiar is that in the case of the Organization of American States, a major organization of which both Canada and Venezuela are members, there was no such consensus against Venezuela.
So, in order to rely on the second ground, Canada had to find another association of nation states. This raises the question whether Canada is acting as a country that adheres to the rule of law or subjugates itself to the wishes of the United States.
On Sept. 5, 2017, Canada and the United States purported to form the Association Concerning the Situation in Venezuela. That very same day this newly formed "association" decided to call on its members, Canada and the United States, to boycott Venezuela and Venezuelan individuals.
Yet, the United States already had instituted a boycott against a number of Venezuelan individuals, many of whom were among those boycotted by Canada when it later made its own regulation.
The rule of law arises because we know there is no evidence against these 40 Venezuelans that they are precipitating a crisis of any kind and none is offered in the regulation itself. Nor do they have a right to challenge their inclusion in the regulation by way of an independent administrative process conducted in a transparent and fair manner.
Among those identified as enemies of democracy without any proof are the chief justice of the Supreme Court of Venezuela and seven other supreme court judges, as well as Venezuela's comptroller general, a senior Venezuelan diplomat, the country's president, vice-president, two government ministers and attorney general who had been the country's ombudsperson, and the president and vice-president of Venezuela's National Electoral Council.
This is an issue of great concern to our own Parliament because it believes in the rule of law. One of its committees has expressed serious concerns about not giving boycotted individuals or firms a sufficient chance to contest such a boycott. The Trudeau government did not heed this caution.
It bodes ill for our claim to be an actor for human rights on the international stage.
— Andrew Dekany is a lawyer who has practised in social welfare and civil rights at all levels of the judicial system.
-This article originally appeared at TorontoSun.com on November 5, 2017
---
November 7, 2017
Realities Facing Ethnic Communities in Post Accord Colombia- Webinar
---
November 1, 2017
NAFTA Change Could Affect Northumberland Agriculture
By Valerie MacDonald
Northumberland Today
NORTHUMBERLAND -- Published reports detail a number of concerns Canada's Foreign Minister is having with some U.S. proposals for updating the North American Free Trade Agreement (NAFTA), and some of these are shared by the Northumberland Chapter of the Council of Canadians.
In Monday's news report, Minister Chrystia Freeland, who heads up Canada's negotiations, laid out her concerns that included arbitration panels and termination of the trade deal if it isn't renewed every five years.
The U.S. proposal "would allow countries to bypass nation courts in tariff disputes," one report states.
Even before taking office, U.S. President Donald Trump was taking shots at NAFTA but Canadian Prime Minister Justin Trudeau maintains talks will go ahead in good faith.
"Nothing will distract us from the positive approach we're taking to those negotiations," Trudeau is quoted as saying in a published report.
NAFTA talks are to continue into 2018 after another round this month, although they were initially to conclude this year.
The local Council of Canadians Northumberland Chapter are continuing to watch NAFTA negotiations, and recently talked with local riding MP Kim Rudd about details they want to see included.
"I had a fruitful and in-depth discussion regarding NAFTA with members of the local chapter of the Council of Canadians, and have met with this organization several times since being elected," confirmed MP Kim Rudd after the most recent sitdown.
"I was happy to have their concerns raised to me directly. They are always knowledgeable, and provide an excellent resource to me in these matters."
Rick Arnold is a member of the local Council of Canadians' trade committee who attended a parallel event by civil organizations in September during the NAFTA negotiations in Ottawa.
The meeting between the local CofC and MP Rudd took place recently, and he provided the following overview of the concerns they discussed, and which was also sent to MP Rudd for her comments.
Among the CofC concerns discussed in the CofC summary were:
1. "The need to protect Canadian farmers, and local control over food and farm policies. This would mean protecting Supply Management presently existing in the dairy, egg, turkey, and chicken sectors. We noted that both Minister Freeland, and Prime Minister Trudeau had stated they would defend supply management.
"Ms. Rudd assured us that the Liberal government was firm in its resolve to protect supply management and that she personally supported supply management. She was aware of the significant economic contribution the farming industry made to Northumberland County and Canada. She also conveyed that she supported the need to protect food sovereignty and local control over food."
2. "The need to eliminate NAFTA Chapter 11, the Investor-State Dispute Settlement (ISDS) component. ISDS makes it less risky and expensive for corporations to invest abroad, and empowers them to sue governments over domestic policies that protect (for example) public health and the environment. This is done by going before an international tribunal of three corporate lawyers who can order that unlimited compensation be paid to the corporations by taxpayers.
"Ms. Rudd said that she understood that the Liberal government is seeking some amendments to the existing ISDS clause in NAFTA but did not know what they were."
3. "Have better representation from the Indigenous Peoples at the main negotiating table.
"That one place for the leader of the Assembly of First Nations (AFN) in a 13 person 'consultative committee' does not accord the respect that indigenous people are due by virtue of being the original inhabitants of North America.
"Ms. Rudd explained that this was more difficult than it initially appears since the "different First Nations do not feel represented by one body. For example, not all the First Nations feel represented by the AFN;" and
4. And better transparency about the outcome of the various rounds of negotiations.
While local groups like the Northumberland Chapter of Council of Canadians want the Liberals to push for gains through NAFTA, Trump continues to at least posture about walking away from the trade deal altogether.
-read the complete article at NorthUmberlandToday.com
---
October 24, 2017
Workers Say NAFTA's Neoliberal Foundations Need to Be Dismantled from the Left—Not the Right
By Jeff Schuhrke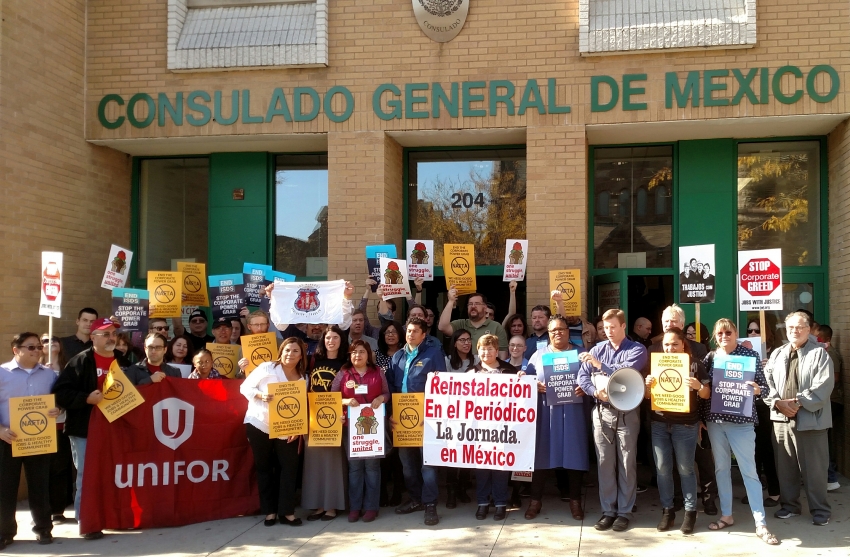 Workers gathered in Chicago to call for transnational labor solidarity in the fact of NAFTA. (Jeff Schuhrke)
Rejecting both economic nationalism and free-market fundamentalism, workers across North America are building transnational solidarity and demanding labor rights for all.
Last week, nearly 60 representatives of unions and civil society organizations from Mexico, Canada and the United States gathered in Chicago for a two-day meeting to discuss strategies for collaboration as their governments renegotiate the 23-year-old North American Free Trade Agreement (NAFTA).
The meeting was coordinated by the United Electrical Workers (UE), UCLA Labor Center and Rosa Luxemburg Stiftung, an international civic education institution affiliated with Germany's Left Party. While many Mexican unions are dominated by the government, only the country's more independent and democratically run labor organizations attended.
"We're discussing what kinds of relationships can be built, either bi-nationally or tri-nationally," Benedicto Martínez, a national co-coordinator of Mexico's Frente Auténtico del Trabajo, or Authentic Labor Front (FAT), told In These Times. "At the forefront of our vision would be the rights of people, including better wages, better education, better healthcare and immigration rights."
Critics argue that NAFTA has accelerated the global "race to the bottom," where governments dismantle workplace and environmental protections in order to attract capital investment.
"NAFTA has had many negative impacts. Big companies come to Mexico accommodated by the government as workers' rights are constantly violated," Julia Quiñones, coordinator of the Comité Fronterizo de Obrer@s, or Border Workers' Committee (CFO), told In These Times.
CFO organizes maquiladora workers in the northern Mexican states of Tamaulipas, Coahuila and Chihuahua. The foreign-owned maquiladoras along the U.S.-Mexico border, which produce goods for export, embody the most pernicious aspects of "free trade": exploiting low-paid, majority-women workers and polluting their surroundings.
Quiñones explained that maquila workers often face sexual violence from their managers, are exposed to dangerous chemicals, work 12- to 14-hour days and are frequently fired or blacklisted for trying to organize.
"Nobody benefits from these trade deals other than corporations," said Kari Thompson, UE's director of international strategies, in an interview with In These Times. "Not working people, not the environment, not women, not people of color, not farmers."
The tri-national participants in last week's Chicago gathering protested outside the Mexican Consulate Friday afternoon, calling on the government of President Enrique Peña Nieto to listen to the demands of Mexico's workers in the NAFTA renegotiations. Adhering to neoliberal orthodoxy, Peña Nieto's negotiators say that more trade, not more labor protections, will benefit workers.
"We're denouncing the fact that independent, democratic unions like the ones we represent are not being heard," Víctor Enrique Fabela Rocha of the Sindicato de Telefonistas (Telephone Operators Union) told In These Times. "We want a strong labor component in NAFTA. We want decent work as expressed by the International Labor Organization."
-read the complete article from inthesetimes.com
---
October 23, 2017
What's Up With NAFTA?
The Impacts on Jobs & Equity
---
October 20, 2017
Toeing Trump's line, Canada backs baseless fraud allegations in Venezuela
By José Luis Granados Ceja
In the span of only few months, the Canadian government has issued at least 14 statements aimed at undermining the democratically-elected government of Nicolas Maduro in Venezuela.
The latest statement, issued on October 17 by the Global Affairs Canada, was a deliberate attempt to cast doubt on the results of the October 15 regional elections, which saw the ruling United Socialist Party of Venezuela win a majority of 18 out of 23 governorships, with 54 per cent of the votes.
After the results were announced, the Venezuelan opposition predictably cried fraud, as they have after nearly every election in the country, with the only exceptions being the elections where the opposition won.
Echoing the baseless allegations made by both the opposition and the Trump regime in the United States, Foreign Affairs Minister Chrystia Freeland said the "elections were characterized by many irregularities that raise significant and credible concerns regarding the validity of the results."
However, neither the opposition nor the Canadian government has been able to provide any proof that the elections were fraudulent.
When contacted, Global Affairs Canada did not provide any evidence to back their claim that any alleged irregularities were significant enough to undermine the results.
Meanwhile, international electoral observers with the The Latin American Council of Electoral Experts, known as CEELA, were unambiguous in their statements, affirming the legitimacy of the vote.
"The vote took place peacefully and without problems… the vote reflects the will of citizens," said CEELA President Nicanor Moscoso during a press conference Monday.
Venezuela's voting system is robust and virtually impossible to circumvent. Voters must present their voting credentials and have their fingerprints scanned before the electronic machine allows them to cast their ballot. After indicating their preference, a paper ballot is produced and deposited in a secure receptacle, their finger is then stained with indelible ink as an added security measure to ensure no one can cast more than one vote.
Mainstream outlets framed the result as a surprise, pointing to opinion polls that suggested the opposition was set to secure a resounding victory. However, polling throughout Latin America, and particularly in Venezuela, is infamously unreliable.
The election results have left the notoriously divided opposition even further divided. While some continue to cry fraud, others have castigated their colleagues for their strategy. Over the past year, the opposition pursued an "insurrection" ­with violent street protests that left over a hundred dead. This strategy ultimately failed to oust the Maduro government and left the opposition and their supporters exhausted and demoralized. Some elements chose to freely participate, while others called for abstention.
Opposition leader Henry Ramos Allup conceded that the abstention of their supporters cost them many votes and ultimately many of the governorships. In an opinion piece for the Washington Post, opposition supporter Francisco Toro was forced to begrudgingly accept that the election results were indeed accurate.
Some nonetheless maintain that the election was fraudulent, pointing to "irregularities" such as the relocation of 201 polling centres. These polling centres were moved as a result of violence during Constituent Assembly elections in July, and comprised less than two percent of the 13,559 polling stations throughout the country. International observers have noted that other complaints, such as the late opening of some polling centres, ultimately had no impact on the result.
So why does the Canadian government maintain that these alleged irregularities were sufficient enough to lead them to question the legitimacy of the vote? Canada's position can be explained by their ideological drive to pursue regime change in Venezuela.
Under the leadership of Foreign Affairs Minister Chrystia Freeland, the Canadian government of Justin Trudeau has been a major player in the Lima Group, comprised of governments in the region who oppose the Maduro government. The Lima Group was only formed after these same governments failed to achieve consensus at the Organization of American States, despite the fact that the body is lead by Luis Almagro, who has taken a hardline stance against the Venezuelan government. The Lima Group has been criticized for undermining regional integration efforts and the work of the UNASUR, which has been working to promote dialogue in Venezuela.
In a statement issued after the regional elections, the Lima Group also questioned the legitimacy of the vote and called for an audit of the results. President Maduro has expressed his support for a full audit of the elections.
Global Affairs Canada also refused to say whether they would recognize the results if the audit showed that the election results were indeed a reflection of the will of the Venezuelan people.
Canada is set to host the next gathering of the Lima Group in Toronto and Global Affairs Canada is the sponsor of a panel talk by the Canadian Council for the Americas that features a veritable who's who of opponents of the Venezuelan government. The event is also supported by several Canadian mining companies who are interested in once again exploiting Venezuela's natural resources, revealing the deep collusion between the Canadian state and Canadian mining interests abroad.
-See the complete article on rabble.ca
---
October 19, 2017
Common Frontiers raises concern over the Canadian Government support for hardline opposition in Venezuela
Common Frontiers congratulates the Venezuelan people for holding democratic, free and fair regional elections on October 15, 2017. Since 1998, the Bolivarian process has deepened democracy in Venezuela, the government has consistently gone to the polls and to seek approval for its mandate.
We are however deeply troubled by the Canadian government's hostile position towards Venezuela which was evident in the statement by Canada's Minister of Foreign Affairs, Chrystia Freeland, expressing concern over the October 15th elections. Freeland's statement called into question the election as "characterized by many irregularities that raise significant and credible concerns regarding the validity of the results". 
The Canadian government echoes the claims of the hard-line sectors of the Venezuelan opposition, which have failed to present any evidence to back up their accusations.  With the governing coalition winning 17 of the country's 23 governorships in the October 15 polls and a 61% voter turnout, the opposition suffered a political defeat.  The main opposition coalition has a track record of making unsubstantiated claims against democratic institutions and the electoral process when the results do not favour them.    Freeland's narrative runs counter to reports from international observers on the ground. The Latin American Council of Electoral Experts, composed of 1300 observers, stated that the elections were clean and transparent, with Council president, Nicanor Moscoso, stating "the vote reflects the will of Venezuelan citizens."
It also contrasts with statements from some prominent opposition figures who recognized the legitimacy of the election results. They blame their electoral loss on a "failed strategy" by the opposition leadership, many of whom led violent street protests this year that resulted in over one hundred deaths. 
"What did not work was the leadership! The leadership has to accept that it was not successful," said Jesus Torrealba, former Executive Secretary of the main opposition coalition MUD. "The insurrection failed, they failed at these past elections, and on top of that they don't like dialogue," he said of MUD's current leadership. "We lost, I say it responsibly," said Henri Falcon, outgoing MUD governor of Lara. "We need courage to recognize truth in adversity." 
By unconditionally supporting the opposition, the Canadian government is adding fuel to the politicization in Venezuela that contributes to the conflict.    
We again congratulate the Venezuelan people and recognize the solution to the present crisis in Venezuela can only come through their continued commitment to democracy, a policy of non-intervention, dialogue, and support for the country's democratic institutions by foreign governments.
For more information contact:
Raul Burbano - burbano@rogers.com,  416-522-8615
---
October 14, 2017
List of #Rallies for a Better NAFTA on October 20
---
October 13, 2017
The impact of Venezuela's surging inflation rate
CTV News has an interview with Common Frontiers' Jim Hodgson to talk about Sunday's election in Venezuela and the economic impact it might have on that country. Jim Hodgson is Jim Hodgson is Latin America Program Co-ordinator at the United Church of Canada.
-Click on the image below to view the interview on the CTV website.
Jim Hodgson is Jim Hodgson is Latin America Program Co-ordinator at the United Church of Canada and has been involved with Common Frontiers since 1999.
---
October 10, 2017
Hands Off Venezuela!
No Canadian intervention under the guise of "humanitarian aid"
(Toronto) On Monday, October 16 at 3:30 p.m. The Toronto Venezuela Solidarity Committee will undertake an action outside the Toronto office of Minister of Foreign Affairs Chrystia Freeland, 344 Bloor St. West, at Spadina Ave.
Common Frontiers and The Toronto Venezuela Solidarity Committee will be mobilizing against Canadian intervention in Venezuela. Recently, Canada imposed sanctions against 40 officials associated with the government of Venezuela, including President Nicolas Maduro, for allegedly "undermining democratic institutions." The gov. has also passed M-128, a private members' motion put forward by Conservative MP Peter Kent. The motion, supported by the Liberals urges the Government of Canada to intervene in the internal affairs of Venezuela under the pretext of providing "humanitarian aid." Experience shows that such actions are a pretext for foreign military intervention.
The organizers demand an end to attempts at 'regime change' in Venezuela, and say No to the Canadian government's complicity in Washington's efforts to overthrow the progressive, democratic government of that country. The solution to the present crisis in Venezuela can only come through a policy of non-intervention, dialogue and support for the country's democratic institutions. Monday's action takes place on the heels of municipal elections in Venezuela, which opposition parties are freely participating in.
The event against foreign interference in Venezuela is part of an International Day of Action.
-For more information see Facebook event
---
October 6, 2017
Understanding Venezuela's Crisis
WHEN: October 16, 2017 @ 4:30 pm – 6:30 pm
WHERE: Kaneff Tower 519
4700 Keele St
Toronto, ON
Click on picture for complete details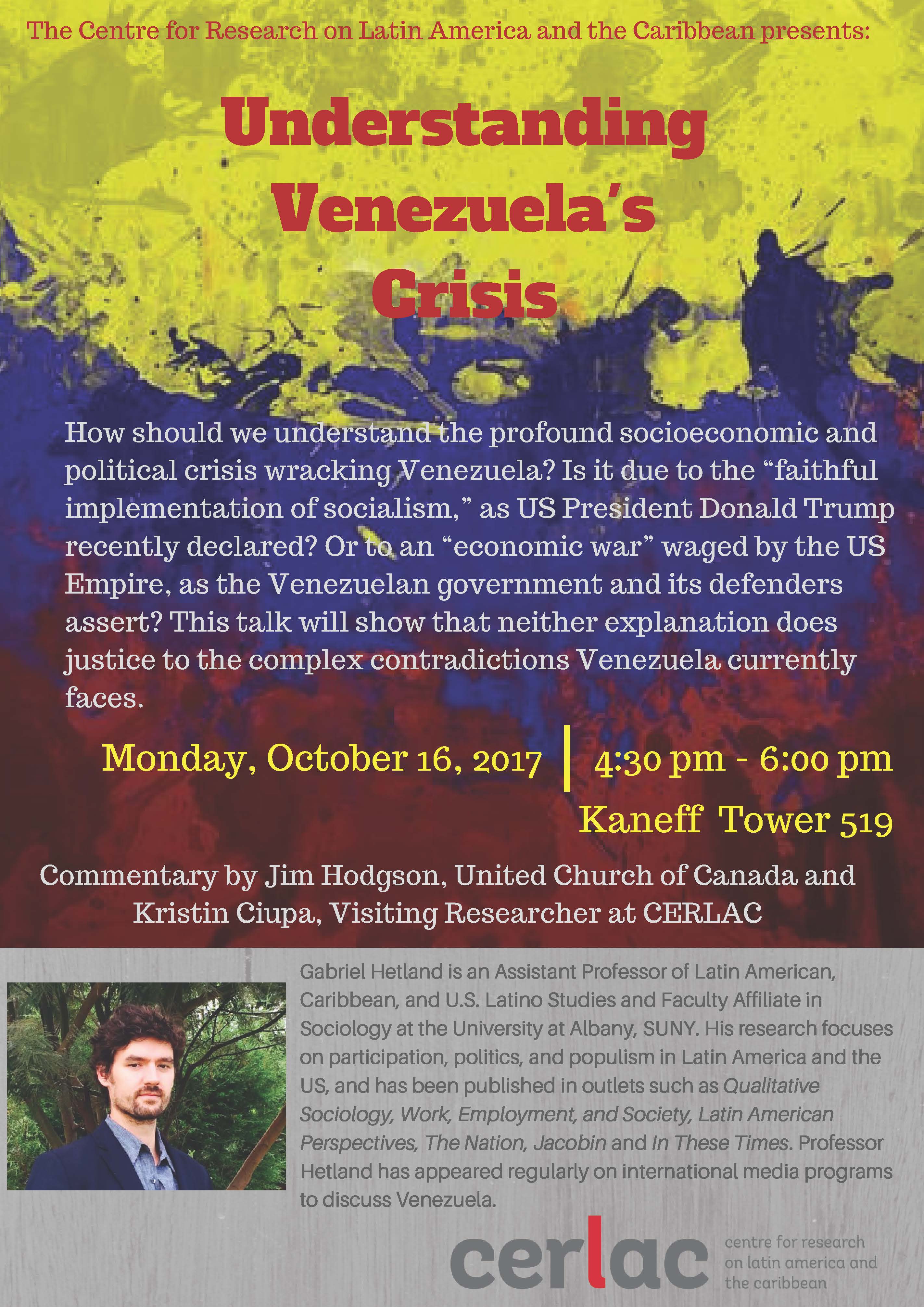 ---
October 4, 2017
'There is no peace here': Colombia's ethnic communities search for promised peace
By Atticus Ballesteros
colombiareports.com
Dozens of international human rights organizations published an open letter to President Juan Manuel Santos Tuesday, calling on Colombia's leader to deliver peace to Afrodescendant and indigenous communities.
In a press release, the organizations behind the letter said the request comes in "response to a call for support" from ethnic communities in Colombia.
Many of these communities live in the country's Pacific and Amazonian regions where armed groups are vying for territorial control after the demobilization of the country's largest guerrilla group, the FARC.
"Since the peace accord took effect late last year," the organizations write, "Afro-Colombian and indigenous [communities] have witnessed an increase in human rights violations, including displacement."
Protecting Afro-Colombian and Indigenous Peoples' territorial and other collective rights is fundamental to ensuring lasting peace in Colombia. Our survival as Peoples depends on the protection of these rights and our meaningful participation in peace implementation.
Charo Mina-Rojas (Black Communities'Process)
Leaders in ethnic communities in Colombia affirm that the situation on the ground is dire. They say FARC dissident groups, those rebels who abandoned the peace process, are responsible for much of the violence against ethnic communities. They also blame the government for failing to adequately take on the criminal groups.
"There is no peace here," Fredy Lopez, a social leader in Colombia's port city Buenaventura, told Colombia Reports.
There will be no peace until the national government, as the international community has demanded, resolves the problems it has promised to fix.
Buenaventura social leader Fredy Lopez
For Lopez, that means improving the security situation for ethnic communities around the country.
Since the FARC began the process of laying down their weapons and reintegrating into society earlier this year, certain sectors of Colombian society, especially in areas near FARC demobilization zones, have reported an increase in violence as other criminal groups compete for control over territory and abandoned criminal enterprises.
According to the Final Peace Accord with the FARC, the government was supposed to secure these areas while the FARC handed in their weapons.
Recently, the United Nations claimed the government's fulfilling of its commitment to implement urgent peace policies has been "deficient."
Colombia's Ombudsman has also questioned the government's commitment to security. The Ombudsman released a report Tuesday criticizing government efforts to secure areas previously controlled by the FARC, many of which are inhabited by majority black and indigenous peoples.
It calls our attention that the National Government has classified the security situation surrounding [FARC demobilization zones] as it has. Especially given that certain zones categorized as 'low [risk]' like Tumaco, Riosucio, Puerto Asis, Planadas, Caldono and La Paz have exhibited violent conflict… and possible human rights violations.
Office of the Ombudsman
The resulting situation has led to violent confrontations between FARC dissident groups, the ELN, and the paramilitary group AGC, as well as increasing threats against social leaders and human rights defenders.
"In the grand majority of zones, [there are] other risk factors that also need to be taken into account by the government," said the Ombudsman in their report. "This includes illicit economies, unemployment, socioeconomic inequality, and tensions related to electoral practices."
Social leaders like Fredy Lopez agree with the Ombudsman's assessment.
In a territory where we have the richest natural water sources in the country, but water only comes for two hours a day. In a territory where there is no hospital and they send people to their homes to die. In a territory where they kill, burn, and threaten our community because they need our land for industry. In a territory where many go to bed hungry, there is no peace here.
Fredy Lopez
Officials from the national government could not be reached for comment on the Ombudsman report or the letter signed by international organizations.
Over 150 organizations and individuals signed the letter to the Colombian head of state, including entities from the Congo, Canada, Mexico, Colombia, Norway, and the United States.
Some of the major signatories include the Colombia-based Black Communities' Process (PCN), the Washington Office on Latin America (WOLA), distinguished Colombian academic Arturo Escobar, and even the Canadian Union of Postal Workers.
-read the original article here
---
September 29, 2017
Letter to President Juan Manuel Santos of Colombia
President Juan Manuel Santos
Members of the Commission to Monitor, Promote, and Verify Implementation of Colombia's Peace Accord (CSIVI)
Dear President Santos and CSIVI Members,
The undersigned gender, racial, social and environmental justice organizations and advocates from around the world applaud the inclusion of the Ethnic Chapter and other racial and gender rights measures in Colombia's Peace Accord. If implemented, these provisions will allow Colombia to set a global example of holistic peacebuilding—one that meaningfully addresses the social inequalities that help fuel conflict. We are, however, deeply concerned about the inadequate consultation with and recognition of Afro-Colombian and Indigenous authorities in peace implementation activities to date, and the ways in which this endangers the lives, security, and territorial and human rights of Afro-Descendant and Indigenous Peoples, including women and girls. We encourage the Government to act in good faith to ensure that Indigenous and Afro- Descendant Peoples' rights are maintained and furthered in peace implementation.
It is crucial that the framework plan for implementing the Peace Accord contain indicators to measure the progress and outcomes of policies, programs and reforms in a manner that corresponds to the needs, values, and rights of Indigenous and Afro-Descendant Peoples, including their gender-based rights. These can only be developed with meaningful participation of their respective authorities and organizations. We understand that the Government and CSIVI recently agreed to a work agenda with the Special High-Level Body for Ethnic Peoples to develop and include such indicators and to assign resources and provide conditions for meaningful participation of Afro-Descendant and Indigenous Peoples in implementation. This is positive news, as we believe inclusiveness at the outset of the framework plan will help ensure structural advances for Afro-Colombian and Indigenous Peoples, who have disproportionately born the consequences of the armed conflict, and whose communities suffer the greatest levels of poverty and least access to health and educational infrastructure in Colombia.
While it is cause for hope that the Government and CSIVI agreed to this agenda of work, a broader pattern of exclusion keeps us vigilant. For example, while the Peace Accord requires the Government to include an ethnic and cultural perspective in implementing its Security and Protection Program, the parties have failed to meaningfully consult with and support Afro- Colombian and Indigenous authorities and communities in the design and implementation of community based self-protection plans, and to ensure adequate security overall in their territories. As FARC fighters demobilized, paramilitaries and other armed actors have filled power vacuum in many areas, as was predicted by parties to the Accord, which named these actors the "greatest threat" to peace. The site of the majority of fighting during the conflict, these areas heavily overlap with Afro-Colombian and Indigenous territories. Because of the lack of consultation and ensuing insecurity, entire Afro-Colombian and Indigenous communities are again facing displacement, as violence, forced disappearances, attacks on human rights defenders, threats, and kidnappings increase. The forced displacement rate increased in the first half of 2017, as compared with the first half of 2016, with Afro-Colombian and Indigenous Peoples comprising 94% of those displaced in the first months of 2017.
-read the full text of the letter
Document sponsored and signed by:
Black Alliance for Peace
Common Frontiers
Human Rights and Gender Justice Clinic- CUNY School of Law
MADRE
NORDIK Institute at Algoma University
Washington Office on Latin America
---
September 28, 2017
Leadnow.ca launches giant blimp over NAFTA negotiations in Ottawa
---
September 26, 2017
Open Statement on NAFTA, Environment and Climate
Since the North America Free Trade Agreement (NAFTA) was signed more than two decades ago, our awareness of climate change has dramatically changed and our window of time for addressing it has shortened. NAFTA and other agreements that are part of the global trade regime have been used to undermine critical actions needed to respond to the climate crisis that help rebuild local economies, regulate corporations and stop damaging extractive projects.
We need a fundamental shift in how we approach trade – one that puts the needs of people and the planet first.
Canada has signaled its intention to bring climate into NAFTA talks. As leading environmental, climate, health, labour and faith organizations, we urge the federal government to address the environmental failings of NAFTA in the upcoming renegotiation process.
We call on the federal government to do the following:
1. Remove NAFTA's Chapter 11 Investor-State Dispute Settlement (ISDS) provisions. This chapter gives private investors the right to sue the government of another country if it introduces new laws, regulations or practices – be they environmental, health or human rights – that cause corporations to lose money on their investments.
Canada has faced 38 NAFTA Chapter 11 investor-state suits, two-thirds of them over environmental protection laws. This includes bans on environmentally harmful additives to gasoline, exports of hazardous PCBs and lawn pesticides, as well as a moratorium on fracking. Canada is currently facing nine ISDS claims where foreign investors are seeking more than $6 billion in damages from the Canadian government.
2. Eliminate NAFTA's energy chapter. The climate crisis requires governments to have a full range of policy and regulatory options to reduce climate pollution as quickly and as equitably as possible. The proportional sharing clause in the energy chapter requires Canada to export a locked-in percentage of our energy production to the U.S. This limits Canada's ability to restrict climate-polluting fossil fuels, including tar sands (oil sands) crude.
NAFTA rules stand in the way of fostering solutions to the climate crisis. NAFTA national treatment rules threaten policy options such as renewable portfolio standards, low carbon fuel standards, and other climate-friendly energy regulations perceived as impeding business for foreign fossil fuel firms. NAFTA's procurement rules limit governments' ability to use "green purchasing" requirements that ensure government contracts support renewable energy, energy efficiency and sustainable goods.
Instead of protecting corporate interests in ongoing fossil fuel exploitation, trade agreements should shield public interest policies. Trade deals must create a fair playing field by requiring each participating country to adopt, maintain, and implement policies to ensure compliance with domestic environmental laws and important international environmental and labour agreements. These include the Paris Climate Agreement and treaties protecting Indigenous rights such as the United Nations Declaration on the Rights of Indigenous Peoples. Strong enforceable environmental and labour standards should be part of the core text of NAFTA.
350.org
Canadian Association of Physicians for the Environment (CAPE)
Canadian Environmental Law Association (CELA)
Canadian Federation of Students (CFS)
Canadian Union of Postal Workers (CUPW)
Canadian Unitarians for Social Justice (CUSJ)
Climate Action Network Canada (CAN-Rac Canada)
Climate Change in Focus
Common Frontiers
Confédération des syndicats nationaux (CSN)
Council of Canadians
Ecology Action Centre
Ecology Ottawa
For Our Grandchildren
Friends of the Earth Canada
Glasswaters Foundation
Grand Riverkeeper Labrador, Inc.
Greenpeace Canada
KAIROS: Canadian Ecumenical Justice Initiatives
LeadNow
Mining Watch
Mobilisation environnement Ahuntsic-Cartierville (MEAC)
Montréal pour tous
National Farmers Union (NFU)
National Union of Public and General Employees (NUPGE)
Ontario Rivers Alliance
People's Climate Movement (Canada)
Regroupement vigilance hydrocarbures Québec (RVHQ)
Sierra Club BC
Sierra Club Canada Foundation
Trade Justice Network (TJN)
Transition Initiative Kenora (TIK)
The Leap
Unifor
Watershed Environmental Educational Society (WSES)
Windfall Ecology Centre
-read news release in english en français
---
September 19, 2017
Agenda for NAFTA Civil Society Summit
We are excited to finally share with you the completed schedule for the NAFTA Civil Society Summit coming up onthis Friday and Saturday (Sept. 22-23)!
The Trade Justice Network is working together with Common Frontiers, the Council of Canadians, RQIC and other representatives from labour, social justice and civil society groups to organize a Civil Society Summit to coincide with the NAFTA negotiations in Ottawa, beginning Sept. 23. The two-day summit will involve civil society meetings, a public action on Parliament Hill and public education events to discuss: Does NAFTA Serve the Public Interest? We are thrilled to have both politicians and leading civil society figures from Quebec, English-speaking Canada, the US and Mexico joining us for the summit.
Please note that Friday's events are open to the public, while the Saturday events (civll society strategy meetings and technical workshops) are invite-only.
There is a Facebook event for the Friday events of the summit, which you are encouraged to share widely as well.
-Download a PDF of Friday's events
---
August 30, 2017
Rally Outside Public Canadian Broadcaster Demands it Cover Venezuela 'Truthfully'
Report from teleSUR
Nearly 150 people have joined a protest in Toronto, Canada in front of the offices of the Canadian Broadcasting Corporation, the country's national public radio and television broadcaster, demanding that "CBC tell the truth about Venezuela."
The rally was organized by a broad coalition of groups "frustrated and angry with the coverage around Venezuela" by the outlet, Raul Burbano, an activist from Common Frontiers, told teleSUR.
"CBC is a publicly-funded institution that's not meeting journalistic standards and norms with its one-sided coverage," he said.
Burbano said CBC provides the opposition with unprecedented coverage, presenting their narrative as "defacto truth", an opposition that has "undertaken violence, and is responsible for many deaths and the destruction of public property" all while "seeking to overthrow the democratically-elected" president.
Marta Paloma, from the city's chapter of the Hugo Chavez People's Defense Front, who spoke at the rally, agreed, telling teleSUR that Canadian media coverage of the situation is "very one-sided."
Paloma said that when Lilian Tintori — the wife of the Venezuelan opposition figure Leopoldo Lopez — visited Canada to meet with Canadian Prime Minister Justin Trudeau, media outlets had fawning coverage of her.
"(We want to) raise our voice against acts of aggression against Venezuela," Paloma said, explaining why she spoke at the rally. "(Including) against the sanctions by the U.S. that strike at the heart of Venezuela's economy."
In 2014, Leoplodo Lopez was convicted and charged with plotting and promoting the violent street blockades, also known as "guarimbas", in Venezuela. The widespread violence led to the death of 43 people 
For Juan Restrepo, a member of the city's Venezuela Solidarity Committee, as well as the Latin American and Caribbean Solidarity Network, confronting CBC was important "as a Latin American" and to "defend the Bolivarian Revolution of Venezuela", in the wake of the images CBC and other mass media publish on the issue.
-read the complete report from teleSUR here
---
August 29, 2017
Media Release
NAFTA: Canada out-Trumps the U.S. on Chapter 11
Despite a proposal from the United States Trade Representative (USTR) suggesting that countries be able to opt-out of Chapter 11's corporate tribunals in NAFTA, media reports indicate the Canadian government says this is not negotiable. The USTR proposal would effectively end the controversial Investor State Dispute Settlement (ISDS) system.
"We expected this appalling position from Trump, not from the Canadian side. Trudeau should listen to Canadians and put an end to this offensive and undemocratic process," says Maude Barlow, Honorary Chairperson of the Council of Canadians. 
The Trudeau government is arguing for the version of corporate tribunals found in the Canada-EU Comprehensive Economic and Trade Agreement (CETA).
"Modeling NAFTA 2.0 on CETA's ISDS system wouldn't change much: All the egregious suits that Canada has faced would continue," says Barlow. "It would still be a system built on the primacy of investors' rights over our democracies."
Canada has faced 38 NAFTA Chapter 11 suits, two thirds-of them over environmental protections making Canada the most sued country in the developed world. At the moment, Canada is facing $2.6 billion in cases. Over 10,000 Canadians have written to the government demanding Chapter 11 be jettisoned.
"You cannot protect climate and labour rights, and still give corporations this powerful right to undermine public legislation," says Sujata Dey, Trade Campaigner with the Council of Canadians. "Trudeau's negotiating position makes it clearer than ever that his government's claims that it wants a 'progressive' NAFTA with 'environment' and 'labour' standards is nothing more than pretty words."
For more information on the Council's NAFTA campaign, visit Canadians.org/nafta.
---
August 24, 2017
A pink tide turns red
This article is from the forthcoming issue of the Monitor, a bimonthly magazine put out by the Canadian Centre for Policy Alternatives.
By Jim Hodgson
You may have seen Beatríz at Dinner, a new film that stars Salma Hayak as an unexpected guest of some California one-per-centers. "All your pleasures are built on others' pain," Beatríz says to her hosts. In good storytelling style, a personal conflict stands in for a profound social one: the relationship between power and wealth on the one hand, and vulnerability and poverty on the other. In the face of a monster, the film shows Beatríz making a choice: to kill or to die. 
But there is a third choice (readers of The Monitor probably made this choice long ago): to join with others in working for social and ecological justice.
With the election of Hugo Chávez as president in December 1998, Venezuelans embarked on a decades-long effort to wrest control of the country from the tiny elite that had always run everything for their own benefit. Under the old rules, elite-backed parties would make promises and dole out favours, but nothing really changed for the impoverished majority. The government owned the oil company, but benefits accrued to senior managers, not the state. 
Every step along Venezuela's now 19-year-old transformation has been met with resistance. The old elites, together with middle class sectors that identify with them, were (perhaps predictably) unwilling to commit class suicide; they found powerful allies among foreign powers, including much of the international media. What is playing out now in Venezuela, with almost daily demonstrations, some of them violent, is resistance by those whose pleasure once depended on the pain of others.
In this piece, I want to share some thoughts about what has happened and why, together with some guesses as to what may happen now, and some lessons that might be useful in considering social change processes elsewhere. 
***
For many of us in Common Frontiers—the coalition of Canadian labour, human rights and religious groups working for trade justice in the Americas—our first contact with the new Venezuelan government came in November 1999 in Toronto. In those days, just a few weeks before the mass protests around the World Trade Organization meeting in Seattle, and less than 18 months ahead of similar protests at the Quebec City Summit of the Americas, it was still possible to gather civil society representatives and trade ministers into a room for a conversation. Most of the government representatives talked proudly of "putting a human face on globalization," but the minister representing Venezuela drew applause for saying that concern for the rights of the poor needed to be central in trade talks and public policy-making.
In those years, Common Frontiers was working with other groups throughout the Americas in the Hemispheric Social Alliance (HSA) to develop a different approach to trade and international relations. Latin Americans had lived through successive (and failed) "decades of development," and then through neoliberal dogma about restraint that was justified by a need to repay foreign debt. 
In spaces like the World Social Forum and the HSA, new ideas emerged. A series of proposals that came to be known as Alternatives for the Americas were instrumental in eventually defeating the proposed Free Trade Agreement of the Americas (FTAA) in 2005, and some proposals were adopted by some of the new "pink tide" governments that were elected in Latin America and the Caribbean in the years after the election of Chávez.
One of the first moves by the new Chávez government was to rewrite the national constitution. It came into effect following a plebiscite in December 1999, even giving the country a new name: the Bolivarian Republic of Venezuela. The new constitution expanded civil rights and included socioeconomic rights, such as the right to employment, housing and health care, while also expanding minority rights (notably those of Indigenous peoples) and the rights of women. In 2001, some 49 laws were passed to redistribute land and wealth. Land reform continued in early 2005 with the abolition of large estates for the benefit of the rural poor.
Jim Hodgson is Latin America Program Co-ordinator at the United Church of Canada. He has been involved in Common Frontiers since 1999.
---
August 16, 2017
Media Release
Family farm groups from three countries slam NAFTA reboot based on TPP
As the formal talks to renegotiate NAFTA begin in Washington, DC this week, family farm organizations from Canada, the United States and Mexico denounce the direction of the talks. Despite repeated demands by civil society organizations in all three countries, the governments have refused to open the talks to the public or to publish proposed negotiating texts. All signs point to negotiations designed to increase agribusiness exports and corporate control over the food system rather than to support fair and sustainable trade and farming systems. 
The Trump administration has stated its clear intention to continue its trend of putting multinational corporations' narrow interests first by using the same blueprint that shaped the failed Trans-Pacific Partnership (TPP). A review of submissions on the talks includes proposals to dismantle Canada's successful dairy supply management program and eliminate restrictions on trade in GMOs and other agricultural biotechnology. 
"Under NAFTA and its forerunner, the Canada-US FTA, farm input costs have gone up and inflation-adjusted commodity prices have dropped, yet the farmer's share of the grocery dollar is smaller. We export more, but imports have increased faster, which means our share of our own domestic market is actually shrinking," said Jan Slomp, President of Canada's National Farmers Union. "NAFTA and the FTA have not helped farmers. Since 1988 we have seen one in every five of our farms disappear and we've lost over 70% of our young farmers, even though Canada's population has increased." 
"The USA cannot solve its dairy crisis by taking over the Canadian dairy market and putting our farmers out of business," said Slomp. "We need Canada to stand firm against any temptation to negotiate away supply management. Our system ensures farmers are paid the cost of production, processing plants are able to run at full capacity and consumers have a reliable, wholesome and affordable supply of dairy, poultry and eggs – all without any government subsidies."
Jim Goodman, a Wisconsin dairy farmer and member of the National Family Farm Coalition, agreed. "Federal and State Governments and Land Grant Universities, at the behest of the dairy industry, have done all they can to encourage U.S. dairy farmers to produce more milk, never questioning how much milk might be too much or how the subsequent cheap prices affect farmers. We cannot expect Canada, at the expense of their dairy farmers, to bail us out. Farmers - whether U.S. or Canadian - are nothing more than parts of the machine to the industry and NAFTA. That's the way free trade works."
Ben Burkett, National Family Farm Coalition board president and Mississippi farmer, noted that simply increasing exports will not replace ​the need for ​ fair prices. "U.S. family farmers and ranchers have demanded that the administration restores Country of Origin Labeling (COOL) for meat, which would provide more accurate information to consumers while improving our access to markets."​
Mexican family farmers, who have been devastated by NAFTA's existing provisions that flooded their markets with cheap grains, will join thousands of labor, environmental and other activists in Mexico City tomorrow to denounce the talks and demand a completely different approach based on complementarity and cooperation. On agriculture, they insist that, "Mexico must guarantee food sovereignty and security and exclude basic grains, especially corn. Transgenic crops should be excluded and the ability of national states to promote sustainable agriculture intact. Likewise, Mexico must maintain its adhesion the UPOV [International Union for the Protection of New Varieties of Plants] Act of 1978 and to reject the commitment to accede to the UPOV Act 1991, as it was intended in the TPP."
Victor Suarez, Executive Director of the Mexican National Association of Rural Producers (ANEC) added that, "This whole process should begin with a thorough, independent evaluation of NAFTA's economic, social, environmental and governance impacts. The goal should be to restore national sovereignty over food and farm policy, and to support local farming communities."
"For many years, Rural Coalition has advocated for a 'people-to-peoples NAFTA' linking rural communities in all three countries to collaborate to improve their local economies and food sovereignty. A renegotiation of NAFTA that further helps transnational corporations while diminishing community self-determination will only hasten rural economic collapse --exactly the wrong way to go," said John Zippert, Rural Coalition Chairperson and longtime Federation of Southern Cooperatives staff member in Alabama.
"NAFTA has woven our economies together in ways that hurt family farmers, workers and our environments," said Karen Hansen-Kuhn, Director of International Strategies at the Institute for Agriculture and Trade Policy. "We need a new approach to trade that promotes local and regional food systems, including providing for mechanisms in all three countries to shelter food crops from volatile markets and dumping. Simplistic calls to expand exports won't get us to the fair and sustainable food and farm system we need."
As an ongoing tool for understanding NAFTA, IATP has released a primer paper, "NAFTA Renegotiation: What's at stake for food, farmers and the land?" as well as collecting 25 years' worth of research in a NAFTA portal accessible at www.iatp.org/collection/nafta-portal.  
Based in Minneapolis with offices in Washington, D.C. and Berlin, Germany, the Institute for Agriculture and Trade Policy connects the dots of global justice to ensure fair and sustainable food, farm and trade systems.
Contacts:
Josh Wise, 952-818-5474, jwise@iatp.org
Quinton Robinson, 703-975-4466, quintonnrobinson@nffc.net
Jan Slomp, 403-704-4364, marian.jan@gmail.com
Victor Suarez Carrera, victor.suarez@anec.org.mx
---
August 14, 2017
Media Release
Ad targeting NAFTA to air on The National starting tonight
Ottawa – An ad highlighting the Council of Canadians' top three priorities for NAFTA's negotiation will begin a four-day run on CBC's The National tonight, coinciding with Foreign Affairs Minister Chrystia Freeland promoting Canada's NAFTA negotiating plans today before the House of Commons Committee on International Trade.
"The Liberal government needs to go back to the drawing board on its NAFTA position. Unless a renegotiated NAFTA contains real penalties, and sets standards, these talks may just replicate the dangerous provisions of the Trans-Pacific Partnership," says Maude Barlow, Honorary Chairperson of the Council of Canadians and veteran NAFTA critic. "If Trudeau's government is truly concerned about the environment, labour and public protection, it should look at the glaring problem: Chapter 11, which has made Canada vulnerable to billions of dollars of corporate lawsuits over our environmental and public policy decisions. Trudeau should be fixing NAFTA's existing problems, instead of creating new ones."
The Council of Canadians argues that major changes are needed to protect people and the environment in NAFTA. As the Council has cautioned before, modelling NAFTA's Chapter 11 on the investor state system of CETA (the Canada-EU Comprehensive Economic and Trade Agreement) doesn't alter the substance of this problematic provision.
"It is very dangerous that the Liberal government is going to put CETA procurement provisions in NAFTA, which will get rid of buy local policies," says Sujata Dey, Trade Campaigner with the Council of Canadians. "Instead, Trudeau should be mirroring Buy American policies so that public money stays in the local economy. We also encourage the government to hold the line on in keeping NAFTA's cultural exemption and our supply management program."
The Council of Canadians' priorities for NAFTA are: 
The Council's campaign includes handimations in English, French and Spanish like the one airing on The National, fact sheets, and reports which encourage citizens to do their own lobbying on NAFTA 
For more information on the campaign, please see: canadians.org/nafta.
---
August 13, 2017
Report puts human rights in Honduras and Canada at risk, say civil society organizations
Letter to François-Philippe Champagne
Minister of International Trade
We, the undersigned Canadian civil society organizations, have worked in solidarity with human and environmental rights defenders around the world for many years, including in Honduras and other Latin American countries. We are writing to express our profound concern regarding a recent report produced by the Office of the Extractive Sector Corporate Social Responsibility Counsellor which, we believe, places Canadian and Honduran human and environmental rights defenders at risk.
Last month, the Office of the Extractive Sector CSR Counsellor issued its report of a 2016 visit to Honduras. According to the report, the visit was structured to enable the Counsellor "to meet with a range of stakeholders and permit an open exchange of views, concerns and aspirations." While the report's analysis of the situation in Honduras warrants a more thorough critical response, we would like to raise our deep concern with regard to one specific section of the report, entitled "The Canada NGO Connection". In this section, the Counsellor makes a series of sweeping, unsubstantiated, biased and irresponsible accusations against Canadian CSOs. The Counsellor describes them as having "framed much of the discourse in Honduras", contributing to the "strained and tense situation" concerning extractive activities in Honduras. Providing no substantiation, the report characterizes Canadian CSOs as being "ideologically positioned against mining," leading to "confrontational and adversarial approaches when dealing with companies and the Honduran government."
The CSR Counsellor minimizes the agency of entire communities, local civil society leaders and organizations in Honduras. These actors have long expressed their legitimate concerns about the impact of the extractive sector in that country, regularly mobilizing in defence of their rights and the environment. Through his misrepresentation of the role of Canadian CSOs in Honduras, the Counsellor exposes his fundamental lack of understanding regarding the nature of solidarity relationships between Canadian organizations and local actors.
The report goes a step further by naming specific Canadian organizations that the Counsellor considers problematic, specifically MiningWatch Canada and Rights Action. He suggests that these and other international CSOs could be aggravating or blocking resolution to conflict, manipulating local actors and setting the discourse around mining in Honduras. These serious, unsubstantiated accusations threaten to undermine important solidarity work that facilitates information sharing with mining-affected communities and supports efforts to have their legitimate concerns addressed. The importance of this work in the context of environmental conflicts has been underscored by the UN Special Rapporteur on Human Rights and the Environment who identifies the need to protect speech relating to environmental issues: "[a]ll persons have the right to hold and express opinions and to disseminate ideas and information regarding the environment."
-Read the entire letter en français
List of signatories:
Above Ground
Atlantic Region Solidarity Network
Amnesty International Canada
The British Columbia Government and Service Employees' Union
Canadian Council for International Co-operation
Canadian Jesuits International
CoDevelopment Canada
Comité pour les droits humains en Amérique latine/Committee for Human Rights in Latin America
Common Frontiers
Development and Peace
Entraide missionnaire
Friends of the Earth Canada
Horizons of Friendship
Inter Pares
KAIROS: Canadian Ecumenical Justice Initiatives
Maritimes-Guatemala Breaking the Silence Network
MiningWatch Canada
Mining Justice Action Committee
Nobel Women's Initiative
The Ontario Secondary School Teachers' Federation
Public Service Alliance of Canada
Rights Action
Solidarité Laurentides Amérique centrale
United Church of Canada
---
August 4, 2017
Venezuela: Target of Economic Warfare
Economic Warfare – Image: Jared Rodriguez / t r u t h o u t; Adapted: Pfc. Andrya Hill / U.S. Army, Lomo-Cam
By Joyce Nelson
WatershedSentinel.ca

Most people are horrified to watch Venezuela seemingly on the verge of outright civil war, or worse, an invasion by U.S. military forces. The death toll continues to rise in the violent street protests led by the right-wing opposition, following the July 30 vote on a Constituent Assembly to rewrite the constitution. U.S. President Donald Trump had threatened to take further, unspecified "economic actions" if Venezuelan President Nicolas Maduro went ahead with the vote, and Trump added that the U.S. would not stand idly by "as Venezuela crumbles."
The Canadian Peace Congress issued a statement (July 29) that said, "If the attempt at internal counter-revolution fails, plans are being put in place for direct military intervention by the United States, possibly under the cover of the Organization of American States (OAS)."
Maduro had hoped that the July 30 vote would help to bring dialogue and peace to the country, which has been wracked by violence for more than four months.
According to sociologist Maria Paez Victor, the opposition had been demanding that the Maduro government negotiate with them, so early in 2017 "a Peace and Dialogue Table was set up, facilitated by 2 former presidents of Latin America and one of Spain. They then refused to negotiate, demanding the presence of the Vatican. When the Nuncio arrived, they still refused to dialogue. Pope Francis himself stated the dialogue failed because the opposition would not participate. President Maduro then concluded that if the opposition would not negotiate with the government, they would have to negotiate directly with the people – and called for a Constitutional Assembly to amend the constitution."
Maduro's call triggered months of violence in the streets, with more than 100 people killed in the lead-up to the July 30 vote.
In advance of that vote, Raul Burbano, Program Director of the Canadian NGO Common Frontiers, told me by email, "The people of Venezuela will elect 540 constituents who will decide what changes to make to the constitution. These constituents will be elected via sector – i.e., workers, students, peasants, business folks, etc. and also territorially," thereby broadening the members beyond the elite politicians. Burbano added that the Maduro government would likely want to see constitutional changes such as making the state "less bureaucratic" and "enshrining in the constitution the social programs" created over the past years.
Venezuelan electoral authorities announced a voter turnout of 41.53 per cent, or more than 8 million people on July 30. The opposition claimed fewer than half that figure turned out, and say that the Maduro government is becoming "dictatorial" and "consolidating power" through the Constituent Assembly.
---
July 28, 2017
Beats 4 Peace: A Cultural Event
To bring attention to the situation in Latin America and the Caribbean we are throwing a solidarity party - Beats 4 Peace a cultural event at on Sunday July 30th from 6-10 pm at Luanda House. The themes of the show are Peace, sovereignty, and democracy in Venezuela, Brazil, and Colombia. For more information see Facebook event here. 
Join us for an evening of art, music, poetry and dance weaving together different themes into an interactive cultural show of solidarity. Music will includes  Brazilian artists, Zeca Polina and Mari Palhares, Mohammad Ali @socialisthiphop, Pablo & Ernesto Latin American musicians, Dj siez swift, and many more artists.
A decade ago a tide of progressive governments, defying Washington and its neoliberal polices took power across Latin American and the Caribbean through democratic means. Today that tide is receding and Latin America ...is shifting towards more conservative neoliberal governments closely linked to Washington. This has led to an increased militarization of the region, support for right-wing coups and return to neoliberal austerity policies.
In Brazil the senate approved neoliberal labour reforms never before seen on the continent that seek to push back workers' rights for generations. These policies are being imposed through state violence as the Armed Forces were recently used to repress massive street protests clamoring for the resignation of defacto president, Temer.
In Colombia months after signing a historic peace agreement and the FARC rebels turning in all their weapons yet paramilitarism and violence against social movement leaders is on the rise . More than 156 social leaders were killed in the past 14 months. The United Nations said Colombia's government was undermining the country's peace process by failing to release imprisoned FARC members and protect disarmed guerrillas as promised.
In Venezuela, U.S imperialism aligned with violent local elites are trying to overthrow the democratically elected government of Nicolas Maduro. For the past three months the opposition have undertaken constant and violent street protests that have resulted in the deaths of over 100 people. The international media with its biased coverage of the conflict in Venezuela is fueling a possible civil war. The Chavistas have responded with a proposal for peace, through a democratic and participatory Constituent Assembly.
On July 30th Venezuelans will elected representatives to help write a new constitution that will determine the path forward for their country.
Fora Temer!
Constituyente por la Paz y por la Vida!
Peace with social justice!
---
July 26, 2017
Videos on NAFTA from the Council of Canadians
The Council of Canadians (CoC) has produced two NAFTA videos on issues in the upcoming treaty renegotiations with the US: one on the Chapter 11 Investor-State Dispute Settlement (ISDS) and another on energy.  Namely, on the proportionality provision which forces Canada to export an assured percentage of energy to Mexico.  There is pressure in the negotiations that Mexico signs on to the same clause.  The narrator is Maude Barlow, the CoC honorary president, and former senior advisor to the UN on water. 
---
July 14, 2017
Why Can't the U.S. Left Get Venezuela Right?
by Shamus Cooke
Counterpunch.org
As Venezuela's fascist-minded oligarchy conspires with U.S. imperialism to overthrow the democratically elected government of Nicolas Maduro, few in the U.S. seem to care.
Instead of denouncing rightwing violence that aims at regime change, many on the U.S. left have stayed silent, or opted to give an evenhanded analysis that supports neither the Maduro government nor the oligarchy trying to violently overthrow it. Rather, the left prioritizes its energy on lecturing on Maduro's "authoritarianism" and the failures of "Chavismo."
This approach allows leftists a cool emotional detachment to the fate of the poor in Venezuela, and clean hands that would otherwise be soiled by engaging with the messy, real life class struggle that is the Venezuelan revolution.
A "pox on both houses" analysis omits the U.S. government's role in collaborating with Venezuela's oligarchs. The decades-long crimes of imperialism against Venezuela is aided and abetted by the silence of the left, or by its murky analysis that minimizes the perpetrator's actions, focusing negative attention on the victim precisely at the moment of attack.
Any analysis of a former colonial country that doesn't begin with the struggle of self-determination against imperialism is a dead letter, since the x-factor of imperialism has always been a dominant variable in the Venezuelan equation, as books by Eva Gollinger and others have thoroughly explained, and further demonstrated by the ongoing intervention in Latin America by an endless succession of U.S. presidents.
The Venezuelan-initiated anti-imperialist movement was strong enough that a new gravitational center was created, that pushed most of Latin America out of the grasp of U.S. domination for the first time in nearly a hundred years. This historic achievement remains minimized for much of the U.S. left, who remain indifferent or uneducated about the revolutionary significance of self-determination for oppressed nations abroad, as well as oppressed peoples inside of the U.S.
A thousand valid criticisms can be made of Chavez, but he chose sides in the class fault lines and took bold action at critical junctures. Posters of Chavez remain in the homes of Venezuela's poorest barrios because he proved in action that he was a champion for the poor, while fighting and winning many pitched battles against the oligarchy who wildly celebrated his death
And while it's necessary to deeply critique the Maduro government, the present situation requires the political clarity to take a bold, unqualified stance against the U.S.-backed opposition, rather than a rambling "nonpartisan" analysis that pretends a life or death struggle isn't currently taking place.
Yes, a growing number of Venezuelans are incredibly frustrated by Maduro, and yes, his policies have exacerbated the current crisis, but while an active counter-revolutionary offensive continues the political priority needs to be aimed squarely against the oligarchy, not Maduro. There remains a mass movement of revolutionaries in Venezuela dedicated to Chavismo and to defending Maduro's government against the violent anti-regime tactics, but it's these labor and community groups that the U.S. left never mentions, as it would pollute their analysis.
The U.S. left seems blissfully unaware of the consequences of the oligarchy stepping into the power vacuum if Maduro was successfully ousted. Such a shoddy analysis can be found in Jacobin's recent article, Being Honest About Venezuela, which focuses on the problems of Maduro's government while ignoring the honest reality of the terror the oligarchy would unleash if it returned to power.
How did the U.S. left get it so wrong?
They've allowed themselves to get distracted by the zig-zags at the political surface, rather than the rupturing fault lines of class struggle below. They see only leaders and are blinded to how the masses have engaged with them.
Regardless of Maduro's many stumbles, it's the rich who are revolting in Venezuela, and if they're successful it will be the workers and poor who suffer a terrible fate. An analysis of Venezuela that ignores this basic fact belongs either in the trash bin or in the newspapers of the oligarchy. Confusing class interests, or mistaking counter-revolution for revolution in politics is as disorienting as mistaking up for down, night for day.
The overarching issue remains the same since the Venezuelan revolution erupted in 1989's Caracazo uprising, which initiated a revolutionary movement of working and poor people spurred to action by IMF austerity measures. How did Venezuela's oligarchy respond to the 1989 protests? By killing hundreds if not thousands of people. Their return to power would unleash similar if not bloodier statistics.

-read the entire article on Counterpunch.org
---
July 4, 2017
Case of Murdered Mexican Environmental Activist Moves to International Sphere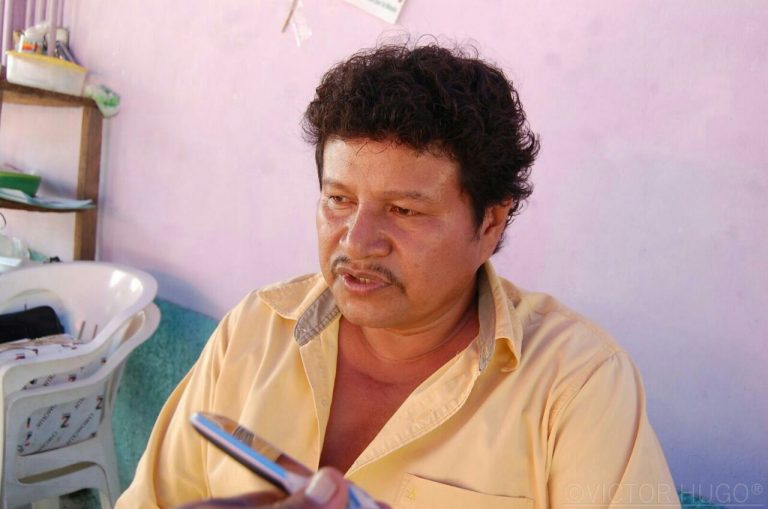 In 2009, Mariano Abarca was murdered for his activism against a Canadian mining project. Tired of waiting for justice from the Mexican State, his family is taking the case to the Organization of American States
By Simon Schatzberg
Americas.org
Seven years and seven months have passed since Mariano Abarca joined the ranks of the dozens of environmental defenders that have been killed in Mexico for resisting the destructive mining projects that are tearing apart the Mexican countryside.
In that time, the Mexican government has not brought anyone to justice for the murder. On June 26, Abarca's family, having lost all faith in the Mexican justice system to prosecute the case, sent a petition to the Inter-American Commission on Human Rights (IACHR). The petition accuses the Mexican government of violating Abarca's right to life, his right to judicial protection and several other rights included in the American Convention on Human Rights.
If the IACHR admits the case, the Mexican government will need to respond to the petition, and there may be a hearing before the Commission. The Abarca family is optimistic that the case will be admitted.
"It's indisputable that there was a violation of the right to life, that there has been no serious, deep investigation, and that no one has been punished, so in this sense the responsibility of the Mexican state is clear," said Miguel Ángel de los Santos, a professor at the Autonomous University of Chiapas (UNACH) and legal representative for the Abarca family, in an interview with the Americas Program.
"It's also clear that the state didn't fulfill its obligations to guarantee Mariano's rights, and that the rights of the family are still being violated. Their search for justice has not ended, and that represents frustration, anguish, which also constitutes a violation of human rights."
"A Death Foretold"
The Abarca family is joined by three co-petitioners: the Mexican Network of Mining-Affected Communities (REMA), of which Abarca was a founding member, Otros Mundos Chiapas, and the UNACH human rights center.
As a member of REMA, Abarca was on the front lines of a battle against a barite mine operated by the Canadian company Blackfire Exploration in his hometown of Chicomuselo, Chiapas.
A series of investigations from 2013 by Mining Watch Canada and the United Steel Workers tell the story of the conflict over the mine, showing the complicity of the government of Chiapas, Blackfire Exploration and the Canadian Embassy in the events that lead to Abarca's death.
Blackfire Exploration, a small, privately-held company based in Calgary, Alberta, obtained mining concessions in the Chicomuselo municipality of Chiapas in 2005.  The concession overlapped with the territory of two ejidos, Ejido Nueva Morelia and Ejido Grecia, which both initially opposed to the project. Officials from the Canadian Embassy traveled to Chiapas several times before the mine went into production, and managed to help Blackfire negotiate land-use agreements with the Ejidos, although many ejidatarios still felt that they had not consented to the project. In late 2007, Blackfire started extracting barite, a mineral used in oil and gas exploration.
Over the next two years, the mine's operation led to a series of conflicts, relating to barite being extracted from along an access road that the company had built through Ejido Nueva Morelia, in violation of the land-use agreement between the company and the ejido. Abarca, as a leader of REMA in Chicomuselo, organized ejitadarios to defend their territory, and began investigating the company's connections to local government and the Canadian Embassy.
-read the entire article on Americas.org
---
June 30, 2017
Canada's Lamentable Double Standard Towards Venezuela
By Sheldon Birkett, Research Associate at the Council on Hemispheric Affairs (COHA)
In Ottawa, on May 1st, 2017, Prime Minister Justin Trudeau spoke on the phone with Peruvian President Pedro Pablo
Kuczynski, affirming a commitment to encourage dialogue between the government of Venezuela and the opposition, Mesa Unidad Democrática (MUD). Trudeau offered his support for a democratic resolution on the political and economic crisis in Venezuela. The rumors of an initiative for Trudeau to lead an Organization of American States (OAS) Venezuela mediation effort came from Peru's Foreign Minister, Ricardo Luna, after stating that the liberal-minded Trudeau holds a "global power role." However, on May 16, 2017, Trudeau met with Lilian Tintori in Ottawa. Tintori is the wife of the leader of the right wing opposition party Voluntad Popular, Leopoldo López, who was imprisoned in 2015 for inciting violence in the "guarimbas." At the meeting with Tintori, Trudeau committed to restoring dialogue "as enshrined in the OAS's Inter-American Democratic charter." Though the Canadian government continues to push for talks on the Venezuelan crisis through the OAS, a fair and impartial Latin American mediation process ought to exclude the involvement of Canada and United States. Canada and the United States should be excluded because they have been outspoken partisans in this conflict and form part of a bloc of countries lead by a strong supporter of the Venezuelan opposition, who is the Secretary General of the OAS, Luis Almagro.
There is little prospect for talks coming out of the partisan efforts of the Almagro bloc, that seeks to halt the constituent assembly election process in Venezuela, in comparison to the more open-ended call for dialogue advanced by the CARICOM and ALBA countries. This is apparent as the OAS was unable to reach a resolution on the Venezuelan crisis at the meeting in Cancún, Mexico on June 19th. The push for an international commission on Venezuela, initially proposed by Peruvian President Kuczynski, backed by the United States, and headed by Canadian negotiators, shows that Trudeau is only being used to do Washington's "dirty work" on Venezuela. Certainly, for a Canadian Prime Minister who won the 2015 election on a platform of "Real Change," Canada's one-sided pro-U.S. role in the Venezuelan negotiations reflects anything but "Real Change."
-read the entire article on the COHA website
-download a PDF version of this article
---
June 23, 2017
Canada's policy in Venezuela is 'anything but neutral,' says national labour coalition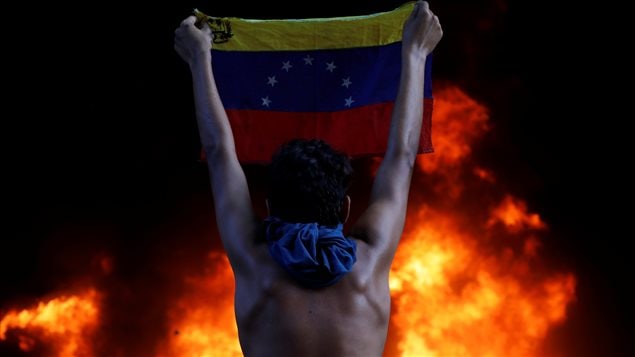 A protester holds a national flag as a bank branch, housed in the magistracy of the Supreme Court of Justice, burns during a rally against Venezuela's President Nicolas Maduro, in Caracas, Venezuela June 12, 2017. Photo Credit: Carlos Garcia Rawlins
By Levon Sevunts
Radio Canada International
The Liberal government's approach to championing human rights and security in the Americas is one-sided and selective, says a Canadian labour and civil society coalition.
Common Frontiers, an umbrella group of labour and civil society organizations, says Canada needs to play a more even-handed role in trying to promote human rights in the Americas and resolve the political crisis in Venezuela.
More than 70 people have died in 12 weeks of street protests across the country, which began after Venezuela's Supreme Court, dominated by supporters of left-wing President Nicolas Maduro, ruled to strip the opposition-dominated parliament of its powers, accusing lawmakers of "contempt" after allegations of irregularities by three opposition lawmakers during the 2015 elections.
The ruling, which was denounced as a coup by the opposition, was later reversed but massive street protests against Maduro government continued.
As Venezuela's crisis has deepened, with triple-digit inflation, record shortages of food and medicine and rising crime rates, Maduro has sought to rebuild his popular support by calling for a constituent assembly to rewrite the country's "anti-capitalist" constitution crafted by his political godfather, the late President Hugo Chavez.
Critics fear this could allow Maduro to postpone the 2018 elections that many think he has good chance of losing amid the economic crisis that has gripped Venezuela. Maduro, however, has vowed that presidential elections will be held in 2018 "come rain, thunder or lightning in Venezuela."
Foreign Affairs Minister Chrystia Freeland, who participated at the Organization of American States general assembly in Cancun, Mexico, on Monday and Tuesday, "reiterated Canada's unequivocal calls for the Government of Venezuela to restore the rule of law and respect the Venezuelan people's democratic and human rights," Global Affairs said in a statement.
She has also said that Canada has been instrumental in the passing of several statements and resolutions at the OAS supporting the Venezuelan opposition in their efforts to achieve political and economic reforms.
"Chrystia Freeland's comments surrounding Venezuela demonstrate an alarming trend that Canada is anything but neutral when it comes to the situation in Venezuela or human rights in the region," said Raul Burbano, program director at Common Frontiers.
"While the government of Canada takes a hard stance against the democratically elected government of Venezuela over its human rights record, it turns a blind eye to the violence, and violation of human rights perpetrated by some opposition protestors during violent street protest in Venezuela."
Burbano cited the example of Orlando Figuera, a 21-year-old government supporter who was doused with gasoline and set alight last month at an anti-government protest in Venezuela's capital Caracas. He died of his injuries on June 5.
While Canada has been very outspoken on the situation in Venezuela it has stayed silent on the "egregious violations of human rights" in Honduras, Mexico and Brazil, where President Michel Temer's deeply unpopular government faces serious allegations of massive corruption, amid growing  authoritarianism and the use of violence against peaceful protesters, Burbano said.
-read the rest of the story here
---
June 22, 2017
CTV and Your Morning news segment on Venezuela
Common Frontiers' Raul Burbano was interviewed about Canada's possible role in the Venezuelan Peace Process. Watch the interview below or, if the video box isn't appearing in your browser, use this link to go directly to the CTV News site.
---
June 17, 2017
Declaración política del encuentro de organizaciones sociales de Canadá, Estados Unidos y México:
Por nuevas formas de cooperación internacional
Las y los participantes en el Encuentro de Organizaciones Sociales de Canadá, Estados Unidos y México, ante el inminente proceso de renegociación del Tratado de Libre Comercio de América del Norte (TLCAN), condenamos este modelo porque ha afectado gravemente el desarrollo nacional, siendo contrario a los intereses de los pueblos, del medio ambiente y de nuestro sistema democrático. Además, los tratados de libre comercio han fracasado políticamente por no haber cumplido con las promesas y expectativas de prosperidad anunciadas para los trabajadores del campo y la ciudad, detonando una severa crisis social.
Apostamos por la construcción de un nuevo modelo de integración, cooperación e intercambio entre los países, que garantice la participación democrática de la sociedad en la negociación de cualquier acuerdo, que sea transparente en todos sus términos y condiciones y que, con base, en la cooperación internacional y la soberanía de cada país, promueva la reconstrucción de las cadenas productivas nacionales, regionales y locales, con pleno respeto a los derechos humanos, políticos, económicos, sociales, culturales y del medio ambiente. Además, debe garantizar el trabajo digno y el salario remunerador, independiente- mente del origen o condición migratoria. 
Ya que desde la implementación del TLCAN en 1994, los trabajadores, las comunidades y el medio ambiente en los tres países han sufrido, mientras que los inversionistas ricos, las grandes corporaciones y sus ejecutivos han cosechado más ganancias y han adquirido más derechos y poder. Ese poder ha tenido un efecto negativo en nuestras democracias. 
Cualquier tratado comercial debe revertir estas tendencias innegables y conducir hacia un desarrollo sustentable, sostenible y ampliamente compartido en toda América del Norte. 
Hasta ahora, no son alentadores los signos de que un nuevo TLCAN contribuya a las necesidades de las personas y las comunidades de América del Norte y al medio ambiente que todos compartimos. Varios funcionarios en Estados Unidos han mencionado utilizar el Acuerdo Transpacífico de Cooperación Económica (TPP) como punto de partida, para su revisión, aunque los trabajadores y las comunidades se oponen ampliamente al TPP con argumentos concretos y buenas razones. 
Las organizaciones, los movimientos de la sociedad civil y las comunidades originarias rechazamos no sólo los detalles técnicos del actual TLCAN y los posteriores acuerdos comerciales dirigidos por Estados Unidos en las Américas, sino también las posiciones beligerantes, militaristas, xenófobas y misóginas del presidente Trump. Por lo que exigimos la plena vigencia del derecho internacional y la no intervención para garantizar la paz mundial. 
Nos oponemos a los muros fronterizos en América del Norte y defendemos los derechos humanos y laborales de las personas que emigran, así como su derecho a no ser obligados a emigrar por la pobreza y la inseguridad.
---
June 13, 2017
Sierra Club Responsible Trade Summit
Ottawa - June 23
Ottawa, ON - Sierra Club Canada Foundation is hosting an event to discuss implications of trade agreements on our ability to protect the environment and to formulate a model for sustainable and successful trade agreements of the future. 
Experts attending the event include:
Ben Beachy - senior policy advisor for the Sierra Club US's Responsible Trade Program.
Scott Sinclair - senior research fellow with the Canadian Centre for Policy Alternatives, director of Trade and Investment Research Project.
Claude Vaillancourt  - president of ATTAC Québec
Ronald Labonté - Canada Research Chair in Globalization and Health Equity at the School of Epidemiology, Public Health and Preventative Medicine.
Anthony Torres - Associate Campaign Representative for the Sierra Club US's Responsible Trade Program
Sujata Dey - Trade campaigner with Council of Canadians
Angella MacEwen  - Senior Economist, Social and Economic Policy, Canadian Labour Congress, and Policy Fellow with the Broadbent Institute
Jesse Colorado Swanhuyser  - co-founder of the California Coalition for Fair Trade and Human Rights, serves as Chair of the Sierra Club US's Committee on International Trade and Human Rights, and is the managing attorney at Voice for the People (V4P). 
WHEN: Friday, June 23, 9 – 4 pm
WHERE: Ottawa Public Library, Main Branch, 120 Metcalf Ave., Ottawa

TICKETS:  $10 or by Donation. https://www.eventbrite.ca/e/responsible-trade-summit-sierra-club-canada-tickets-35251303598
---
June 13, 2017
Trump launches NAFTA renegotiations
by Bruce Campbell
June 13 2017
On May 18, U.S. President Donald Trump sent a letter to Congress announcing his intention to renegotiate NAFTA, starting a 90-day waiting period before North American trade negotiators can formally sit down to figure out what a new deal should look like. Policy-makers and big business groups in all three countries have called for a "modernization" of the 23-year-old agreement, though Trump has threatened to walk away from the table, and even tear up NAFTA, if an America-first solution cannot be found. On June 5, the Canadian government launched a public consultation on the matter, presumably to inform its negotiating position, but clearly all three countries hope to have a NAFTA-plus framework in place before the talks officially begin later this summer.
NAFTA transformed the economic and social landscape of North America. That much we can agree on. But views diverge significantly on whether or not the transformation has been for the better. The elite consensus is that NAFTA has greatly benefited Canada and its partners, since a major increase in cross-border trade produced millions of jobs. Implied here is that without NAFTA, supply chains would rupture, trade would collapse, jobs would disappear. There is substantial evidence this isn't the case.
NAFTA has also played an important role in the growth of job insecurity and precarious work; in the dramatic increase in income and wealth inequality; in wage stagnation and the hollowing out of the middle class; in the weakening of public services and shrinking of Canada's social safety net. NAFTA is not solely responsible for these changes, but it was a key strand in a web of mutually reinforcing policies that have facilitated the "structural adjustment" of the Canadian state in line with the demands of the "new global reality."
Some former government insiders saw it coming. The late Mel Clark, Canada's former deputy negotiator for the GATT (the forerunner of the World Trade Organization), warned that NAFTA was most importantly an investment agreement, reflecting the ascendance of the forces driving the corporate globalization project. The deal's key provisions protect and enhance the private property rights of internationally mobile corporations, impose constraints on policy flexibility, allow corporations to directly sue governments, and lock these and sibling policies prior to NAFTA in a treaty to prevent future governments from backsliding.
Bruce Campbell is the former director of the Canadian Centre for Policy Alternatives (CCPA). The CCPA will be submitting comments to the government's public consultation on a NAFTA renegotiation, which you will be able to find at www.policyalternatives.ca.
---
June 10, 2017
Trade Justice Network participates in tri-national NAFTA meetings in Mexico City
MEXICO CITY — On May 25-27th, the Trade Justice Network (TJN) participated in a tri-national meeting of social organizations from Canada, Quebec, the US and Mexico ahead of the North American Free Trade Agreement (NAFTA) renegotiations. 
Over 300 people gathered in the stunning Palacio de Medicina in the heart of Mexico City to discuss the impacts of NAFTA and to develop coordinated strategies for moving forward. Participants included representatives of labour, environmental, agricultural/farming, Indigenous, migrant, feminist, education, human rights, social justice and other civil society organizations. 
The Canada and Quebec delegation included representatives from Common Frontiers, the Council of Canadians, Réseau Québécois sur l'intégration continentale (RQIC), the Canadian Labour Congress, Unifor, the Canadian Union of Public and General Employees (CUPE) National, the United Steelworkers, Public Service Alliance of Canada, BC Teachers Federation, Fonds de solidarité (FTQ), Confédération des syndicats nationaux (CSN), Centro international de solidarité ouvrière (CiSO), the National Farmers Union, and the Canadian Centre for Policy Alternatives, many of which are member organizations of the TJN. Elected officials lent their support to the meetings of the tri-national coalition, including MP and Green Party Leader Elizabeth May (via video), Amir Khadir of the National Assembly of Quebec, and Ana Collins (representing MP Romeo Saganash).
During the public portion of the meetings, including a press conference, we heard from both expert researchers and on-the-ground organizers and workers on the effects of NAFTA in all three countries. While NAFTA has had negative impacts on workers, farmers, and the environment across the continent, there is no question that Mexico has suffered most greatly. A statement by Mexican social movement organizations noted that "NAFTA has been a source of poverty and inequality, deprivation of natural resources and loss of land of campesinos and Indigenous peoples."
Beyond simply criticizing NAFTA, a common sentiment in the civil society meetings was the need to oppose the current model of international trade and the neoliberal political economic model which underlies it. However, in opposing (or calling for alternatives to) NAFTA, participants—particularly those from Mexico—were sure to emphasize that they did not espouse isolationism or nationalism. Instead, many proposed an alternative model for economic integration to the current one represented by NAFTA. 
Such an alternative model must be based on principles that have largely disappeared from the current international trade regime: democratic participation, transparency and the guarantee of the rights of workers, the environment and all peoples. 
Constituting a strong and diverse delegation, representatives of Canadian and Quebec organizations called for the protection of labour rights (including those of migrant workers), human rights, farmers and rural communities, public education, public services, Indigenous rights and knowledge, and the environment in any new agreement.
Although there were different perspectives on whether to participate in the NAFTA renegotiation process or to call for eliminating the agreement altogether, there was consensus on a vital point: the need for tri-national solidarity. This involves denouncing the nationalist and xenophobic rhetoric that has resurfaced with Donald Trump and recognizing that it is the current model of international trade—which expands investor/corporate rights at the expense of workers, public services, Indigenous sovereignty, the environment and democracy—that has harmed peoples across the continent; it is not our neighbours who should be the target of our frustration. 
Rather than falling into an us-versus-them dynamic, we must come together at this important political juncture to demand a trade relationship that puts people and the environment at the centre. We must work together across sectors and across borders to form a political movement that is diverse, inclusive and unified. 
In a joint statement that came out of the three days of meetings, participants declared a commitment to tri-national solidarity and the implementation of a tri-national action plan, the seeds of which were sown during the meetings. The coordinated action plan, including strategies for mobilization, campaigns, political action, and proposals, aims to effect change in the international trade regime and develop alternatives for fairer economic integration and sustainable development.
Read the full text of the tri-national declaration here: Tri-national Declaration
---
June 8, 2017
NAFTA Renegotiations Must Be Done Through The Lens Of Climate Change
By John Dillon

Canada, and not just Mexico, may be in for a rough ride when it renegotiates NAFTA with the United States. A draft letter from the U.S. Trade Representative to Congress outlining renegotiation objectives, which was leaked on March 30, reveals that the U.S. agenda goes far beyond the modest tweaking implied earlier by President Trump.
When it comes to fighting climate change, however, the ride will be rougher. Trade provisions will likely continue to be a stumbling block in any efforts to curb greenhouse gas emissions.
Observers note that the U.S. has no intention of doing away with the notorious investor state dispute settlement (ISDS) provisions that allow corporations to sue governments when they deem public policies -- such as those aimed at fighting climate change -- to be a threat to their profits. Corporations, chiefly chemical and resource extraction companies, sued Canada 39 times under this mechanism, collecting more than $215 million in compensation. Ottawa will likely not push for the elimination of ISDS from NAFTA since it has agreed to a slightly modified ISDS system in the Comprehensive Economic and Trade Agreement with the European Union.
Additionally, a crucial chapter incorporated into the original Canada-U.S. Free Trade Agreement (FTA), and now part of NAFTA, has escaped notice in current debate. Chapter Six on energy gives the U.S. unfettered access to Canadian energy resources. 
During the 1993 election campaign Jean Chrétien promised that a Liberal government would renegotiate both the FTA and NAFTA and abrogate both agreements unless Canada were to obtain "the same energy protection as Mexico." 
A careful reading of the energy chapter in NAFTA shows that the only significant difference in the treatment of Mexico and Canada is the former's exemption from the application of the proportional sharing clause (Article 605). This provision obliges Canada, under certain circumstances, to continue exporting oil and gas to the U.S. in the same proportion as in the previous three years, even if such exports cause domestic shortages. 
After Chrétien won a majority government some perfunctory talks were held with the U.S. before this campaign promise was quietly shelved allowing the proportional sharing clause to remain unchanged.
While this clause has yet to be invoked, it very well could be in the near future if Canada fulfills its commitments under the Paris climate agreement. If Canada is serious about keeping the increase in global temperatures below 2.00 C, and as close as possible to 1.50 C, it will have to curb the unfettered growth of fossil fuel exports and carefully allocate remaining reserves of conventional oil for domestic use as part of a planned transition to a low-carbon economy.
Measures to conserve exhaustible natural resources for domestic use are permitted under Article XX of the GATT, which is now part of the World Trade Organization's provisions. But they would run afoul of the proportional sharing clause.
Will the current Liberal government include the withdrawal of the proportional sharing clause in its agenda for the renegotiation of NAFTA? Not likely. During his visit to the White House, Prime Minister Justin Trudeau did his utmost to assure President Trump that it is in U.S. interests to continue the current trading relationship with Canada. 
In Trump's mind Canadian oil is not "foreign oil." Consider the president's words, spoken in the oval office in the presence of Russ Girling, TransCanada's president, as he issued the permit for the Keystone XL pipeline:
"It's a great day for American jobs and a historic moment for North American ... energy independence. This announcement is part of a new era of American energy policy that will lower costs for American families -- and very significantly -- reduce our dependence on foreign oil."
The additional emissions that would occur within Canada as a result of four recently approved fossil fuel export projects -- Enbridge's Line 3, TransCanada's Keystone XL and Kinder Morgan's Trans Mountain pipelines as well as the Pacific Northwest LNG terminal -- would nullify all the emission reductions that could be achieved through the Pan-Canadian Framework on Clean Growth and Climate Change announced last December by federal, provincial and territorial first ministers. The emissions that would occur abroad from combustion of the oil and gas exported by these four projects would not be counted as "Canadian" emissions. Nevertheless, they would add two times as many GHGs to the atmosphere as the amount emitted within Canada.
The time frame during which Canada can continue to emit GHGs at current rates and still keep temperature increases near 1.50 C is quickly narrowing. If Canada continues to extract fossil fuels at 2014 levels it will exhaust its share of a global carbon budget in just 11 years if the goal is to keep temperature increases below 1.50 C. According to Marc Lee, a senior economist for the Canadian Centre for Policy Alternatives, in this scenario, there is only a 50 per cent chance of keeping increases below 1.50 C. For a 50 percent chance of staying below a 2.00 C increase, Canada could extract fossil fuels at the 2014 rate for 32 years. Any new hydrocarbon export projects would shorten these time frames.
While no one was thinking much about climate change back in the eighties when the FTA was negotiated, today the threat it poses to life on Earth must be a lens through which any new deal is evaluated.
John Dillon is Ecological Economy Program Coordinator at KAIROS Canada.
---
May 31, 2017
SOCIAL ORGANIZATIONS FROM CANADA, THE UNITED STATES AND MEXICO AGREE TO WORK TOGETHER IN THE FACE OF THE THREAT POSED BY BOTH TRUMP AND THE RENEGOTIATION OF NAFTA
- Organizations from all three countries denounce the impacts that NAFTA has had on their people, during a Tri National Forum;
- They firmly reject the current model of 'free trade' agreements;
- They challenge the lack of transparency associated with the renegotiation of NAFTA.
The Gathering of Social Organizations from Canada, the United States, and Mexico took place May 26-27 in the historic building known as the Palace of Medicine in Mexico City, part of the patrimony of the National Autonomous University of Mexico (UNAM). More than 100 organizations from the three countries were in attendance (list can be provided) along with legislators concerned about these types of treaties. Also present and backing this initiative, were the Rectors of two universities (UAM-I and Chapingo) who took the opportunity to underscore the fact that whatever new negotiation takes place has to be open and transparent to the public, and they promised the support of academia.
Present as well were important research centres focusing on the elaboration of alternatives in support of the work that social organizations are carrying out around trade. Over the course of the two days, this Gathering discussed and assessed the serious negative impacts that since its inception the North American Free Trade Agreement (NAFTA) on each country's peoples, communities and individuals. Time was also devoted to exchanges around the strategic objectives and the directions needed for stronger future relations among the three North American nations.
This magna event condemned the 'free trade' model for setting back national development and being contrary to peoples' best interests. The organizations, social movements and indigenous communities present not only rejected the technical details of NAFTA, but also the orientation and philosophy that underpins it. There was agreement that participants were working to build a new model of 'bottom-up' integration, cooperation and exchange that would guarantee everyone's well being including the  full respect of human rights. To achieve this, it is critical that all sectors of society participate in NAFTA discussions, not just the CEOs of large corporations.
While in plenary the organizations agreed to work together to challenge the threat posed by the current government of the United States led by President Donald Trump by strengthening their networking and communications. These joint efforts are critical given that the governments of the three countries are promoting the 'modernization' of NAFTA as a pretext for incorporating new themes and deepening others, all the while using the Trans Pacific Partnership as the blue print.
Such as had been done in the lead up to NAFTA's implementation in 1994, all those present at this 2017 Gathering, that included representatives from campesino/small farmer organizations, indigenous peoples, unions, migrant work, human rights, digital rights, and environmental defence groups, all agreed on the urgency of building tri national alliances and networks. They were also reminded that it was this type of articulation across borders that led to the defeat of the FTAA (Free Trade Area of the Americas) in 2005, and more recently to the derailing of the TPP (Trans Pacific Partnership). There was a generalized commitment to work on creating constructive ways of carrying out joint international-level action beginning with the social organizations themselves. These combined efforts would support workers, farmers, and indigenous peoples, and the population in general, and would be based on the care of our fragile environment and the full respect for human rights in all three countries.
Following this Gathering, all the various social organizations that had participated resolved to return to their respective countries to share the information gathered and to build on the initial contacts in order to deepen the action agenda to be carried out at both a national and transnational level. This process of involvement of each organization's membership will help legitimize and strengthen civil society's hand in the upcoming renegotiation of NAFTA. With a view towards the future the participating organizations made it clear that this was just the first of many tri national initiatives and gatherings to come to be aimed at turning back the Trump threat to our future not only in the North American region, but globally as well.
This Gathering calls on the populations from all three countries to build a broad and diverse movement capable of developing strategies and policy proposals focused on sustainable development that can lead to the greater degree of grass roots influence needed to re-orient the direction that globalization has taken. 
After being able to consult with their organizations and networks, the participating organizations in this Gathering will socialize what their 'plan of actions' will include. These will range from mobilizations to campaigns buttressed by declarations enabling peoples voices to be present at an international level.
The Mexican host organizations shared their Mexican Declaration at the beginning of the two-day mega event outlining their main concerns and the initial positions they have taken in the face the current international conjuncture and the challenges posed by NAFTA.
Alliance of Social Organizations - Mexico better without FTAs.
---
May 29, 2017
Social Movements From All 3 Countries to Protest NAFTA in Mexico
"The economic, social and environmental impacts of NAFTA have been devastating to people in all three countries," said a Trade Justice network spokesperson.
Social movements from Canada, the U.S. and Mexico are traveling to Mexico City Friday to protest a meeting held between Mexico and Canada Tuesday to discuss reforms to NAFTA, which has had a disastrous impact on all three countries' Indigenous populations, farmers, campesinos, labor unions and migrant groups, among others.
Foreign Affairs Minister Chrystia Freeland held a meeting with Mexico's Foreign Affairs Secretary, Luis Videgaray. Since U.S. president Donald Trump's inauguration, there have been 235 meetings between Canadian and U.S. government officials, Freeland told the Huffington Post. Canada has been trying to work towards renegotiating the 1994 North American Free Trade Agreement.
Earlier in March, Freeland was questioned over her stance on negotiating with Trump and inclining towards a U.S.-first trade policy, ignoring Mexico, "There is no negotiating process yet initiated. In fact, the United States does not even have a team in place to begin those negotiations. So let's not put the cart before the horse," according to the Globe and Mail.
Nadia Ibrahim of the Trade Justice Network in Canada said in a statement, "The economic, social and environmental impacts of NAFTA have been devastating to people in all three countries, including an increase in poverty and inequality, the weakening of labor rights while corporate rights have been strengthened, and the erosion of environmental protections."
Freeland has consistently downplayed any suggestion of the NAFTA renegotiation that would give Canada an opportunity to do a side deal with the Trump administration, against Mexico's wishes. She said it is will simply be common sense that the 23-year-old agreement is "modernized" by all three members. "We don't even feel this is a contentious issue. It's just a matter of common sense. NAFTA can be modernized only with the agreement of the three parties," Freeland said, according to Huffington Post.
"Since the implementation of NAFTA, we have witnessed an unprecedented increase in profits, and economic inequality in Canada — it's time for alternatives to the current neoliberal free trade model," said Raul Burbano, Program Director of Common Frontiers in a statement.
"For 30 years, NAFTA has been a backroom deal for those at the top. So far, the pattern has repeated itself, with the Canadian government enlisting the support of corporate Canada and former Prime Minister Brian Mulroney. Yet, NAFTA affects not only our jobs but the planet," explained Sujata Dey, Trade Campaigner from the Council of Canadians.
"The renegotiation process has to be transparent and participatory and any NAFTA replacement must ensure respect for human rights, improve peoples' lives and livelihoods, and protect the environment in all three countries," said Ronald Cameron, coordinator of the Quebec Network on Hemispheric Integration.
-Read complete article and view video
---
May 24, 2017
Open for Justice
We have the pleasure of inviting you to the 4th Annual Anti-Chevron Action! Indigenous people and farmers from the Ecuadorian Amazon are kicking off days of Anti-Chevron action against corporate impunity with events around the world. #AntiChevron #DiaAntiChevron #TexacoNuncaMas #JusticiaYa
View Complete Information on Facebook
---
May 24, 2017
Media Release
NAFTA serves corporations: Civil Society will hold their own discussions in Mexico City May 26-28th
Montreal, Ottawa and Toronto - While Canadian Foreign Affairs Minister Chrystia Freeland undertakes private NAFTA renegotiation meetings in Mexico City, civil society will also hold their own discussions in the same city from May 26-28th.
Networks from Canada and Quebec, representing labour unions; Indigenous, farmers, and migrant groups; environmentalists; women's organizations; international solidarity groups; student movements; and human rights organizations will join their American and Mexican counterparts at the historic Antiguo Palacio de Escuela de Medicina in Mexico City. 
"Since the implementation of NAFTA, we have witnessed an unprecedented increase in profits, and economic inequality in Canada – it's time for alternatives to the current neoliberal free trade model," said Raul Burbano, Program Director of Common Frontiers.
"The economic, social and environmental impacts of NAFTA have been devastating to people in all three countries, including an increase in poverty and inequality, the weakening of labour rights while corporate rights have been strengthened, and the erosion of environmental protections," said Nadia Ibrahim of the Trade Justice Network.
"For 30 years, NAFTA has been a backroom deal for those at the top. So far, the pattern has repeated itself, with the Canadian government enlisting the support of corporate Canada and former Prime Minister Brian Mulroney. Yet, NAFTA affects not only our jobs but the planet," explained Sujata Dey, Trade Campaigner from the Council of Canadians.
The renegotiation process has to be transparent and participatory and any NAFTA replacement must ensure respect for human rights, improve peoples' lives and livelihoods, and protect the environment in all three countries,"  said Ronald Cameron, coordinator of the Réseau québécois sur l'intégration continentale.
A paradigm shift from the current global economic model is imperative in order to mitigate the threats of economic and environmental disaster.
- 30 -
Contact information:
Canada
Sujata Dey, Council of Canadians, sdey@canadians.org, 613-796-7724 (ENG, FR)
Raul Burbano, Common Frontiers, burbano@rogers.com, 416-522-8615 (ENG, ESP) www.commonfrontiers.com
Nadia Ibrahim, Trade Justice Network, nadia.k.ibrahim@gmail.com, 204-803-8133 (ENG)
Québec
Ronald Cameron, rqic@ciso.qc.ca, Réseau québécois sur l'intégration continentale (RQIC), 
514-217-0264 (FR, ENG) http://rqic.alternatives.ca
Participating organizations from Canada and Québec:
Canadian Labour Congress
Council of Canadians
Trade Justice Network
Common Frontiers
BC Teachers' Federation
Unifor
Canadian Union of Public Employees,
Canadian Centre for Policy Alternatives
National Farmers' Union
Public Service Alliance of Canada
Justicia for Migrant Workers
Office of Romeo Saganash, Member of Parliament
United Steelworkers of Canada
Association pour la Taxation des Transactions pour l'Aide aux Citoyens (ATTAC-Québec)
Centre international de solidarité ouvrière (CISO)
Confédération des syndicats nationaux (CSN)
Fédération des travailleurs et travailleuses du Québec (FTQ)
Fédération nationale des enseignantes et des enseignants du Québec (FNEEQ-CSN)
Réseau québécois sur l'intégration continentale (RQIC)
View Media Release in English en français
---
May 20, 2017
Entrevista internacional de Radio Canadá con Jim Hodgson sobre las relaciones Canadá-Venezuela
"Sí, hay una polarización pero no debería haberla. Cuando hay dos polos, cuando hay dos fuerzas que se oponen, hay que buscar una forma de mediar, hay que buscar una forma de diálogo. Yo nunca he entendido por qué el gobierno de Canadá ha tomado una posición tan dura frente a Venezuela. Y esto no es solamente del último mes o dos meses, es de los últimos 10 años prácticamente y quizá más." - Jim Hodgson
-Escuche la entrevista completa en RCI
---
May 19, 2017
Venezuela: a Threat to US Energy Hegemony?
By Raul Burbano
Common Frontiers
Since the election of Hugo Chavez in 1999, Venezuela has achieved impressive gains in health care, education, and reduction in poverty, while at the same time wrestled economic and political control from the country's elite. Today, soaring inflation, a shrinking economy and a hyper-politicized environment are contributing to unprecedented challenges economically and politically - threatening to undo some of the achievements of the past. These challenges can be attributed to many factors, some structural, such as an oil-dependent economy, and a complex monetary arrangement which has given rise to "bachaqueros" who resell price-controlled items at hugely inflated prices  on  the black market. Other challenges are more politically driven - they stem from the existence of a hardline sector of the opposition aligned with U.S. interests who oppose the Socialist government's policies of resource nationalism and wealth redistribution.
The international media with its biased coverage of the conflict in Venezuela has failed to adequately report on violent actions against government supporters by extremist sectors of the opposition. It has however, diligently perpetuated the opposition narrative that the crisis in Venezuela is the sole responsibility of the Maduro  government, a dictatorship on the brink of collapse resorting to violence against peaceful protesters in a desperate bid to hold on to power.  These allegations have little merit, and are similar to accusations made against former president Hugo Chávez. The hardline opposition has never accepted the electoral legitimacy of the Bolivarian governments, and its violent demonstrations have had the full support and backing of the U.S. government. In 2014 alone, U.S government documents show that Obama's administration channelled $5M dollars to opposition groups to help "strengthen" and "protect" democracy in Venezuela. The Trump administration, in turn, has provided unprecedented political support to jailed opposition leader,  Leopoldo López , who has been found guilty of public incitement to violence and association to commit a crime. There has been close coordination between opposition-led National Assembly leaders and White House national security advisor H.R. McMaster on how to address the political impasse in Venezuela.
The international media also puts the blame for the economic crisis facing Venezuela firmly on the government's shoulders. They fail to mention the role of business producers of goods who regularly hoard basic items to create shortages and public discontent. Some believe the economic war contributed to the PSUV's defeat during the 2015 parliamentary elections - due to the lack of black beans. Black beans are a staple of the Venezuelan diet and for some time before election day these had disappeared completely but the day after voting they were back on supermarket shelves.
Similar to the crisis that precipitated the short-lived 2002 coup against Chávez, leaders of the hardline opposition have made it clear that their goal is "regime change". Henry Ramos Allup of the opposition Democratic Action party and former National Assembly president declared on the first day he assumed that position that they would remove Maduro from power within six months.  The opposition referred to their march in October 2016 as the "Taking of Venezuela" (La Toma de Venezuela), an inflammatory title. During that march Jose Alejandro Molina Ramirez, a policeman, was killed by opposition gunfire and two others injured; which contradicts the opposition message that their marches are "peaceful".
-read the complete article on venezuelaanalysis.com
Raul Burbano is the program director of Common Frontiers.
This item original appeared in the May 18, 2017 edition of VenezuelaAnalysis.com
---
May 11, 2017
Canada should support democracy, not just condemn the government, in Venezuela
Backing a mediation effort would be a good start
By Jim Hodgson & Steve Stewart

Venezuelan President Nicolas Maduro, pictured at the UN in New York in 2015. Mark Garten photograph courtesy of the UN
"The Venezuelan people are again dying in the streets as they battle an ongoing coup d'état being carried out by a group of politicians who oppose our government, and who since April 19 have been carrying out acts of violence, killing people and destroying our national patrimony, just as they did in 2002 and 2014."
These are the words of Bishop Elida Quevedo of the Evangelical Pentecostal Union of Venezuela (UEPV), but hers is not a story that you will see in major media. Instead, facts are distorted to make it appear that it is government forces who repress a "pro-democracy" movement. Bishop Quevedo goes on to describe the April 20 attack on a maternal and child hospital, and sniper shootings of pro-government demonstrators and security forces.
As a coalition of Canadian civil society organizations long engaged in solidarity, social justice, and development work in the Americas, we call for a more even-handed approach to issues in Venezuela than that shown recently by Canada and several other members of the Organization of American States (OAS).
Since early April, opponents of the government of President Nicolás Maduro have participated in demonstrations—some of them peaceful, but many that have included acts of vandalism, arson, and attacks on security forces. Protests began after the Supreme Court suspended some powers of the opposition-dominated National Assembly after it refused to comply with court rulings on electoral corruption and foreign investment. Even though the court decision was almost immediately rescinded, protests continued.
Since then, as many as 37 people have been killed. In cases where public security forces have been linked to violence, investigations are carried out and in some cases, charges filed. The dead include trade union leader Esmin Ramírez, killed after being kidnapped April 23 in the southeastern state of Bolívar, and Jacqueline Ortega, an organizer of an alternative food distribution program in greater Caracas.
Clearly, the situation in Venezuela is marked by polarization. But instead of building bridges to enable dialogue between the government and sectors of the opposition that reject violence, the government of Canada and the House of Commons Subcommittee on International Human Rights have echoed the voice of the OAS secretary general, Luis Almagro, and taken up the cause of the hardline opposition.
On March 28, Almagro had pressed the OAS permanent council to expel Venezuela from the organization. When it was evident he could not rally a majority of members to apply the OAS Democratic Charter against Venezuela, the session ended without a vote.
But on April 3, without the presence of either Bolivia (president of the OAS Permanent Council) or Haiti (the vice-president), just 15 of the 35 members (including Canada) approved a resolution "by consensus"—despite opposition from four other members—declared an "alteration of the constitutional order" in Venezuela and resolved to "urge action by the Venezuelan government to safeguard the separation and independence of powers."
On April 28, Venezuela served notice that it would begin a two-year process to withdraw from the OAS. With regard to Venezuela, the OAS has consistently failed to fulfil its role as a space for multilateral dialogue to resolve conflicts.
In challenging Venezuela's democracy, Canada has aligned itself with the governments of Colombia, Mexico, and Honduras—all of which face serious human rights issues themselves— plus several others, including Brazil which, after the removal last year of the democratically- elected president, is also facing waves of popular protest.
The government of Canada should make clear its support for constitutional government, electoral democracy, and the rule of law in Venezuela. It could support a mediation initiative led by former heads of government from Panama, Colombia, the Dominican Republic, and Spain. This initiative proposed last year by the Union of South American Nations and has sparked the interest of Pope Francis.
Canada should condemn foreign intervention in Venezuela's internal affairs via the funding and training of groups and individuals seeking regime change through violence or other unconstitutional means, and support dialogue as the only appropriate means of achieving peace and reconciliation in Venezuela.
Jim Hodgson is a member of Common Frontiers, a Canadian civil society coalition on trade justice issues. Steve Stewart is executive director of CoDevelopment Canada, a Vancouver-based international development agency.
This item original appeared in the May 10, 2017 edition of The Hill Times
---
May 6, 2017
Common Ground of Indigenous Struggles in Colombia and Canada
By Heather Neun
From Quaker Concerns
CFSC supported a recent tour to Canada by Colombian Indigenous leader Luis Fernando, who came to raise awareness and make connections. Here he meets with Cree MP Romeo Saganash in Ottawa.
There are striking parallels between Indigenous Peoples in Canada and Colombia. This is a hemisphere where efforts have been made since contact to eliminate Indigenous Peoples through policies of physical and cultural genocide. While there are clear differences, the shared experiences are of structural discrimination and destructive policies leading to marginalization, displacement, and barriers to obtaining title and effective control over ancestral territories.
 
"We have serious conflicts with the State about their mining vision. They say that the subsoil is theirs; we say that the land is one with the subsoil; you cannot separate it from a spiritual point of view. This is the war we are waging… to have the air, the land, the subsoil, together."1
 
This is a statement by the leader of the Cañamomo Lomaprieta Indigenous Reserve of the Embera Chamí people in western Colombia. His words reflect the clash of paradigms inherent in the decades long armed conflict and continuous threats to the survival of Colombian Indigenous Peoples. Colombia is home to more than 100 culturally distinct Indigenous Peoples. Around 70% live in rural areas, many on reservations that cover about 30% of the country's territory.
 
Colombia's 1991 constitution provides that the communal lands of Indigenous Peoples and Afro-Descendant communities are "inalienable, inextinguishable, and immune from seizure". And yet, as in Canada, despite constitutional protection of Indigenous rights, there is minimal enforcement through recognizing land title or obtaining consent to developments affecting their lands. This contrasts starkly with the government's expedited processes for granting concessions to the extractive and resource sectors. A July 2010 mission of the United Nations Permanent Forum on Indigenous Issues recorded that commercial concessions were granted in 80% of the Indigenous reserves without adequate consultation or consent, and without informing the affected communities.2
 
Indigenous communities are extremely vulnerable as a result of centuries of subjugation and dispossession. A 2009 landmark ruling of the Constitutional Court of Colombia3 found that more than one third of Colombia's Indigenous Peoples are threatened with "physical and cultural extermination". Of the 100 or more Indigenous groups, 66 were formally declared as being at high risk of disappearance, and 36 were at risk of extermination. These disproportionately heavy effects of the armed conflict are due to encroachment by extractive activities in the mining and energy sectors. Recent government efforts to try to restore lands to those dispossessed are failing – a storyline similar to the 'land question' in Canada.
 
In the current era, Indigenous Peoples of Canada and Colombia face increasing pressure from business interests in the energy, mining, and extractive sectors. The imposition of large scale "development" projects without consent is generating conflicts that threaten Indigenous Peoples' very existence – both from a cosmological and cultural perspective, and through an economic model that imperils their territories, and ultimately, the planet. For the original land defenders, the latest wave of extractive activities has led to intensified conflicts, as respective governments back corporate access to land and resources. We see this in Canada too, where Indigenous Peoples are engaged in frontline struggles to demand that governments obtain their free, prior and informed consent to projects like pipelines and energy projects.
 
Indigenous Peoples in Canada are struggling to ensure that companies are accountable for the environmental harms and human rights abuses caused by their operations. The parallels to Colombia are evident as Canada's justice system regularly fails, as in the case of the tailings pond spill in August 2014 at Imperial Metals' Mount Polley gold and copper mine in British Columbia. Indigenous Peoples living near the site rely on the region for food, medicines, and livelihoods, and they are still suffering. The BC government's failure to investigate and take action against those responsible breaches the rights of those harmed under international human rights law.4 
Paramo de Santurban, where the company Eco Oro wanted to drill through mountains to extract gold deposits. Photo credit: Jorge W. Sanchez Latorre
In the past few years, the threats have been constant; the objective has been to dispossess the people of their territories. A recent Global Witness report5 chronicles the alarming acceleration of attacks on land defenders, citing Colombia as third in the number of killings in 2015. Indigenous Peoples were particularly vulnerable and made up 40%; at least nine Indigenous leaders were killed in Colombia.
 
The reason for this trend is clear. Those closest to the land are struggling to protect it from predatory businesses, both domestic and foreign. In truth, the armed conflict in Colombia has endured due to persistent conflict over access to land and resources. This intensified in recent years when government efforts to secure conditions for foreign investment perpetuated the violence to make way for megaprojects. Amnesty International observes that forced displacement and misappropriation of land is the "defining feature" of the internal armed conflict.6 These human rights violations were targeted primarily at Indigenous Peoples and other groups closely connected to the land.
This violent context presents another linkage between Canada and Colombia. Canadian corporate mining activity in Colombia is increasing, and according to the authors of Blood of Extraction: Canadian Imperialism in Latin America,7 Canadian mining is "deeply implicated in the war economy of violence and dispossession from which it benefits". Put plainly, Canadian companies profit from processes that harm Indigenous Peoples.
 
I travelled in 2016 to northeast Colombia, where Indigenous communities and others have organized to oppose the activities of Canadian mining companies. The company Eco Oro was granted a mining concession in a high altitude wetland. This fragile ecosystem is the source of water for over 1.5 million Colombians. The company's plan was to drill through the mountain to extract gold. Its exploration activities occurred alongside the dislocation of local communities, threatening their livelihoods, food and water security. Through the courageous and unrelenting efforts of land defenders and their international allies, this project has been stopped, although the company has since filed notice of its intention to sue the Colombian government for millions of dollars under the Canada-Colombia Free Trade Agreement.
 
Recent victories in Colombia8 are signs of the promise we see here in Canada as well. This month saw the welcome decision of the Stk'emlúpsemc te Secwépemc Nation (SSN) to withhold their free, prior, and informed consent to the development of lands and resources at Pípsell (or Jacko) Lake (on the outskirts of Kamloops, BC) for KHGM International's Ajax open-pit copper and gold mine.9 The SSN asserts an irreplaceable historical, cultural, and spiritual connection to Pípsell, which they believe would be irreversibly harmed by the proposed mining operation. The basis of their decision lies in their inherent rights, backed by international human rights law and Canadian law. It lies in the belief system that is shared with the Indigenous Peoples of Colombia, that their territorial rights are founded in sacred connections to lands and waters, which are fundamental and must be protected for the generations to come.
 
Heather Neun is a member of Vancouver Monthly Meeting and CFSC's Indigenous rights program committee. 
Notes:
---
May 1, 2017
Council of Canadians share thoughts on NAFTA
By Rick Arnold of the Trade Group,
Northumberland chapter of the Council of Canadians
NORTHUMBERLAND  - Many of us here in Northumberland County have been transfixed by US President Donald Trump's recent harsh rhetoric towards Canada and in response to Prime Minister Justin Trudeau's attempt to placate the White House.
Free-trade proponents would have us believe that NAFTA (North American Free Trade Agreement) renegotiations is like a high-stakes game of poker to see who can gain advantage and out-manoeuvre the other. But let's not be fooled for a moment that it's a battle between equals. The renegotiation of NAFTA is not going to be a win-win proposition for either junior partner, Canada or Mexico.
Nor should w in Northumberland believe that these national-level trade negotiations will not affect us.
But before taking a look at what a renegotiated NAFTA might have in store for us down the road, we need to be aware of the impact tat two other recent free-trade deals will shortly have on milk and cheese producers in our area, as well as on our budding local-food movement. In case you haven't heard of these two deals before, they are CETA (Canada-European Union: Comprehensive Economic and Trade Agreement) and CFTA (Canadian Free Trade Agreement).
CETA is not a done deal, as all European Union nations have yet to ratify it. But effectively, Canada considers it done, and import quotas will soon allow for an increased flow of (for example) cheeses from mega-European factories.
Empire Cheese and Butter, located near Campbellford, is a small co-op that relies for its cheese production on milk provided by eight local dairy farms. Empire products are high-quality and are currently to be found on several shelves in food-related businesses in towns like Cobourg and Port Hope. However, under CETA, Empire's products are in danger of being supplanted by a flood of cheaper European cheeses. Multiply Northumberland's example by the 47 small and medium-sized cheese plants to be found in various parts of Ontario, and one can see that hundreds (if not thousands) of rural jobs are on the line.
CFTA was concluded in early April by Federal, provincial and territorial governments. Business groups argued (successfully) that internal trade barriers are costly to the Canadian economy (despite such barriers being few in number). However, scant media attention has been devoted to another aspect of this deal, one which Scott Sinclair of the Canadian Centre for Policy Alternatives headlines as, "Local food policies are toast."
Mr. Sinclair goes on to explain that, "...the new CFTA effectively eliminates the ability of provincial, municipal or broader public-sector institutions such as schools, universities and hospitals to use their procurement to favour local suppliers or to encourage any kind of local development."
This policy direction embedded in the CFTA would appear to run counter to Northumberland's best interests, given that local public bodies should be given a free hand to use their purchasing power to give local food retail and local growers a boost. Were our municipalities consulted prior to this decision?
Washington is about to reopen NAFTA, with acquiescent Canadian and Mexican governments falling into line while trying to save fact by saying that it's time to "modernize" the 23-year-old deal. In reality, President Trump has thus far shown little interest in addressing any new developments since NAFTA was first implemented, focusing his ire instead on having a little give-and-take — where NAFTA's two junior partners to the giving, in order to rectify their having taken "unfair" commercial advantage of the US in the past.
Of course, these assertions by Trump rank high on the "baloney meter." But we all know the old adage: thems that got the power make the rules.
Sadly, government leaders and their attendant free-trade promoters play down the fact that trade deals like NAFTA have contributed significantly to inequality, unemployment, migration, food dependency and pollution in all three nations.
On April 18, President Trump announced that he was coming after Canada's dairy policies, alleging that they were hurting 75 Wisconsin farmers. Had Trump dug a little deeper, he would have had to face the fact that over-production of mik in the US was pushing dairy prices down and driving those small US farmers into bankruptcy. In fact, the president of the National Farmers' Union Jan Slomp recently explained in a tweet to Trump that, if the US were to adopt their own version of a supply-management system like Canada's, "...it could begin to restore prosperity to rural America."
Unfortunately, the Trump administration does not appear to let facts stand in their way and, for this reason, both dairy farmers and milk-product consumers in Northumberland need to beware of the upcoming NAFTA renegotiations.
Small and medium-sized dairy farmers both here and across Canada should reconsider whether the traditional strategy of lobbying Ottawa will be sufficient to turn back the "give" tide when the US NAFTA negotiators apply the screws to their Canadian counterparts.
And those of us who enjoy cow's milk also need to be aware that opening up the Canadian market to US and other international dairy-production platforms will surely mean that bovine growth hormones and antibiotics will find their way into our currently unparalleled source of milk.
---
April 26, 2017
Stop killing social leaders in Colombia, so peace can flourish
---
April 22, 2017
United May Day 2017 Toronto Celebration
PRESENTED BY THE UNITED MAY DAY COMMITTEE
Saturday April 29,
7:00 pm - 11:00 pm, Free
Steelworkers Hall,
25 Cecil Street
Toronto, ON
Doors open at 6:30
Food and Beverage will be for sale
The United May Day Committee keeps alive the tradition of International Workers' Day by organizing an indoor rally to complement the annual march on the streets of Toronto.
The event brings together prominent labour, political, and international speakers with a rich array of talented dancers, singers, poets and musicians from a variety of cultural backgrounds.
-see event listing on Facebook for more info
---
April 19, 2017
Solidarity Declaration "One Year Later, Berta Lives, COPINH Continues On"
On March 2, 2016, Berta Cáceres was assassinated in an attempt to silence her voice, bring an end her important leadership and destroy the political project and struggle of a people acting in defence of their territory. The aim was not only to do away with her, but the organization of which she was a part for over 20 years, the Civic Counsel of Popular and Indigenous Organizations of Honduras (COPINH).
But this crime did not succeed to stop this movement. Rather, Berta Cáceres, the legacy of her commitment, resistance and clarity continue to live on in peoples around the world who are confronting the threats of savage capitalism, patriarchy and of a predatory, racist and colonial system.
A year, later 90 organizations and 240 individuals in Canada, the US and other countries have released a "Solidarity Declaration" to support Berta's life and the continuing struggles of COPINH.
The declaration, with specific demands both to the state of Honduras and Canada, was officially delivered at the Honduran Embassy in Ottawa and the Honduran Consulate in Montreal on April 4th. In Canada, the declaration was also sent to the Minister of Foreign Affairs, the Minister of International Trade, the Canadian Ambassador in Honduras and party critics responsible of international issues in the Parliament.
-read the Declaration in English en español en francés
---
March 31, 2017
Progressive Canadian Groups Slam Right-Wing Attacks on Democracy in Ecuador
Just days ahead of the highly anticipated second round of Ecuador's elections, trade unions and other progressive organizations in Canada have called out right-wing opposition candidate Guillermo Lasso for raising the false spectre of election tampering.

"The high level of rhetoric by Lasso's campaign, calling the government a 'dictatorship' and unsubstantiated claims of fraud are extremely concerning as they add fuel to an already tense political environment," reads the statement signed by labor and other Canadian organizations.
Lasso and his contingent have been responsible for making claims of fraud in the election process, despite the Ecuadorean National Electoral Council and over 200 international observers continuing to reiterate that the elections were conducted with complete transparency and no formal reports of fraud.

In addition, on March 22, Ecuadorean journalists uncovered that Cedatos, an official polling company in the country, had published misleading polls that favored Lasso. Lasso, the former banker and a pro-business advocate of neoliberal policies, it was found, has close ties to the company.
"There is also an online petition which refers to the incident as an attack on the democracy in Ecuador and calls for the suspension of Cedatos as official pollster for the elections," noted the statement, titled "Undermining Democracy in Ecuador."
For left organizations in Canada that often extend international solidarity toward Latin America, these attacks on democracy by the right-wing opposition are concerning.
"We're concerned with the process of legitimacy … we realize what's at stake," Mike Palecek from the CUPW told teleSUR.
"From Bolivia to Venezuela, throughout Latin America, we support the mass mobilization of people and their challenging of power," he added, saying that the region is often subject to U.S. imperial interests.
The organizations' statement highlighted leftist presidential candidate Lenin Moreno's history of international activism, from his role as the U.N. Special Envoy on Disability and Accessibility in 2013, to his promise to continue his party's Citizen's Revolution. Alianza Pais' Citizen's Revolution under current President Rafael Correa refers to the program of progressive social and economic transformation launched under the banner of 21st Century Socialism when his government took office in 2007.

In addition, the statement chided Lasso's proposed changes, writing, "His neoliberal policies include the privatization of the education system through a 'voucher' system and firing some of the 300,000 public service employees in order to reduce the size of the state."
Thus, the organizations conclude, "The attacks against the democratic order in Ecuador are extremely dangerous and unwarranted."
"We call on Lasso and his party to respect the democratic institutions, process and refrain from unsubstantiated allegations of fraud and calls for street protests that could lead to social unrest," they declared.
With Ecuador's second round of presidential elections slated to take place April 2, the country stands at a critical crossroads. South America's leftist resurgence — commonly referred to as the Pink Tide — has seen recent blows, with neoliberal governments in Paraguay, Argentina and Brazil rolling back progressive gains of recent years. If Lasso is elected as president, Ecuador would be set to course through that same trajectory.

However, all of the latest polls predict a win for Moreno.

For leftists in the country, the hope is that Ecuador will stay on its left-wing path of the past decade.

-read the original post here
---
March 30, 2017
Undermining Democracy in Ecuador
This April 2nd, 2017, Ecuadorians will go to the polls to elect a new president in historic elections that could change the course of the country and have ripple effects across Latin America. The choices are between the left wing, Lenin Moreno from PAIS Alliance and conservative Guillermo Lasso from the Creating Opportunities party.

Lenin Moreno one of the world's few disabled national leaders is well-known for his national and international activism for disability and human rights. In 2013 he was appointed UN Special Envoy on Disability and Accessibility by United Nations Secretary-General Ban Ki-moon. Moreno promises to continue his parties' "alternative policies" which include investing in healthcare, education and wealth redistribution. Policies that have contributed to an unprecedented cut in the poverty rate with extreme poverty down 47% under PAIS Alliance over the past decade.

His opponent Guillermo Lasso is a conservative former banker and one of the largest shareholders in Banco de Guayaquil. He was economy Minister during the 1999 financial crisis and critics denounce his links to 49 tax haven companies. Lasso's campaign promises to implement "fiscal austerity" including large scale privatization. His neoliberal polices include the privatization of the education system through a "voucher" system and firing some of the 300,000 public service employees in order to reduce the size of the state.
On March 22nd Ecuadorian journalists uncovered an unprecedented scheme allegedly aimed at manipulating public opinion in the polls and influencing election results. Evidence leaked by an employee of CEDATOS, an official polling company demonstrated the company published misleading polls favoring Lasso and supressing advantageous polls in Moreno favour during the first round of elections. It was demonstrated that Lasso has close ties with the company through his business ties with Livercostas. CEDATOS for their part have denied any culpability and said it's an attack on its good name, credibility and institutional image.

Following the revelations, Vice President of the National Assembly, Rosana Alvarado held a press conference detailing the evidence against CEDATOS and submitted a formal complaint to the Attorney General's office. There is also an online petition which refers to the incident as an attack on the democracy in Ecuador and calls for the suspension of CEDATOS as official pollster for the elections, and an immediate investigation by the prosecutor's office to determine any complicity by the company and its owner, Ángel Polibio Córdova.

Lasso and his allies consistently raised a false spectre of election tampering during the first round of elections, threatening destabilization if front-runner Moreno was pronounced the winner. Lasso attended protests outside the National Electoral Council (CNE) headquarters urging supporters to stay in the streets while his Vice -presidential candidate, Andrés Paez led a protest that turned violent in front of the CNE forcing employees to evacuate.

Despite the allegations no official complaints of fraud have been submitted to the CNE and the hundreds of electoral observers who partook in elections monitoring praised the elections as transparent.
The attacks against the democratic order in Ecuador are extremely dangerous and unwarranted. The high level of rhetoric by Lasso's campaign, calling the government a "dictatorship" and un-substantiated claims of fraud are extremely concerning as they add fuel to an already tense political environment.

It is also extremely concerning the comments from Andrés Paez, Vice-presidential candidate indicating his party's intention to set up a parallel electoral centre that would publish unofficial election results the day of the elections, prior to the CNE.

We the undersigned condemn any attempts to illegally influence voters, electoral institutions or the public perception of the election.

We call on Lasso and his party to respect the democratic institutions, process and refrain from unsubstantiated allegations of fraud and calls for street protests that could lead social unrest.

We condemn any attempt to publish election results without the authorization of the National Electoral Council.
We call on individuals and organizations both national and international to refrain from any attempts to engage in manipulation or subvert the integrity of the democratic system and respect the democratic will of the Ecuadorian people.

We stand in solidarity with the people of Ecuador who seek peaceful elections and the ability to determine their political future free from political interference.

ALBA Canada
America Latina Al Dia
Blue Planet Project
Canadian Union of Postal Workers
BC Government and Service Employees'
Casa Cultural Ecuatoriana
Caribbean Solidarity Network
Council of Canadians
Common Frontiers
Frente de Defensa de los Pueblos Hugo Chavez
Latin American and Caribbean Solidarity Network
Louis Riel Bolivarian Circle, Toronto
Ontario Secondary School Teachers' Federation
Solidarity Halifax
Socialist Project
Students United in Representation of Latin America
-download this article in English en español
---
March 22, 2017
The human rights cost of Canadian extractive industries in Central America:
Canada public speaking tour - March 19-28, 2017
Click on the images below for more details
---
March 17, 2017
March 21-26
Canada Public Speaking Tour:
The human rights costs of Canadian extractive industries in Central America
From March 21-26 this tour will raise awareness about the impacts of Canadian extractive projects in four countries (El Salvador, Honduras, Guatemala and Nicaragua) in the Central America region through the testimonies of front line activists who are leading successful campaigns to defend their territory from corporate incursion.

With guest speakers:
Bernardo Belloso, Association for Development - CRIPDES (El Salvador)
Javier Mejía Castro, Humboldt Institute (Nicaragua)
Aleisar Arana Morales, Xinca Parliament (Guatemala)
Yanira Cortez Estevez (El Salvador)
Public Events in Canada:
Ottawa
Public conference
Tuesday, March 21 from 7-9 pm
Amnesty House, 312 Laurier Ave E.
-more details

Montreal
Public Action « Pas de transition écologique sans justice »
Wednesday, 22 mars from 12pm - 2pm
Place Jean-Paul-Riopelle
-more details


Public conference
Wednesday, March 22 from 6-9pm
Université du Québec à Montréal (UQAM), Room DS-R510, 405, rue Sainte-Catherine Est
-more details

London
Public conference
Sunday, March 26 from 2:25-3:45pm
Organizing Equality international Conference @ Museum London
-more details

Sponsoring Organizations:
Association for the Development of El Salvador (CRIPDES)
University of Western Ontario - Organizing Equality international conference
Maritimes-Guatemala Breaking The Silence Network
Common Frontiers
The Canadian Union of Public Employees (CUPE)
The United Church of Canada
Comité pour les droits humains en Amérique latine (CDHAL)
The Public Service Alliance of Canada Social Justice Fund
Unifor- Social justice fund
United for Mining Justice
Amnesty International Canada
MiningWatch Canada
Canadian Network for Corporate Accountability (CNCA)
Americas Policy Group/CCIC
Confédération des syndicats nationaux (CSN).

---
March 5, 2017
Cultural, Gender and Territorial Rights
in the context of Colombia's Peace Accords
Colombia's Indigenous and Afrocolombian communities, and women in particular, have been disproportionately affected by the consequences of the 52-plus year internal armed conflict in Colombia, yet have been playing a pivotal role in the resolution of conflict and building territorial peace. Ethno-territorial movement organizations successfully established an "Ethnic Chapter" to safeguard cultural, gender and territorial rights and to reinforce their autonomy and jurisdiction in relation to the recently passed Havana Peace Accords negotiated between the FARC guerrillas and the Colombian government. As the accords begin to be implemented in the territories over the coming weeks, strategies for increased visibility and protection of social leaders, community councils and territories – in the face of heightened violence - are underway.
-click on pic for poster view
Saturday, March 11th 2017 at 6:30pm
Trinity St. Paul's United Church and Centre for Faith
Main Floor (Chapel Room) 427 Bloor St. West
Presenters
Charo Minas Rojas is an Afro-Colombian human rights defender, member of the Black Communities' Process in Colombia (PCN), a grassroots nation-wide movement comprised for over 100 local Afro-descendant grassroots organizations and community councils, as well as a representative of the National Afrocolombian Peace Council and the Ethnic Commission for Peace and the Defense of Territorial Rights. She is one of the activists who helped to write the "ethnic chapter" of the Havana Peace Accords.

Sheila Gruner is an activist and professor of community development at Algoma University in Northern Ontario, has been accompanying the work of the Black Communities Process for many years, as well as the Ethnic Commission since its inception and is currently involved in solidarity and alliance building in support of the grassroots indigenous and Afrocolombian territorial movements in peace process and post accord period.

They will speak about the role of the Ethnic Commission in the pre and post peace accord period, as well as the potential role of Canada in monitoring its implementation. Topics to be covered include strategies for increased visibility and protection of Indigenous and Afro-Colombian leaders, communities and territories in the face of heightened violence, and other challenges.

Book Launch
The book Des/DIBUJANDO EL PAIS/aje: Aportes para la paz con los pueblos afrodescendientes e indigenas: Territorio, Autonomia y Buen Vivir (in Spanish) – a collection of Indigenous and Afro-Colombian community perspectives on systemic racism and discrimination in pre and post peace accord contexts will be launched
For more info -see Facebook event

---
February 27, 2017
Bastón de la Paz – Canadian tour March 5 -12, 2017
Colombia's Indigenous Peoples have suffered disproportionately during the conflict as much of the fighting has taken place in or around their territories. Many of these communities have been repeatedly forced off their lands after years of threats and killings carried out by the security forces, paramilitaries often acting in collusion with state forces and other armed actors. Displacement often takes place in areas with potential for economic exploitation, including mining.
-click on image for poster view
The rights of Indigenous communities and their ability to access and use Colombia's resource-rich land is central to a lasting peace. Precisely because indigenous People's make up a disproportionate number of the victims and displaced communities of the conflict, their voices are especially essential for ensuring a just and lasting peace in Colombia.
Luis Fernando Arias of the National Indigenous Organization of Colombia (ONIC) will travel to Canada for an educational tour. He will meet with Labour representatives, civil society organizations, government officials, students and the general public. A central priority of the tour will be to meet with Indigenous groups in Canada. Luis will travel to Toronto, Ottawa and Montreal between March 5 – 12 2017.
Toronto Event
-click on pic for poster view
Tuesday March 7th
University of Toronto,
100 St. George Street
Sidney Smith Hall 2098
Food will be served
-more details

Montreal Events
-click on pic for poster view
Thursday March 9th
7-10 pm
local a-1824,
pavillon Hubert-Aquin,
UQAM.
-more details


Friday March 10th
12:15 to 1:45
McGill University
Room 102
New Chancellor Day Hall,
McGill Faculty of Law
Free vegan lunch will be provided
-more details

---
February 26, 2017
Mexico and the Trump Presidency
Implications for Human Rights, Democracy and Migration
Dr. Sergio Aguayo
Colegio de México

March 9, 2017
7 - 8:30 p.m.
2017 Dunton Tower
Carleton University, Ottawa
(click on image for larger view)
Dr. Aguayo writes a weekly column in Reforma, as well as 14 other newspapers. Since March 2001, he has participated in Primer Plano, Canal 11's weekly TV show, and from 2009 to 2015 he participated in Carmen Aristegui's Mesa Política radio program broadcasted by MVS. He has written dozens of books and scholarly articles. In 2015 his latest book appeared: De Tlatelolco a Ayotzinapa. Las Violencias
del Estado.

All are welcome!

Sponsored by: Americas Policy Group, CCIC; Common Frontiers; Latin American and Caribbean Studies, Carleton University, PSAC Social Justice Fund; Nobel Women's Initiative
---
February 14, 2017
The Centre for Research on Latin America and the Caribbean (CERLAC) Presents:
The Winter 2017 Michael Baptista Lecture:
Violence in Mexico and Canadian Refugee Policy
For its Winter 2017 Michael Baptista Lecture, CERLAC is delighted to host Dr. Sergio Aguayo along with a panel of Canadian immigration experts.
Date: Wednesday, March 8, 2017
Time: 5:00pm to 8:00pm
Place: Sandra Faire and Ivan Fecan Theater – Accolade East – York University
Renowned scholar and human rights activist sergio Aguayo will speak on the deeping humanitarian crisis in Mexico, which has been marked by the targeted assaination of journalists, the mass disappearance of 43 students from a rural teachers college, and the deaths of hundreds of thousands in a war between the state and powerful drug cartels.
To escape criminal violence as well as poverty, millions of Mexicans and Central Americans have fled north to the United States and Canada in recent years. A panel of immigration experts will examine the implications for Canadian immigration policy, at a time when Donald Trump enacts the immigration measures he has long promised, while the Trudeau government lifts the visa requirement for Mexican citizens introduced by its predecessor.
Sergio Aguayo
Born in the State of Jalisco, Mexico, Sergio Aguayo is a research professor at the Centro de Estudios Internacionales (Center for International Studies) at El Colegio de Mexico, where he currently coordinates the Seminar on Violence and Peace. He has taught at universities in Mexico, the US, and Europe and holds a doctorate from John Hopkins University. A leading academic and journalist, Sergio Aguayo has published widely on human rights and violence in Mexico.
The session will be chaired by Alan Simmons and Luin Goldring from York University.
The Panel:
Judy Hellman - York University
Kathy Price - Amnesty International
Loly Rico - Canadian Council for Refugees
---
February 1, 2017
Upcoming Canadian Tour for Luis Fernando Arias
Watch for details coming soon.
---
January 31, 2017
TRUDEAU, TRUMP & TRADE: WHAT IS AT STAKE FOR OUR FUTURE?
A Lunch & Learn from the USW 1998 Next Gen Committee
How will the Trump administration affect Canada's trade relations with the US? What can we expect from NAFTA renegotiations?

Please join us for a panel discussion about Canada's trade agreements. Learn about how policies embedded in these agreements such as ISDS (Investor-state dispute settlement) provisions will negatively impact Canadian workers – and be inspired by how civil society groups mounted successful resistance to the TPP!
Thursday, Feb. 9, 2017 @ 12:10-1:00pm
SS 2108, Sidney Smith Hall,
100 St. George St.
University of Toronto
Speakers

Raul Burbano is the Program Director for Common Frontiers Canada, a multi-sectoral working group based in Toronto that organizes research, educational campaigns, and political action on issues related to hemispheric economic, social, and climate justice.


Brittany Smith is currently a campaigner with Leadnow and has been a human rights activist for many years, working with NGOs, grassroots groups and the United Nations. She led Leadnow's campaign against the TPP, and runs high-impact rapid response campaigns using a combination of field and digital tactics. This is all in the service of helping hundreds of thousands of people across the country come together to build an open democracy, fair economy and clean environment.

---
January 18, 2017
Media Release
The Canadian Government Should Replace NAFTA, or Scrap it
(Toronto, Ottawa): On January 20, 2017, Donald Trump will be inaugurated as the new President of the United States. He has promised that one of his first acts will be to demand that Canada and Mexico renegotiate the North American Free Trade Agreement (NAFTA). Canada's Prime Minister Justin Trudeau has signalled that Canada would accede to that request expecting that this country could "improve" NAFTA.

Common Frontiers, a 27 year old coalition of Canadian social organizations, unions, and environmental groups that has been advocating since the negotiation of NAFTA for a fairer trade model for North America has today issued a strongly worded Statement entitled, The Canadian Government Should Replace NAFTA, or Scrap it. This document highlights the damage that 23 years of NAFTA has already done to the Canadian economy. It also lists some major demands that coalition members insist must be on the negotiating table in replacing NAFTA with a trade arrangement that puts Canadians and human rights ahead of corporate profits.

The statement follows on the heels of the release of a Tri-national statement by groups from Mexico, Canada and the U.S. rejecting efforts to frame the debate in xenophobic and nationalist terms. They view the NAFTA model as an expansion of corporate power which has failed working people across all three countries.

Janet Eaton from Common Frontiers stated "evidence continues to grow showing corporate-led trade and investment agreements like NAFTA fail to benefit people and democratic governance systems while contributing to environmental decline, exacerbation of climate change, global inequality and economic failures".

-read the Common Frontiers statement en français en español
-read the Tri-National statement

For more information or to arrange an interview:
Raul Burbano - Program Director - Common Frontiers, (416) 522-8615, burbano@rogers.com
UPDATE - Listen to this interview from Radio Canada International
A favor de un nuevo paradigma de libre Comercio
---
January 6, 2017
The Rhetoric and Reality of the Trans-Pacific Partnership - a view from China
by Sit Tsui, Erebus Wong, Lau Kin Chi and Wen Tiejun
MonthlyReview.org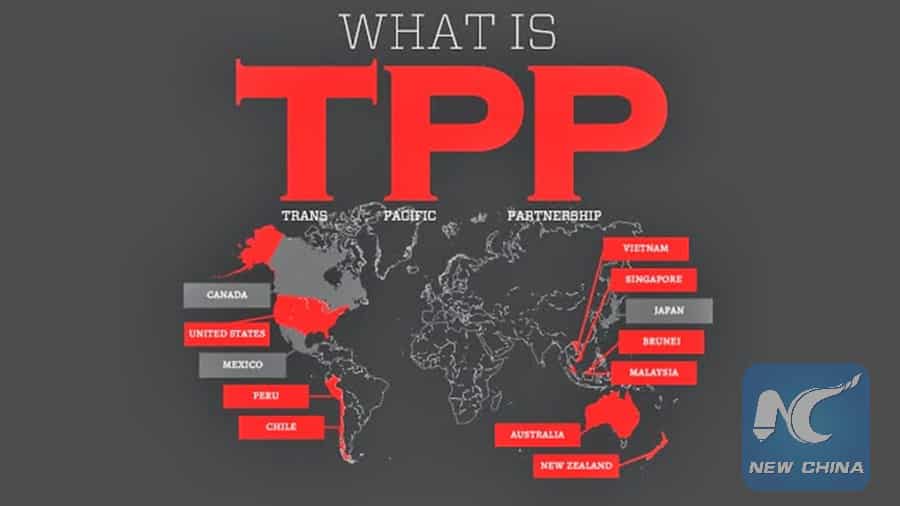 Since announcing its foreign policy "pivot to Asia" shortly after the election of Barack Obama, the United States has made extensive use of its institutional and discursive power to encourage denationalization among developing countries whose economies chiefly rely on manufacturing and trade—part of its global strategic goal of expanding the hegemony of finance capital at the lowest possible cost. The development of the Trans-Pacific Partnership (TTP) is a case in point. This article analyzes the TPP's strategy in targeting China, pointing out that the TPP is a battle for the terms of economic development and discourse in the twenty-first century, as well as an illustration of the ideology of technocracy and soft power. Lastly, we criticize the TPP's erosion of economic sovereignty, which would effectively relegate the economies of developing countries to a form of semi-colonial extraterritoriality.
---
January 5, 2017
Lands to Die For: The Garifuna Struggle in Honduras
You may not have heard of the Garifuna people. They're people with a unique culture who live mostly in coastal Central America. Descendants of runaway African slaves and local indigenous groups, they have their own language, religion and lands.
But the Garifuna in Honduras say their land is under siege. Several of their leaders have been killed as they fight to defend it. Private investors and even Honduras' government are now after their land. Correspondent Gerry Hadden has their story.
Click on image below to watch the video (opens in a new window)
---
Common Frontiers Archives
(2017 Archive) (2016 Archive) (2015 Archive) (2014 Archive) (2013 Archive) (2012 Archive) (2011 Archive) (2010 Archive) (2009 Archive) (2008 Archive) (2007 Archive) (2006 Archive) (2005 Archive)